This week's HEADLINES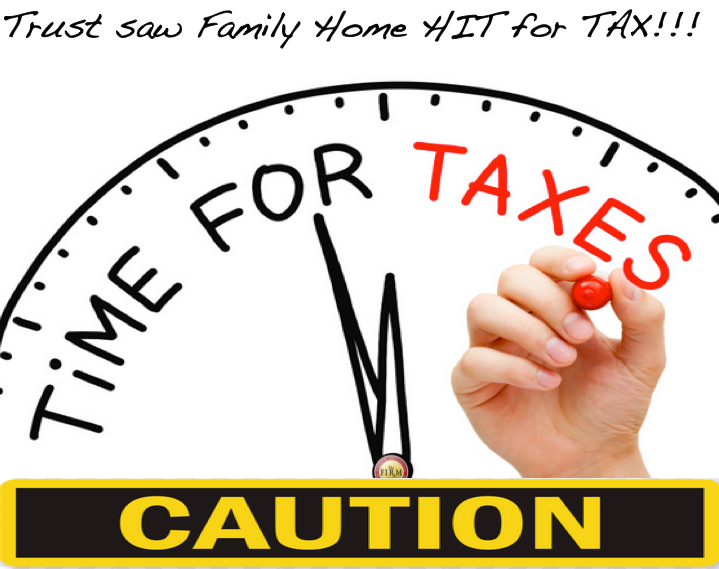 A MUST READ!!!
PROTECTION BACKFIRED: Expert advice should be sought before using tools like testamentary trusts
Good morning everyone,
Trust your week has been as productive as mine as we are getting even closer to Christmas now with only roughly 4 weeks till Christmas... OUCH!!!! I would like to share with you an article from Noel Whittaker which maybe relevant to you for the future.
They met 80 years ago,and it was a marriage made in heaven.
He was solid, dependable, professional man aged 35, she was a beautiful, vivacious woman of just 20. From her point of view he would be a reliable partner for life, from his point of view she would be the perfect wife. A bonus was that they already owned a home that was left to him from his father.
Their marriage was a happy one and produced 4 children.
He was the meticulous type, and when doing the Estate Planning, decided his wife, who was inexperienced in the ways of finance, needed to be protected after his death. Accordingly, his will included a clause that the family home, which was in his name, was to be left to the testamentary trust with a provision for his wife to live there as long as she wishes, and also receive income from his estate.
Their children we named as trustees of the testamentary trust. The husband died in 1990 and the wife lived in the house until 1993 when she decided the house was too big for one person. The children sold their father's family and used the proceeds from that sale to buy a smaller home in an area she loved.
The new home cost $400K and was left in the name of the testamentary trust. In 2002 her daughter, one of the trustees moved into the house as a carer. The arrangement worked well until 2012 when the mother moved into aged care where she is still living happily at the age of 100.
The daughter continued to live in the house. Eventually, without taking prior advice the family sold the house for $2million.
After the sale was completed they were horrified to find out that the entire profits of $1.6million was a taxable capital gain. Because the house had been bought in the name of the trust,they had lost the right to the capital gains tax exemption that applies to homes held in the personal names of the occupiers.
The only good news was that the family were eligible for the 50% capital gains discount, and were also able to add all costs associated with that property since the day in was bought the base cost. This story illustrates the importance of taking expert advice before major transactions are completed.
If the mother had been left the original home, and no trust or life tenancy had been put in place, she could have simply used the sales proceeds of that home to buy a second home in her own name in 1993. Then the new home would be exempt from capital gains tax, even after she moved into aged care, as long as the daughter was still living in it. In his efforts to protect his family from financial misfortune the husband had created a tax liability that was more than the original house.
There is nothing in this story to decry the effectiveness of strategies like testamentary trusts, and binding death nominations in superannuation, when used appropriately. However the effect of such an instrument can limit the opportunity for executors and beneficiaries of an estate to manage affairs for optimal minimisation of tax. These are not "one size fits all" tools - like fire they can be very useful, but must be handled with caution.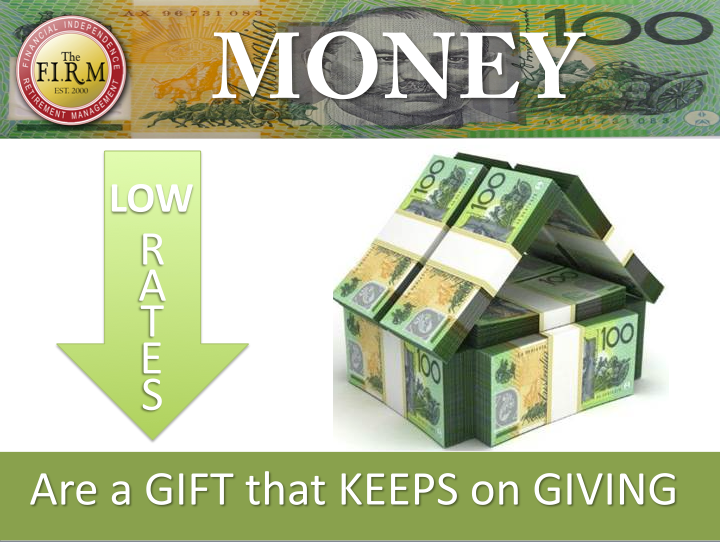 Good morning everyone,
Trust your week has been as productive as mine as we are getting closer to Christmas now with only roughly 6 weeks till Christmas... OUCH!!!!
The present low interest rates are a gift that keeps on giving and borrowers should celebrate the fact they have a once in a life time chance to really make a dent in that mortgage, according to Noel Whittaker, Courier Mail.
"You need to understand the way the numbers works. At a rate of 5%, a loan of $100K would require a repayment of $537 a month if the term was 30 years."
"However, if the rates rose to 8%, the monthly payment for a 30 year term would be $734. The problem with a 30 year term is that you maximise the amount of non-deductable interest you pay. The good news is that, at low rates of interest, it does not take a big increase in repayments to save a packet." says Noel.
For more details, speak to your Financier who structured you in the past for a "Health Check" to make sure you are maximising your benefits.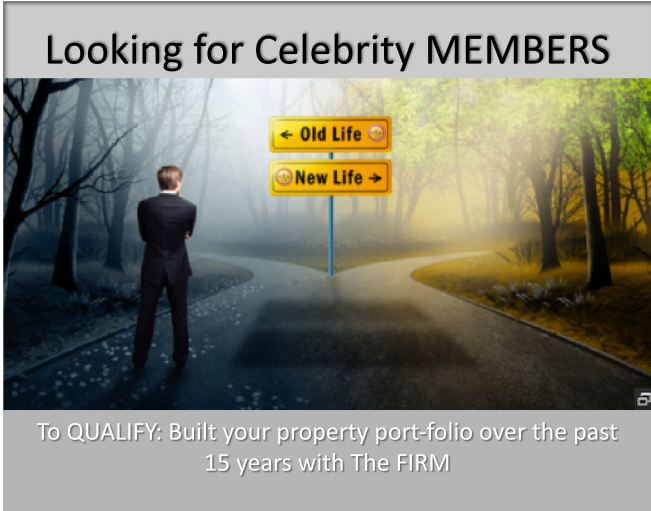 Yes, it is time for you to be a celebrity member, as we are inviting our long term members to share their experiences of building your property port-folio over the past 15 to 20 years. So, come and join us for a bit of fun!!!
For more details call me on 0414 888 186.
Have an awesome week and thank you for your on-going support!
Stay HEALTHY, WEALTHY and WISE until next time!!!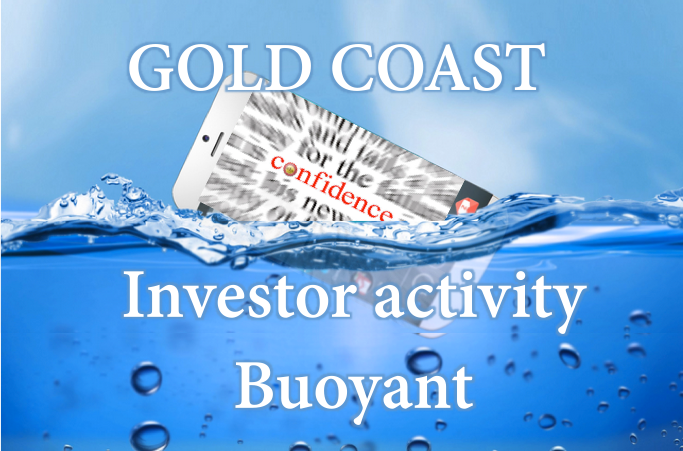 Good evening fellow members,
Today, Sunday was a day to obviously stay in bed as we have had severe storms and strong winds most of the day.
Thanks to our son Jayden convinced us to connect to Netflix some time ago which was a great way to catch up with all the old movies that we were to busy to see when released. It also gave me the opportunity to read the newspaper from cover to cover which is why I want to share with you an article in the Gold Coast Bulletin about the activity property report produced by our friendly valuers Herron Todd White (HTW).
Local and interstate investors continue to drive the Gold Coast and Northern NSW markets. HTW November residential property report found investors were active in the sub-million-dollar market. Sydney and Melbourne were amongst those looking to buy properties in the locale.
Typically these investors purchase property with steady or good rental returns and low overheads. The report showed that Melbourne investors were seeking rural lifestyle property, while local investors purchased units in Bonogin. In Surfers Paradise investor activity in the sub-$500,000 price range has seen the most activity. Meanwhile in the northern Gold Coast were mainly International but used local builders and smaller project developers.While investor activity in the central high-density, beachside suburbs has traditionally been driven by local and non local investors, International Asian investors have been leading the way with sales of new product.
Most intense demand has been at residential estates close to the CBD Southport and properties near the Broadwater. Waterpoint Residences continues to surprise the market place with constant sales over the weekend from our members, one of which was for their first apartment overlooking spectacular water of Runaway Bay.
So check out the video to see what all the fuss is about!
Brooklyn Apartments have had great enquiry since the launch last week as this development is perfect for University lifestyle tenants or live in yourself. Check out the video https://www.the-firm.com.au/hot-property---gold-coast.html
Have an awesome week and thank you for your on-going support! Stay HEALTHY, WEALTHY and WISE until next time!!!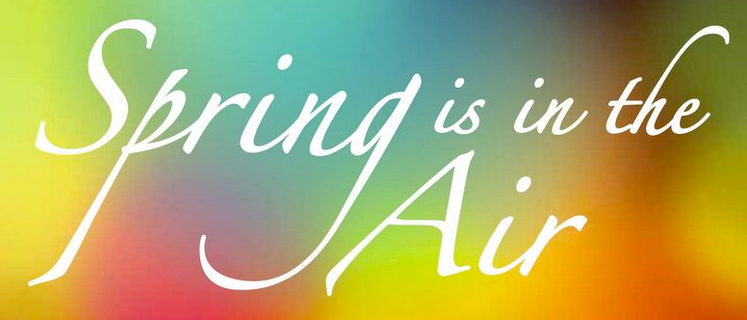 Good afternoon fellow members,
Spring is here and we're all looking forward to the busiest time of year in property markets around the country!
If you're planning on getting in on the action, we're ready to find you a great deal on your finance, property, planning or legal.
There has been a lot happening in our financial markets this month, with volatility in our share markets and interest rates on the move even though the Reserve Bank of Australia decided to keep the official cash rate on hold at 2.0 per cent during its September meeting.
APRA's increased supervision on investment lending has caused a general rate adjustment for both owner-occupier home loans and property investment loans. While some lenders are raising the interest rates on their property investment loans by 20 50 basis points in line with APRA's restrictions, they are simultaneously reducing their interest rates on owner-occupier loans by a similar margin.
This is great news if you're a first home-buyer looking to get into the market this spring. It's also great news if you've been considering refinancing an existing loan you can now access some of the lowest rates on record and you could potentially save a lot of money on repayments. If you're looking to invest, or refinance a property investment, we have identified lenders who are offering some great rates, so please give us a call.
Melbourne and Sydney property markets have remained hot throughout winter, whilst most other markets succumbed to the usual winter slow period. Things are now starting to pick up again with auction numbers starting to increase for the week ending August 30.
In Victoria there were 1185 scheduled auctions with a 78% clearance rate, while in NSW there were 1083 scheduled auctions with a 78% clearance rate. These auction figures really outstrip activity in other states. (However it should be noted that in areas outside our two major capital cities, many vendors prefer private sale over auctions).
In Queensland there was 159 auctions with a 58% clearance rate, South Australia offered 100 auctions with a 65% clearance rate, Western Australia 34 auctions with a 67% clearance rate, and Canberra had 47 auctions with a 68% clearance rate. Tasmania scheduled only 8 auctions and recorded a clearance rate of 75% and Northern Territory held just six auctions with no results.
Since last month, changes in home values have been marginal around the country. Sydney showed an increase in home values of 1.14% over last month and 17.55% over this time last year. Melbourne showed a marginal decrease over last month of 0.03% but was still up by 10.59% over this time last year. Brisbane and Gold Coast was up by 0.34% this month and 4.29% over this time last year.
Adelaide was up by 0.67% this month and 1.79% since last year, Perth is showing declines 1.26% since last month and 1.79% over this time last year. Darwin was up marginally by 0.34% this month but is down by 4.57% over this time last year. Canberra seems to be trending downwards with a 1.69% decrease in home values this month and a decrease of 0.86% year on year. Hobart showed a fall in home prices of 1.13% this month, but was up 1.5% over this time last year.
If you're excited about the property opportunities coming up this spring, and you should be, then we'd love to chat about your plans. We're here to help you organise the most beneficial financing arrangements for your property purchasing needs according to your personal financial situation and goals. So please don't hesitate to give us a call today.
Have an awesome weekend and thank you for your on-going support!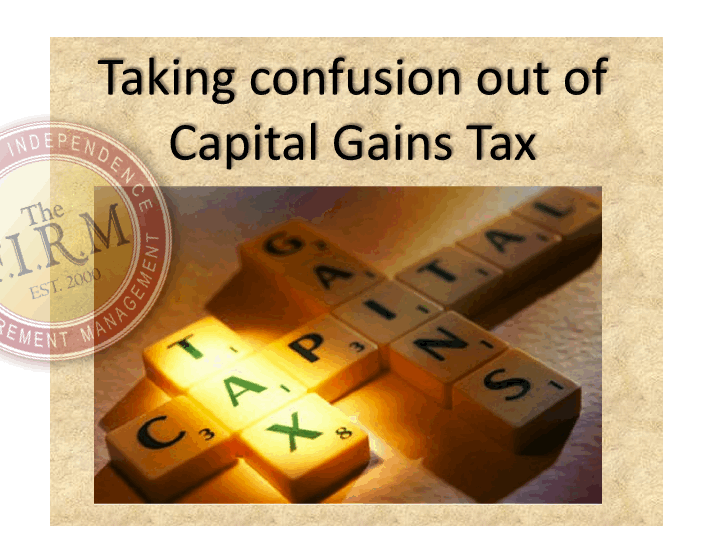 Good morning fellow members,

Judging from recent emails on our "Bring out your Dead" Campaign there appears to be some Capital Gains Tax issues causing much confusion. It's really not that difficult. So I am going to share some examples that Noel Whittaker published recently in the Courier Mail..
Your residence is free of CGT only if it is held in your personal names or in the name of one of you. If it is held in a Family Trust or a company there is no CGT exemption. Confusion can arise when two properties are owned at the same time, because tax treatment depends on the order in which is was occupied.
Case Study:
A couple by a property to live in, and then move out of to to another home, retaining the first as a rental. It will be free of CGT only on any increase in value from the date they moved of of until it is sold.
Another person buys the property, rents it out and subsequently moves into it. In this case, the CGTis assessed on a pro-rata basis. Suppose they bought the property in 2005 and had it rented till 2009when they moved in.If it was then sold in 2015 they would have owned it for a total of 10 years. As it was rented of for those 10 years CGT would be payable on four ten's of any gain. You can rent out your home and be absent from it for unto six years without loosing the CGT exemption, provided you don't claim any other property as your principal residence at the time. However, if you move to another property and retain the first, you dont have to make an immediate choice.
Case Study:
A canny old businessman owned his own home and also an investment property that was carrying a high unrealised capital gain. Feeling he was close to death, he moved out of his current residence into the investment property and treated it as his own home.
When he died, the property was his own residence and was deemed to be acquired by his beneficiaries at its market value at date of death. His beneficiaries were delighted to discover that they could sell the property CGT free within two years.
The FIRM's FUTURE FUND is NOW OPEN!!!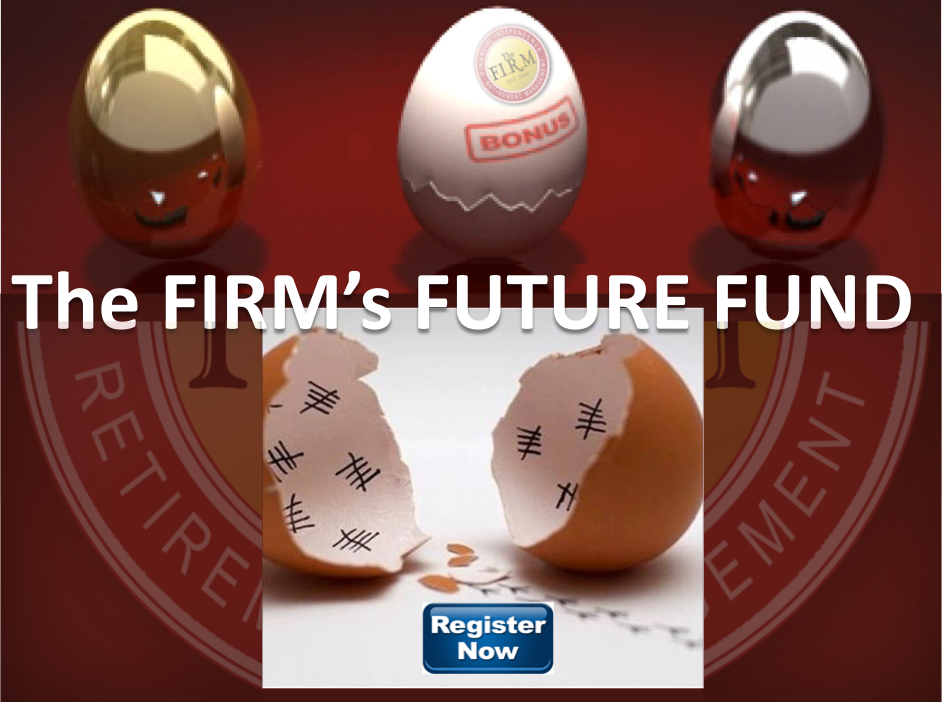 The FIRM's FUTURE FUND has be designed with careful consideration to cater to our ageing members financial position to liquidate their older property investments and convert to the Future Fund yet optimise maximum performance to our younger generation. The Future Fund has been carefully crafted to offer stability, solid returns and the ability to be more flexible, yet individually taylor made to your specific financial circumstances.
Register NOW for more details!!!
Thank you for your on-going support!

Stay HEALTHY, WEALTHY and WISE until next time!!!
ATTENTION MEMBERS
Liquidate OLD INVESTMENT properties NOW!!!
Have buyers waiting!!!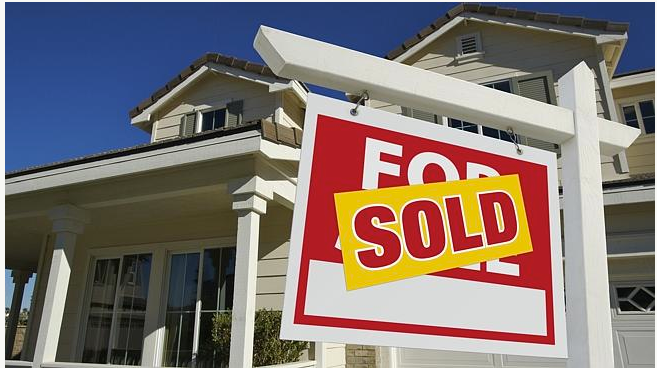 Courtesy Gold Coast Bulletin
Gold Coast property market picks up again after GFC knocked the wind out of its "sales"
Good afternoon fellow members,

SEVEN years ago after the global financial crisis knocked the wind out of all our investment properties here on the Gold Coast, the region has started racking up double digits again.

Some of the analysts are very excited on the momentum could do in the market that is experiencing not just jobs turnaround but a resurgence of tourism activity.
Industry analysts across the country have firm expectations that the Gold Coast will be in the top echelon of property market stars by the end of 2015 and for the next couple of years.

A pipeline of major projects bigger in size than several capital cities has resulted in the 'incredible transformation' in the job market. Net jobs growth of 19,662 for 2013was blown out of the water by the 181,856 net jobs in 2014.

The big projects include the new $1billion Coomera Town Centre, a $2billion Commonwealth Games Village and a $700ml Pacific fair facelift. In addition to this there are another significant developments worth $billions.

The Gold Coast was also expected to see a surge of Asian buyers, according to Knight Frank head of research and consulting Matt Whitby.

He said the heavy investment in prime office buildings and yield compression in gateway cities Sydney and Melbourne Chinese investors have begun looking increasingly at opportunities in other key cities and other property sectors which includes the Gold Coast.

So, many of you have been asking me over the past couple of years when is the best time to sell your old port-folio NOW is the time to consider your options, so email me or call so I can introduce you to our new buyers that I have waiting to buy property NOW!!!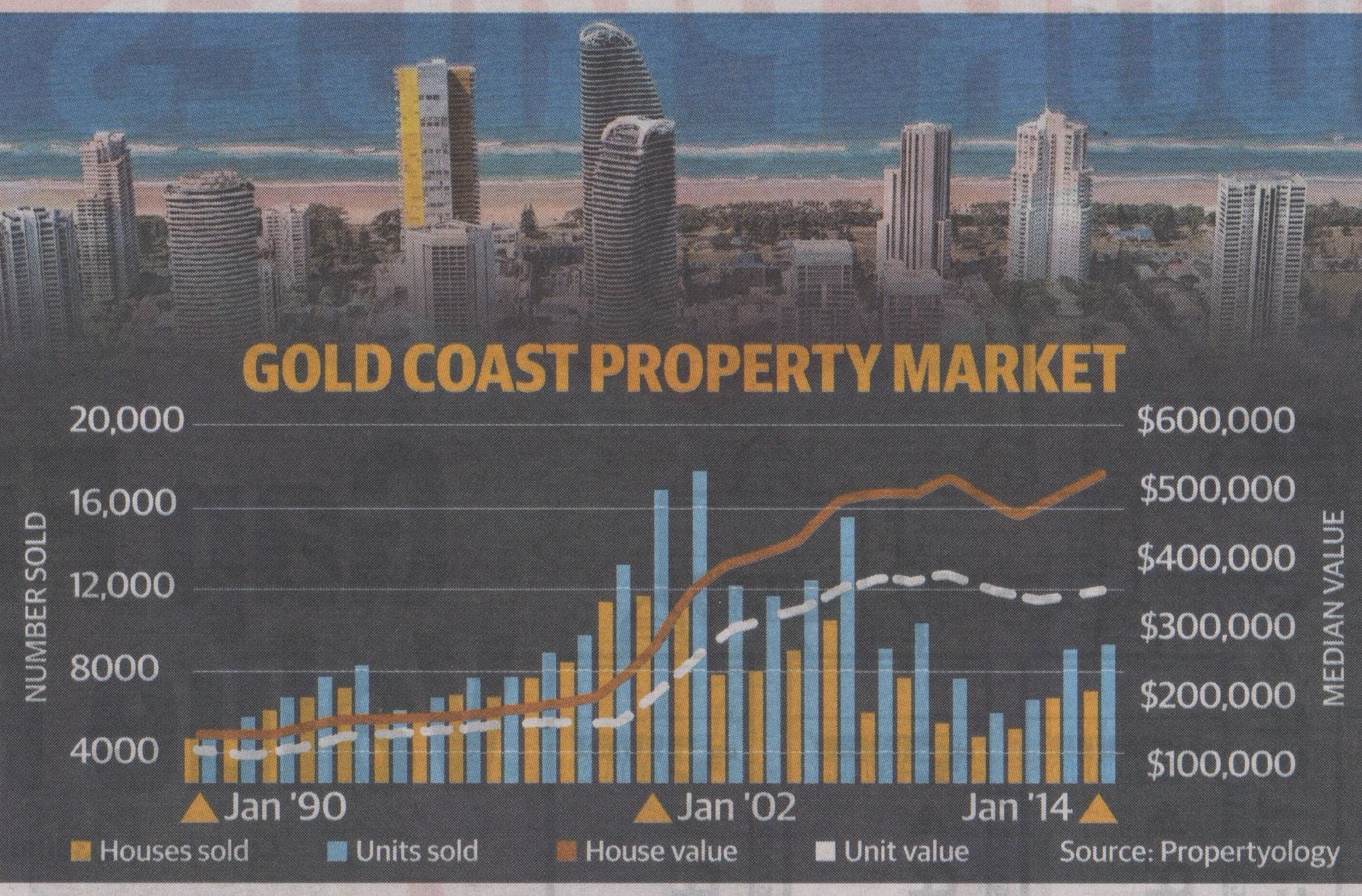 "I am in a dilemma"
"Need your HELP"

Good afternoon fellow members

Other week has just flown past, where does the time go
We have the opportunity to build our very first homes using the Light Weight Concrete Panels in a fantastic area of the CBD of the Gold Coast in Bundall.

It is a rare 1275m2 double waterfront block where we are applying to Council for 3 Villas which they have accepted in principal at this point.

As you are aware The FIRM does things differently, that's why you love us!

What we are anticipating to create is an enclave of 3 special Villa's with a particular theme of the "New Hampton's style Villas".

Before we attempt to create such a theme we are appealing to you as a seasoned investor with The FIRM to see if this would be the sort of investment property that you would consider for the future if it was within budget, strong long term rental returns, high growth area and close to all amenities?

We would very much appreciate your thoughts, thank you in advance!

NEW HAMPTON's to the GOLD COAST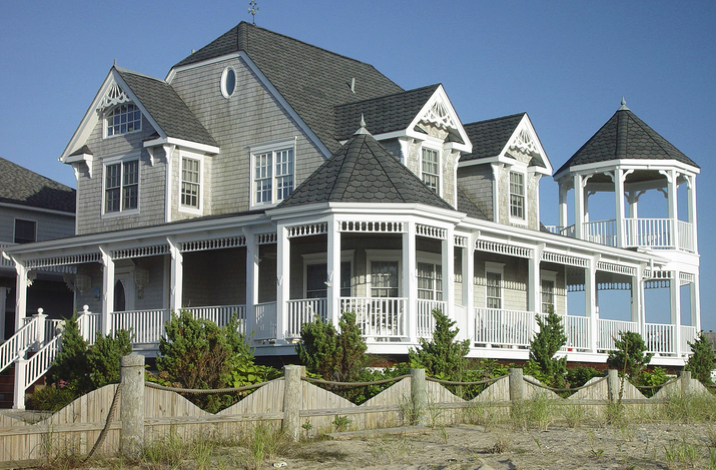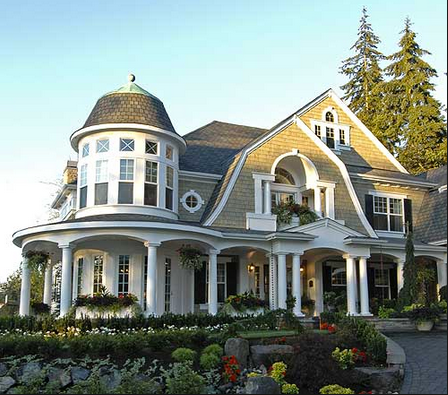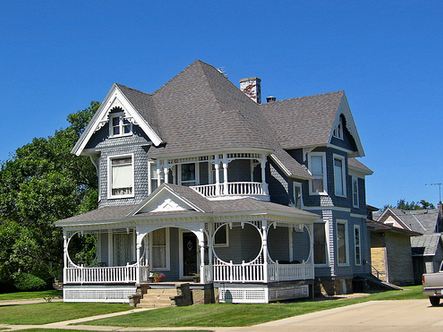 "Gold Coast is back in a BIG WAY"
The Phenomenal surge in rental applications for North Gold Coast property that has seen some properties attracting as many as 150 applications appears to have resulted in a "severe shortage in listed stock coupled with a noticeable increase in buyer activity putting upward pressure on values " according the Herron Todd and White property valuers (HTW) which are our favoured valuers.

HTW statistics reveal that there are now 25 sales more every week compared to 12 months ago. The volume of sales within price bands has also shifted: Most notably 72% of current sales are below $500K compared to 80% 12 months ago, suggesting a degree bracket and a severe shortage of stock under $500K.

Majority are local and Chinese and also a notable increase and return to market of interstate and foreign investors including New Zealand.

Real Estate Institute of Queensland (REIQ) state the strong signs of recovery, with median house values increasing by 5%

So this is great news for all of us now as we can ride the wave to increase our values finally. Stay tuned for more updates and the signs to move all our older stock.

Thank you for your participation in the above survey!

Stay HEALTHY, WEALTHY and WISE until next time!!!

Chat soon and have a great week ahead!

---
"Secret Investment opportunity"
The FIRM's Future Fund

MEMBER'S ONLY

ATTENTION: MEMBERS ONLY


For all members seeking secured investment opportunities we have an EXTREMELY exciting announce.

Next Friday, 27th February, Millinium Capital Managers will announce our equity based Future Fund that will generate a 8%p.a. ROI paid monthly.

This is NOT an opportunity for outside brokers who have not registered and should only be DIRECT investor members ONLY who meet Millinium Capital Managers criteria.

During this special event, members of the group that have registered will be able to ask direct to Millinium specifics on how the ROI is 100% SECURED during the Q & A period.

To register your interest to qualify

Millinium Capital Managers Limited
www.millinium.com.au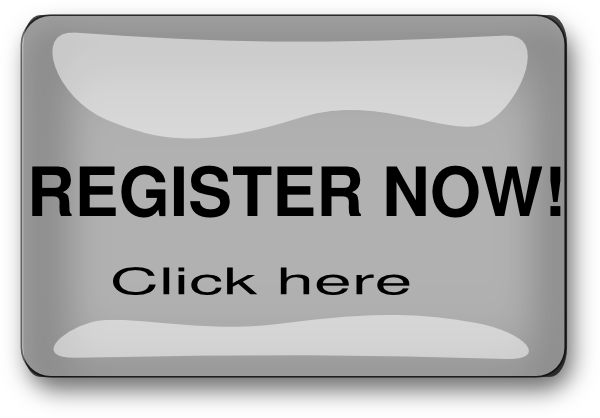 Coomera Town Centre
Beattie Rd. developments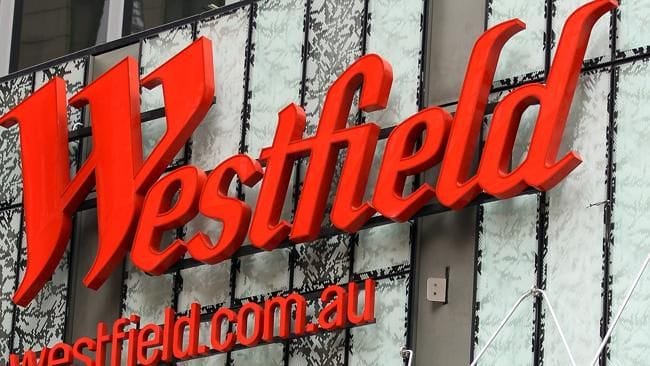 Recent meeting with the on-site managers of Beattie Rd confirm our discussions that we are working on a strategy and new structures for all the members who have property over 10 years old. These new exciting structures will be developed for all properties that have pasted their "Used by Date" for the future where senior members will become more liquid in their assets for the future.

More details will be announced shortly, so stay tuned!
Cyclone Marcia in Queensland
Our Investment properties are safe
Cyclone Marcia Destroyed houses in Yeppoon. Picture: Jack Tran Source: Supplied News Media
WHAT WE KNOW:
* Cyclone Marcia has been downgraded to a tropical low but many residents endured a damp and dark night with thousands left without electricity.
* Power is expected to be cut for several days and emergency services are calling on residents to use water only when absolutely necessary.
* The severe tropical cyclone made landfall as a category 5 cyclone and has left a trail of destruction over Yeppoon and Rockhampton. Our investment properties are all safe due to recent building codes and council flood plain
*The cyclone was at category 5 when it grazed Yeppoon battering the coastal town with 285km/h winds. It was downgraded to category 3 when it hit Rockhampton in the afternoon.
* Marcia's destructive core with gusts to 155km/h continued southward towards Biloela.
* In the Northern Territory, Cyclone Lam made landfall as a category 4 system and has now been downgraded to a tropical low.
* AS IT HAPPENED: CYCLONE MARCIA ATTACKS
A NEW weather threat is emerging as the clean-up begins across Queensland in the aftermath of Cyclone Marcia.
The weather bureau has issued warnings for severe thunderstorms from Brisbane to the Sunshine Coast while another thunderstorm developed near Caloundra.
There has already been one waterspout seen on the Sunshine Coast and more were likely throughout southeast Queensland later today.
Residents of Brisbane and the Gold Coast have been bracing for more bad weather today with winds as high as 90km/h possible and heavy rain.
Late this morning, the weather bureau revised down the amount of rainfall expected in the southeast from 300mm to 125mm.
The rain warnings stretch as far south as the north coast of NSW, where there is a chance of flash flooding.
More than 60 SES teams remain on standby and are handing out sandbags with further rain and damaging winds expected to hit mid north-coast today, Sky News reported.
At least 60,000 homes are without power. Those that are left homeless will be looking for alternate accommodation. Previously, due to the lack of availability we noticed an increase in rental returns.

Cyclone Marcia's impact on Yeppoon and Rockhampton will provide an opportunity to improve building standards

Debris from homes is scattered along the streets of Gladstone. Photo: Natalia Muszkat Source: Supplied
Residents in northeastern NSW are bracing for heavy rains and flooding in the wake of Cyclone Marcia.

We are now down to the wire with our final selection of 4 out of 10 production houses with the final elimination late next week. You may not realize, nor did I, that there is a huge amount of work involved to deliver a professional 30 minute weekly program worthy of our standard of excellence.

I heard a whisper that our 3 minute promotional video is in the final stages of completion which I will share with you as soon as it is released.

So, it is not long now when I will be able to say to you that I will SEE you soon!

Stay HEALTHY, WEALTHY and WISE until next time!!!

Chat soon and have a great week ahead!
---
"Tough medicine to remedy the Budget"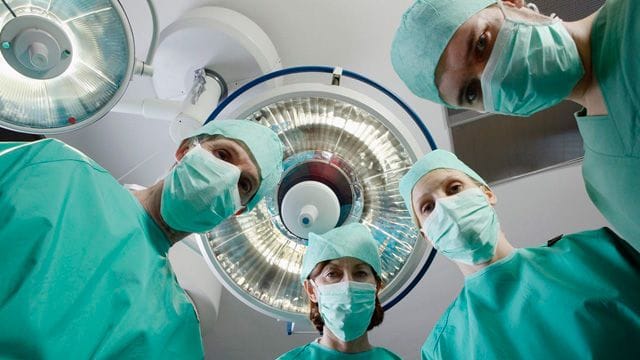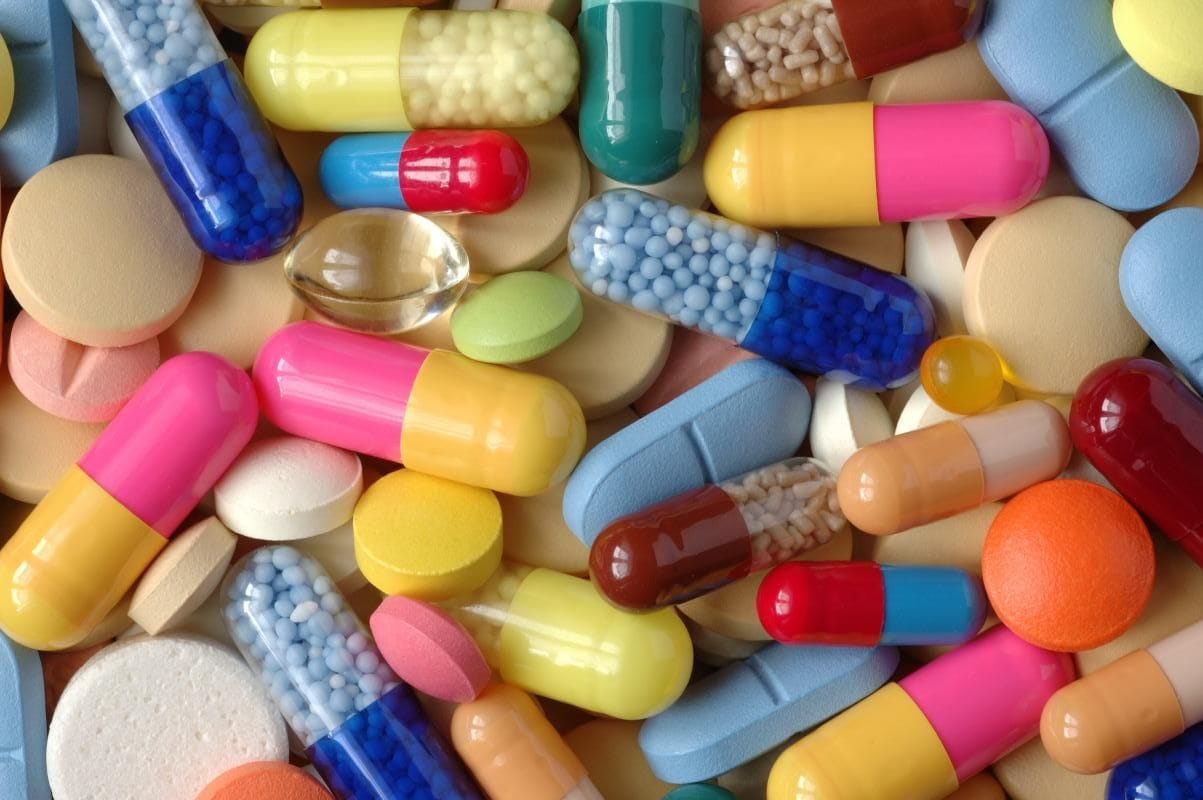 Good afternoon fellow members,

Another Valentine's Day passes us by, I don't know about you, but it really only felt like last week since the last roses and champagne celebration. Scary stuff now as Annette and I are celebrating 42 years of Valentine's Day together, and what a special day it was too!

It has been a hectic time in politics over the last fortnight with one message emerging load and clear according to Noel Whittaker as most voters are not prepared to accept the tough medicine that is needed to get the country's finances back on track.

There are 3 major influences at work, it will give you an idea of the massive problems facing any party in power.

The first is increase on life expectancies. Today there are 3.45million Australians aged 65 and over. This represents 14.7% of the population of 23.5 million. By 2034 the number is expected to be 6.1 million almost 20% of the projected population of 31.6 million. That equates to 1 in 5 aged over 65 years isn't scary enough it gets worse as medical breakthroughs that are certain to occur over the next 20 years.

Interesting thought is how is any Government going to find the funds to provide the health services and aged pension to deal with all those aging people?

According to Noel, our income tax system is unsustainable. The 65's and over are our fastest growing group, yet 87% pay no income tax. A combination of concessions. The Seniors and Pensioners Tax Offset (SAPTO) enables a couple to earn $28,974 each year without paying tax, while anybody over 60 can hold their superannuation in a tax free fund while drawing a tax-free income from it.

Raising the taxes on super without cutting back SAPTO will not work because retirees with less than a $1ml would simple exit the system and continue to enjoy tax- free existence. The only realistic option available to widen the GST so there is no exemptions.

Most senior citizens expect at least a part age pension. Currently increases are linked to average weekly earnings, but the Coalition is trying to stem the rate the pension goes up. It is proposed the rate of increase be linked to cost of living from September 2017.

Let's assume the average weekly earnings increase by 4% a year, inflation at 2.5%and the couple's full pension now $30,000 a year. If it remained linked to earnings the pension could rise to $49,000 and year in 10 years and $72,000a year in 20 years. By linking it to inflation it might become $42,000 a year and $54,000 in 20.

Noel states that this surely is a no-brainer to reduce the increase in the age pension so it keeps pace with the cost of living. Due to the adversarial nature of politics the opposition is running a scare campaign claiming that age pensions are being reduced. Yet the Coalition is trying to do is slow the rate of growth.

Put altogether and you have an aging population, all who vote, who will be a growing drain on government finances at the same time as the government is shackled by a tax system that cannot cope. Eventually something has to give.

Thank goodness we all have prepared for our retirement. Brace yourselves as we prepare to enter retirement phase with The FIRM's Future Fund stay tuned.


Investment Opportunity
COMING very SOON!

Millinium Capital Managers Limited
www.millinium.com.au


Stay HEALTHY, WEALTHY and WISE until next time!!!

Chat soon and have a great week ahead!