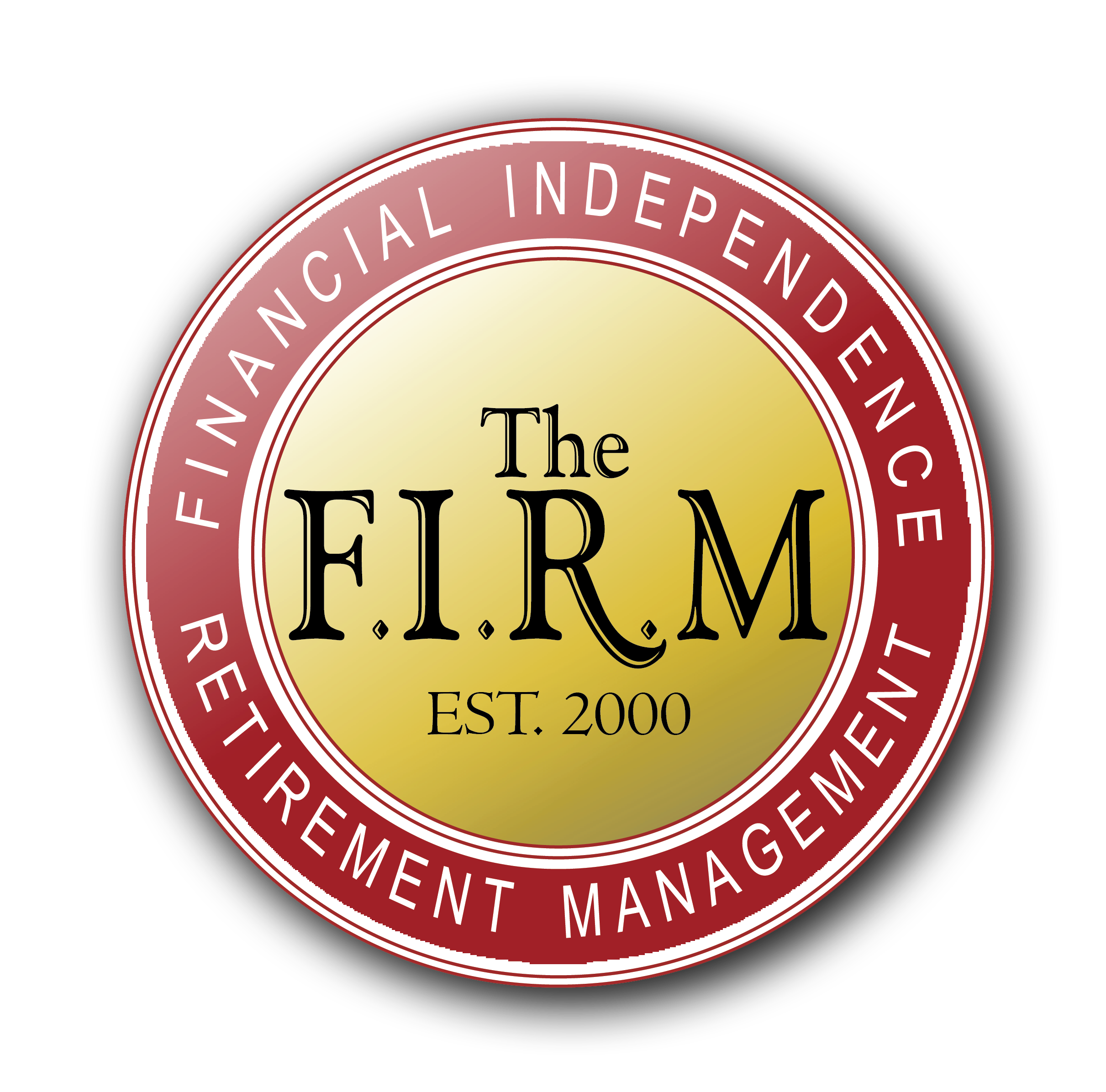 158th Monthly Edition NEWSLETTER
December 2017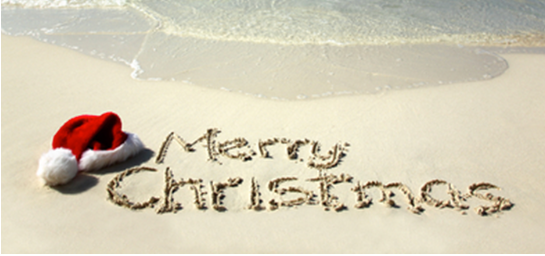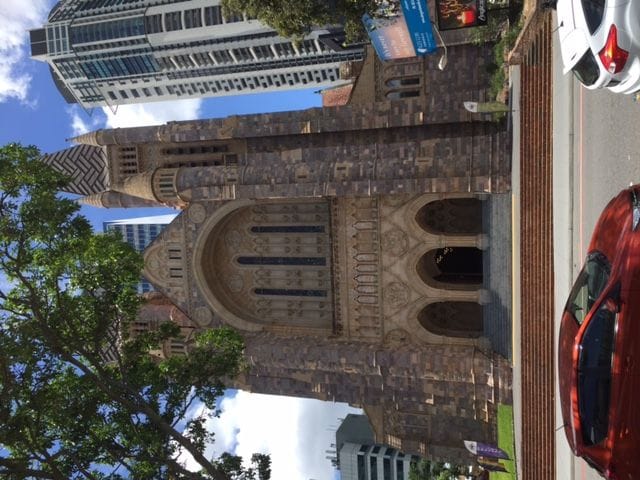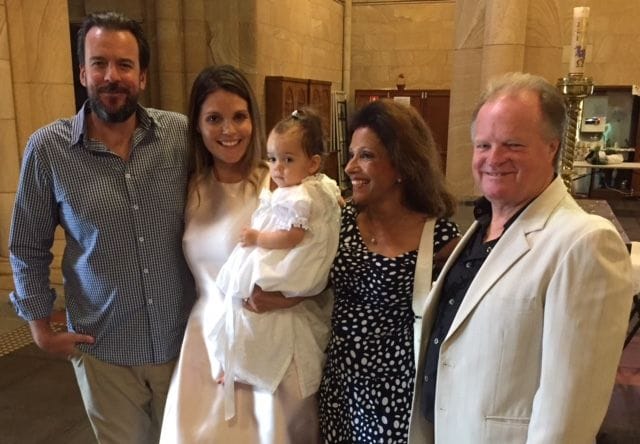 Good afternoon fellow members,
The best early Christmas present ever for both Annette and I as we celebrated being very proud grandparents to London's 1st birthday and Christening last week.
A spectacular event at St. John's Cathedral and then the joy to see her so excited, being showered with many presents from everyone has made an early Christmas a memorable occasion.
On behalf of all our dynamic team at The FIRM and my family we wish each and every one of you a beautiful Christmas and a safe happy holiday. We all thank you for your ongoing support over the years and look forward to continue our strong relationship for the years ahead.
Your comments, thoughts and contributions of constructive ideas throughout the year have been very important to us to constantly improve our standard of excellence, we are honoured that that you are part of our ever growing community of over 10,000 members.
Wishing you, your family and friends a wonderful Christmas, with love, continue blessings, laughter, and a prosperous year ahead for 2018.
Have a great Christmas holiday and we will chat soon!
We will be closed during the Public Holidays ONLY and looking forward to see many of you during your holiday break here on the Gold Coast.
Stay HEALTHY, WEALTHY and WISE until next time!!!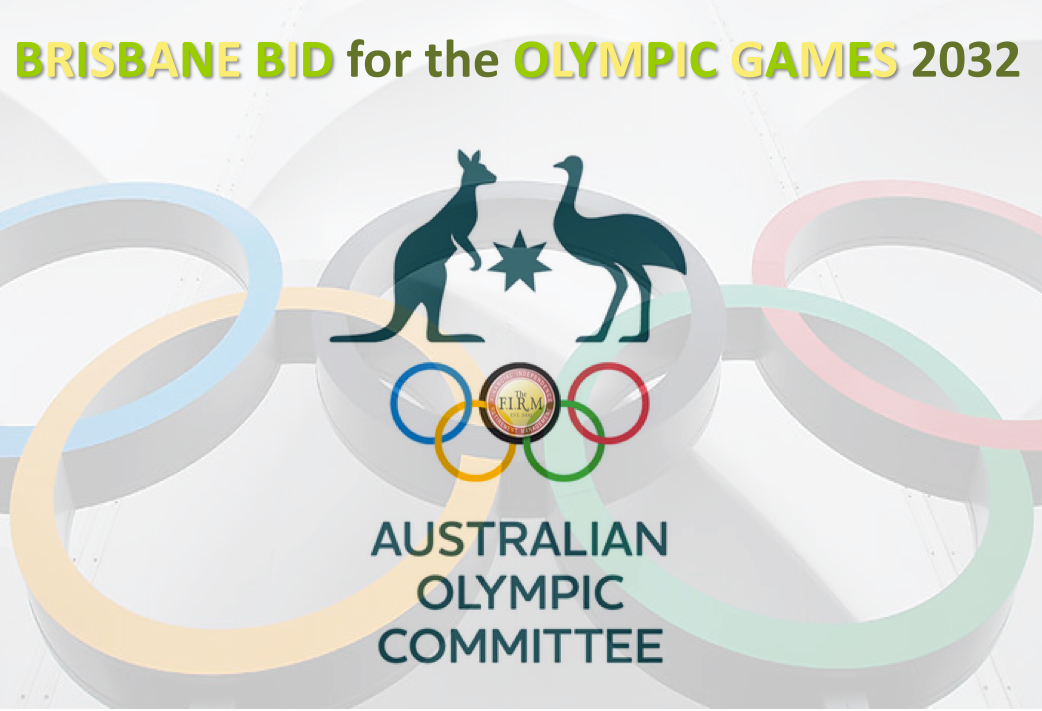 Good afternoon Fellow members,
Well this week has been a whirlwind of a week preparing for the holiday break as we are reminded that we have only 22 DAYS till Christmas... OUCH!!!
Amazing time now as we rush through to decorate our homes with special attention to focus on the Christmas tree that seems to shrink with age. :(
Send me pictures of your Christmas Tree so we can share with everyone!
We are also in final count down mode for the Commonwealth Games on the Gold Coast between 4th and 15th April 2018 so there is plenty of action here.
GOLD COAST COMMONWEALTH GAMES 2018:
Gold Medal Vision
Mr. Salt, one of the country's most astute demographers, said that attention after the Commonwealth Games should quickly turn to a bid for South East Queensland to host the world's ultimate sporting spectacle.
The 2032 Olympics would be a guaranteed way to prevent the kind of Commonwealth Games hangover that has plagued many cities after major events. He said host cities were often rewarded for entering a new era. Step 1: Deliver a great Comm Games next year Step 2: Unify the people of South East Queensland, Queensland and of Australia, behind our Australian bid for the Olympic Games staged in a network of cities.
Recent big-ticket sporting events had shown a move towards shared hosting rights, such as cricket and rugby World Cups, while the next European soccer tournament would feature matches in 13 countries.
It's time for the Olympics to move to a network of cities.
Benefits to continue well after race is won
$4Billion Windfall at the finish line
They are costing $2 billion to stage but the Gold Coast Commonwealth Games are forecast to deliver Queensland a $4 billion economic windfall and potentially much more.
Billions of dollars in new public and private infrastructure Brings in more than 620,000 extra tourists Will help create 30,000 jobs Stimulate on-going benefits for business years after the closing ceremony in April
A predicted $2 billion boost to the state's gross domestic product Forecasts $2.6 billion in additional public and private sector investment
The Games are credited with helping drive big-ticket projects
The $420 million second stage of the Gold Coast light rail
$670 million upgrade of Pacific Fair
$345 million transformation of The Star hotel-casino at Broadbeach
$300 million redevelopment at Gold Coast Airport
$220 million in road and rail improvement
More than 16,000 full-time equivalent jobs are forecast to be generated before, during and after the Games plus 14,000 temporary positions
$552 million athletes' village at Parklands
$110 million Gold Coast Sport and Leisure Centre at Carrara
$41 million Gold Coast Aquatic Centre
$40 million Coomera Indoor Sports Centre
A new $16.5 million hockey complex at Labrador
More than 670,000 visitors including about 50,000 from overseas are forecast for the Games themselves in a $320 million financial injection.
The Games will help lure almost 500,000 additional visitors who will splash $350 million in the four years leading up to and following the event.
Worldwide exposure from the Games was expected to generate $448 million in exports and foreign investment.
Commonwealth House a purpose built beachfront pavilion at Kurrawa will become an international trade investment hub.
The Glitter Strip is in the midst of an unprecedented "economic transformation", with $13 billion in major infrastructure underway.
The Commonwealth Games presents a unique opportunity to help transform the Gold Coast's image and reputation while creating a lasting legacy further establishing the Gold Coast as a vibrant and connected city, internationally renowned for business, life-style and culture.
© Gold Coast Bulletin, November 2017
So with all this in mind for the Gold Coast I want you to consider expanding or start your property port-folio... NOW!!!!
HOT PROPERTY will be releasing some very special limited developments in strong locations with high returns NEXT WEEK.
For those of us in our era, is the right time to consider moving all our old 10 to 15 year old property Hence the 'BRING OUT YOUR DEAD' Campaign which will be released very soon once we have confirmed all the buyers for you.
Stay tuned for another exciting episode of The FIRM!
157th Monthly Edition NEWSLETTER
November 2017

Good afternoon fellow members,
There are some amazing predictions here..what the future holds is anyone's guess. I am sure you will find this very enlightening though and really give us all something to think about. .........,,
BRING OUT YOUR DEAD!
Westfield Coomera OPENS prior to Christmashttps://www.westfield.com.au/coomera so prepare to sell all your 10 to 15 year old properties in the COOMERA region as I am currently working on some serious buyers for all of you.
There will be a broadcast launched out to everyone very soon, so stay tuned as it will be for a limited time ONLY!!!!
WELCOME TO THE FUTURE
In a recent interview, the Head of Daimler Benz (Mercedes Benz) said their competitors are no longer other car companies, but Tesla (obviously), and now, Google, Apple, Amazon 'et al' are. Software will disrupt most traditional industries in the next 5-10 years. Uber is just a software tool, they don't own any cars, and are now the biggest taxi company in the world.
Airbnb is now the biggest hotel company in the world, although they don't own any properties. Artificial Intelligence: Computers become exponentially better in understanding the world.
This year, a computer beat the best Go player in the world, 10 years earlier than expected. In the U.S., young lawyers already can't get jobs.
Because of IBM Watson, you can get legal advice (so far for more or less basic stuff) within seconds, with 90% accuracy compared with 70% accuracy when done by humans. So, if you study law, stop immediately. There will be 90% less lawyers in the future, only specialists will remain.
Watson already helps nurses diagnosing cancer, 4 times more accurate than human nurses.
Facebook now has a pattern recognition software that can recognize faces better than humans. In 2030, computers will become more intelligent than humans.
Autonomous cars: In 2018 the first self-driving cars will appear for the public. Around 2020, the complete industry will start to be disrupted. You don't want to own a car anymore. You will call a car with your phone, it will show up at your location and drive you to your destination. You will not need to park it, you only pay for the driven distance and you can be productive while driving. Our kids will never get a driver's license and will never own a car. It will change the cities, because we will need 90-95% less cars for that. We can transform former parking spaces into parks. 1.2 million people die each year in car accidents worldwide. We now have one accident every 60,000 miles (100,000 km), with autonomous driving that will drop to one accident in 6 million miles (10 million km). That will save a million lives each year.
Most car companies will probably go bankrupt. Traditional car companies will try the traditional approach and try to build a better car, while tech companies (Tesla, Apple, Google) will take the revolutionary approach and build a computer on wheels. Many engineers from Volkswagen and Audi are completely terrified of Tesla. Auto Insurance companies will have massive trouble because without accidents, car insurance will become much cheaper. Their car insurance business model will slowly disappear. Real estate will change. Because if you can work while you commute, people will move further away to live in a more beautiful neighborhood. Electric cars will become mainstream about 2020. Cities will be less noisy because all new cars will run on electricity. Electricity will become incredibly cheap and clean:
Solar production has been on an exponential curve for 30 years, and now you can now see the burgeoning impact. Last year, more solar energy was installed worldwide than fossil. Energy companies are desperately trying to limit access to the grid to prevent competition from home solar installations, but that can't last. Technology will take care of that strategy. With cheap electricity comes cheap and abundant water.
Desalination of salt water now only needs 2kwh per cubic meter (@ 0.25 cents). We don't have scarce water in most places, we only have scarce drinking water. Imagine what will be possible if anyone can have as much clean water as he wants, for nearly no cost. Health innovations:
The Tricorder X price will be announced this year. There are companies who will build a medical device (called the "Tricorder" from Star Trek) that works with your phone, which takes your retina scan, your blood sample, and you can breath into it. It then analyses 54 biomarkers that will identify nearly any disease. It will be cheap, so in a few years everyone on this planet will have access to world class medical analysis, nearly for free. Goodbye, medical establishment.
3D printing: The price of the cheapest 3D printer came down from $18,000 to $400 within 10 years. In the same time, it became 100 times faster. All major shoe companies have already started 3D printing shoes. Some common spare airplane parts are already 3D printed in remote airports. The space station now has a printer that eliminates the need for the large amount of spare parts they used to keep in the past. At the end of this year, new smart phones will have 3D scanning possibilities. You can then 3D scan your feet and print your perfect shoes at home. In China, they already 3D printed and built a complete 6-storey office building. By 2027, 10% of everything that's being produced will be 3D printed. Business opportunities:
If you think of a niche you want to go in, ask yourself: "In the future, do you think we will have that?", and if the answer is yes, how can you make that happen sooner?
If it doesn't work with your phone, forget the idea. And any idea designed for success in the 20th century is doomed to failure in the 21st century. Work: 70-80% of jobs will disappear in the next 20 years. There will be a lot of new jobs, but it is not clear if there will be enough new jobs in such a small time.
Agriculture: There will be a $100 agricultural robot in the future. Farmers in 3rd world countries can then become managers of their field instead of working all day on their fields. Aeroponics will need much less water. The first Petri dish that produced veal is now available and will be cheaper than cow produced veal in 2018. Right now, 30% of all agricultural surfaces is used for cows. Imagine if we don't need that space anymore.
There are several startups who will bring insect protein to the market shortly. It contains more protein than meat. It will be labeled as "alternative protein source" (because most people still reject the idea of eating insects). There is an app called "moodies" which can already tell in which mood you're in. By 2020 there will be apps that can tell by your facial expressions, if you are lying. Imagine a political debate where it's being displayed when they're telling the truth and when they're not. Bitcoin may even become the default reserve currency ... Of the world!
Longevity: Right now, the average life span increases by 3 months per year. Four years ago, the life span used to be 79 years, now it's 80 years. The increase itself is increasing and by 2036, there will be more than one year increase per year. So, we all might live for a long time, probably way more than 100.
Education: The cheapest smart phones are already at $10 in Africa and Asia. By 2020, 70% of all humans will own a smart phone. That means, everyone has the same access to world class education. Every child can use Khan academy for everything a child needs to learn at school in First World countries. There have already been releases of software in Indonesia and soon there will be releases in Arabic, Swahili, and Chinese this summer. I can see enormous potential if we give the English app for free, so that children in Africa and everywhere else can become fluent in English. And that could happen within half a year.
Have an enjoyable week ahead as we continue to deliver the latest NEWS & REVIEWS in the world of The FIRM :)
In the mean-time stay HEALTHY, WEALTHY & WISE. Chat to you soon!
With kindest regards,
156th Monthly Edition NEWSLETTER
October 2017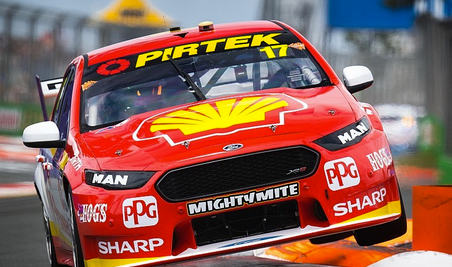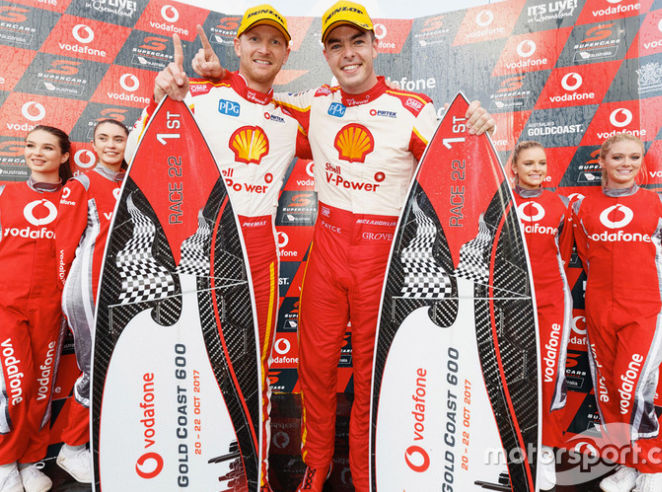 Good afternoon Fellow Members,
What a great race here over the weekend for the Gold Coast 600 with plenty of action on the Saturday with continuos rain most of the day.
Ford's Scott McLaughlin has pulled off a remarkable Supercars comeback win on the streets of Surfers Paradise as this year's nail-biting championship race gets even tighter.
McLaughlin pitted a lap before his championship rivals, coming out in front of both once all three cars had completed their compulsory second stop in Sunday's 300-kilometre race on the Gold Coast.
The 24-year-old then kept his nose clear of the Holden pair to secure the win before running out of fuel on his victory lap and being forced to push his car back to the pit.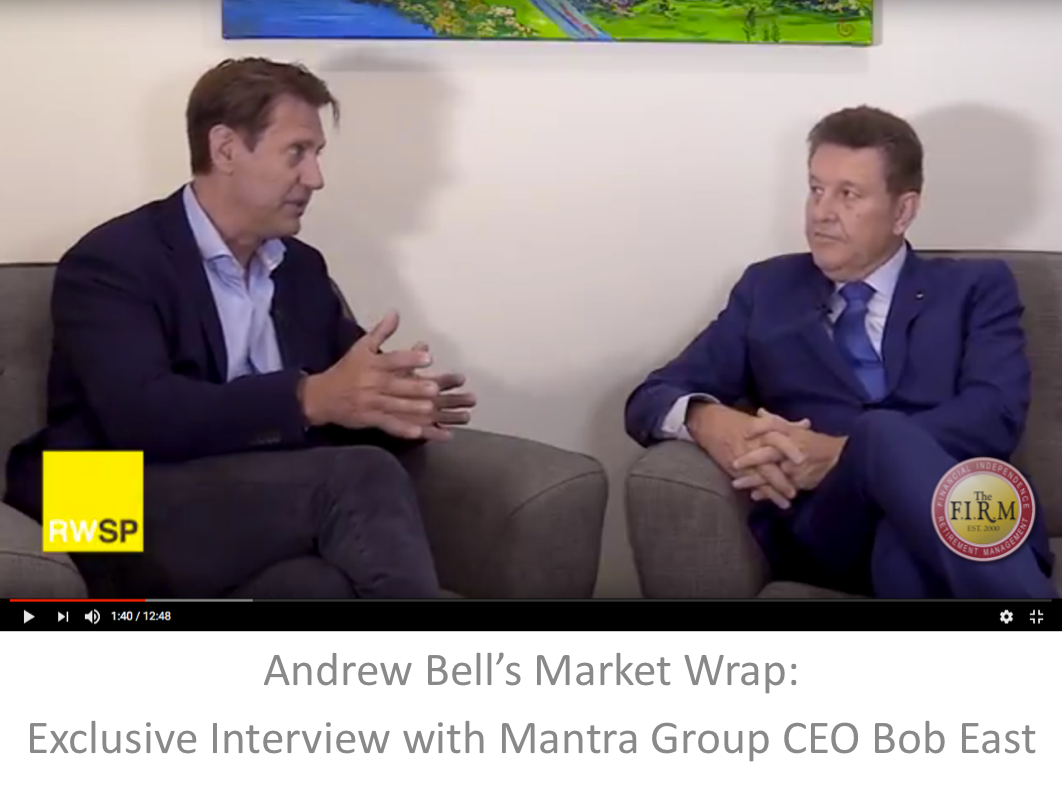 Good morning Fellow Members,
It gives me great pleasure to share with you this interview with long time friend and business colleague Andrew Bell, Ray White, Surfers Paradise with Mr. Bob East newly appointed Chairman of Tourism Australia and this is what they had to say about the future of the Gold Coast which is exciting news for all of us as property investors.
It is great to be with you today, especially because I have with me one of the great drivers of the Gold Coast, Mr Bob East, who is the CEO of Australia's largest accommodation provider, Mantra Group, and very significant in driving tourism here on the Gold Coast. Of great significance is the fact that Bob has just been appointed as Chairman of Tourism Australia. The most important role in tourism in the entire country.
Questions to Bob East:
How do you measure how healthy the tourism is in Australia and the Gold Coast?
Who are the main visitors?
Are we getting saturation in the domestic market?
Other than China, what is the next biggest growth market for tourism in Australia?
The Commonwealth Games is quickly approaching, and the spend in the sporting industry is increasing. How do you see the Commonwealth Games giving a legacy to the Gold Coast?
We used to depend on beaches, theme parks etc. to attract tourists. We are now broadening our attractions, however, how important are theme parks to the Gold Coast?
There is a lot of competition globally in the tourist market and capturing those travellers. Looking forward 5-10 years from now, how is Australia and the Gold Coast looking?
Please enjoy the above video to hear what Bob has to say.
Thanks Bob for a quick overview. We all wish you the best in your new role and as a personal friend, I can't tell you how proud we are to have a genuine, passionate Gold Coaster driving such an important aspect of the Australian economy.
Have an enjoyable week ahead as we continue to deliver the latest NEWS & REVIEWS in the world of The FIRM :)
In the mean-time stay HEALTHY, WEALTHY & WISE.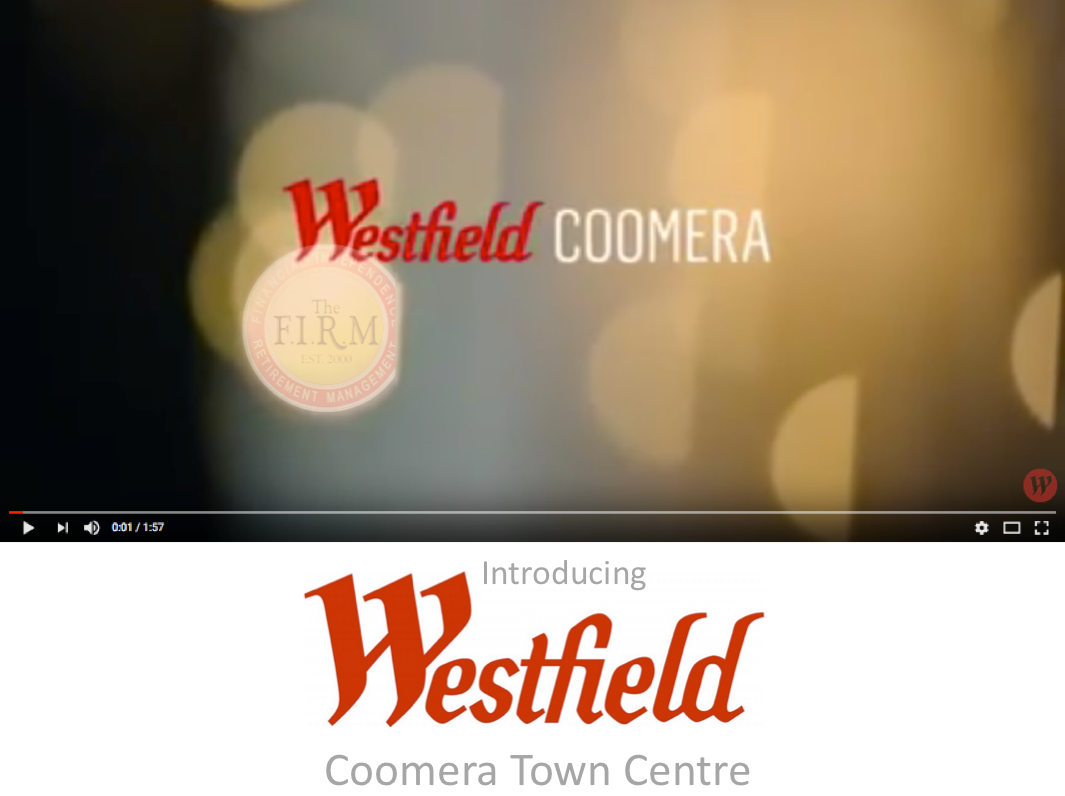 Good morning Fellow Members,
Finally, we received a little rain over the weekend which was just enough to green up the Golf Courses here on Hope Island :)
A new era is coming!
We are excited to announce the new Westfield Coomera has commenced construction. Anticipated to open in late 2018, the lifestyle destination will deliver everything needed for a modern life include a mix of favourite majors - Woolworths, Coles, Kmart, Target, Event Cinemas - and approximately 140 specialty stores. It will feature casual dining and entertainment offers, a curated selection of fashion and lifestyle stores, a market-style fresh food precinct, and welcoming spaces designed to bring the community together.
With a planned investment of $470 million, Westfield Coomera will be a place to exceed expectations and celebrate life's aspirations.
The centre will deliver a new experience for the community, creating a benchmark retail, dining and lifestyle destination that will transform the northern Gold Coast.
For more details https://www.westfield.com.au/coomera
So for all those long term members of The FIRM who had the faith to sit and hold their property investments in the following Estates are all sitting on substantial equity in the not to distant future Congratulations!!!
Savannah Palms

Coomera Cove

Savannah Waters

Evergreen Manors

The Cove

Beattie Place

Samarinda

Oak Park

River Glades

Catalina Park

Oxford Mews

Riverview

Harvard Mews

Villa Casa Blanca

Riverlinks
Have an enjoyable week ahead as we continue to deliver the latest NEWS & REVIEWS in the world of The FIRM :)
In the mean-time stay HEALTHY, WEALTHY & WISE.
Chat to you soon!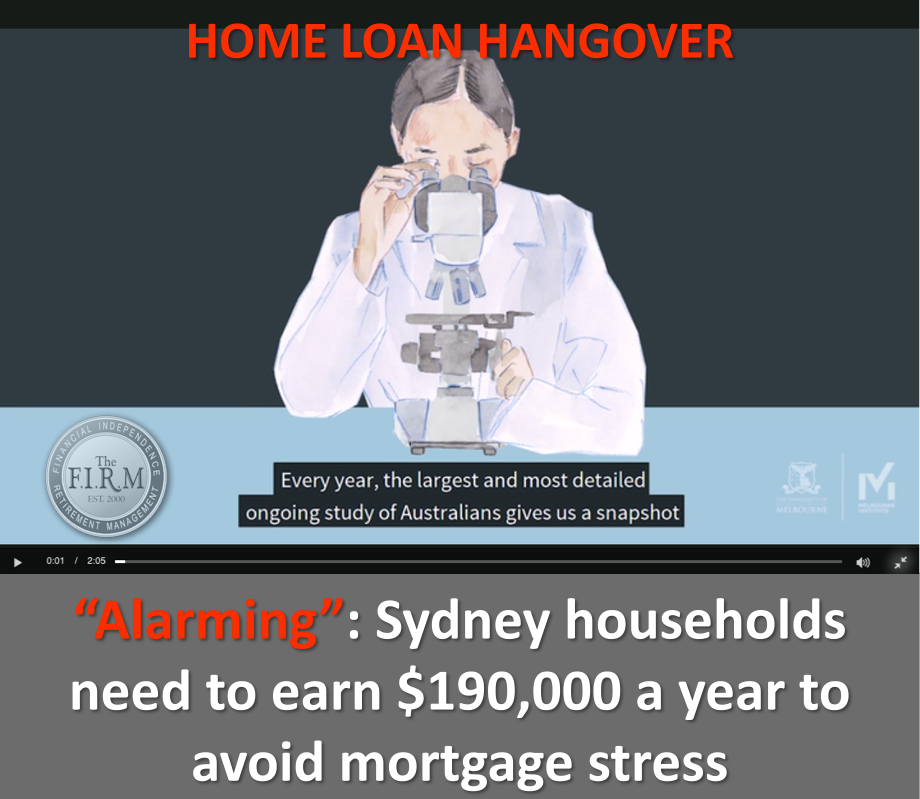 Good afternoon Fellow Members,
In case you were not aware we have a Public Holiday, Queens Birthday celebrations today so this will answer your questions why no offices are woking today except The FIRM. :)
Finally, we had a good saturation of rain yesterday with predicted overcast for the rest of the week which is a welcome change from almost drought conditions here on the Gold Coast.
Households in four of Australia's capital cities need six-figure incomes to afford a median-priced house without feeling the pinch, a new analysis shows.
Buyers in Sydney would need to make more than $190,000 a year to avoid spending more than 30 per cent of their income on mortgage repayments, a RateCity analysis found. This is almost $90,000 more than the current average income, and assumes they have $235,000 to cover a 20 per cent deposit on a median-priced home.
To buy a median-priced apartment apartment, they would need to earn $122,900. In Melbourne, household earnings would need to be above $140,000 for a house and $77,000 for an apartment. Six-figure salaries were also needed to buy a median-priced house in Canberra and Darwin. The current average annual household incomes in Sydney and Melbourne are about $100,000 and $95,000 respectively.
Already, some researchers are recording an increase in mortgage stress. Ratings agency Moody's has found home loan arrears where borrowers are behind in repayments has reached a five-year high. Roy Morgan found 17.3 per cent of borrowers in July 2017 were in this category, up 0.3 per cent over the year despite declining interest rates for home loans.
And the proportion who were "extremely at risk" increased from 12.4 per cent to 12.8 per cent in the 12-month period.
Roy Morgan Research's industry communications director Norman Morris said nearly one in six borrowers faced a potential problem, which would be exacerbated when rates rise. "[This] is likely to lead to an even lower number of borrowers but existing mortgage holders who have borrowed in a low-interest-rate environment are likely to face increased levels of mortgage stress," Mr Morris said. "The final impact, however, will also be determined by what happens to household incomes, which are currently showing very modest growth."
Mortgage Choice chief executive John Flavell said there was no denying the expensive nature of Sydney property. "The best thing borrowers can do to ensure they don't find themselves in mortgage stress in the future if and when rates rise, is not stretch themselves too thin," Mr Flavell said. He recommended borrowers review their finances regularly.
For more details go direct to https://www.the-firm.com.au/2017-news-headlines.html
So give us a call NOW for a Financial Tune Up to ensure you are on track!
In the mean-time stay HEALTHY, WEALTHY & WISE.
155th Monthly Edition NEWSLETTER
September 2017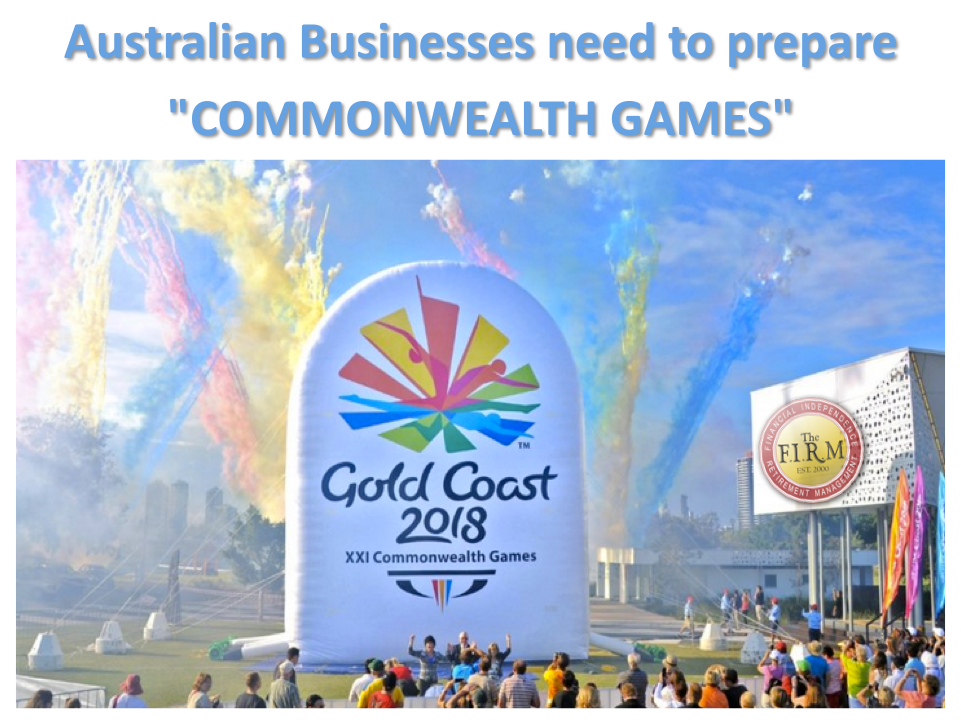 Good afternoon Fellow Members,
It's the biggest sporting event in Australia in more than a decade and businesses on the Gold Coast have been urged to take action and plan for the changes to the transport and road network during the Gold Coast 2018 Commonwealth Games (GC2018).
The Get Set for the Games Travel Advice for Business Program will provide your business with essential information to keep you moving during GC2018 and to make the most of the opportunities you'll enjoy during the event from 4 to 15 April.
The practical advice offered by the program will help you develop a plan to keep your business operating smoothly during this busy time. A partnership between the City of Gold Coast, Queensland Government and Gold Coast 2018 Commonwealth Games Corporation (GOLDOC), the program offers detailed information and practical assistance for businesses facing disruption from daily road closures or restrictions. At the launch of the Get Set for the Games Travel Advice for Business Program in June, representatives from the Gold Coast's largest employers received an insight into how the transport network will operate as well as advice and support on how to plan appropriately.
Over 500 businesses have signed up for the program to date and they will all play a vital role in keeping the city moving. With an estimated 6 million extra journeys expected to be made across Gold Coast roads during the Games, our transport networks will be under pressure so by reducing non-Games travel during our busiest times we can help ensure the success of the Games. Some businesses may be able to implement flexible working hours and others may think about rescheduling deliveries. It is important that businesses who haven't already, engage with the program to ensure they are prepared for what will be an incredible event for the city.
Now is the time to work out how your business will be affected and develop your own GC2018 travel plans to make sure everything continues to run efficiently and help you capitalise on the benefits of staging the event. Business travel planning workshops will be held from now until March 2018 at locations across the Gold Coast, Logan and Brisbane to help you understand how your business will be impacted and get help to develop a customised Games Travel Action Plan.
As part of the planning process, businesses are encouraged to re-time travel to outside of peak times, re-route travel to avoid congested roads, re-mode travel to cycling or walking as it may be quicker than travelling by car, and reduce non-essential travel where possible. All businesses will be affected and should have their travel plan in place for the Games. You'll be particularly affected if your core business involves freight, servicing and deliveries, has a high volume of customers, or employs more than 20 staff.
The same applies to businesses located near a Games venue, road event or the Games Route Network.
Planning ahead now is vital to make sure you can be one step ahead of any changes to the transport network.
Visit getsetforthegames.com/business for more information or to book a workshop closest to your business.
Enjoy your week ahead and stay tuned for the next exciting episode in the world of The FIRM :)
In the mean-time stay HEALTHY, WEALTHY & WISE.
Chat to you soon!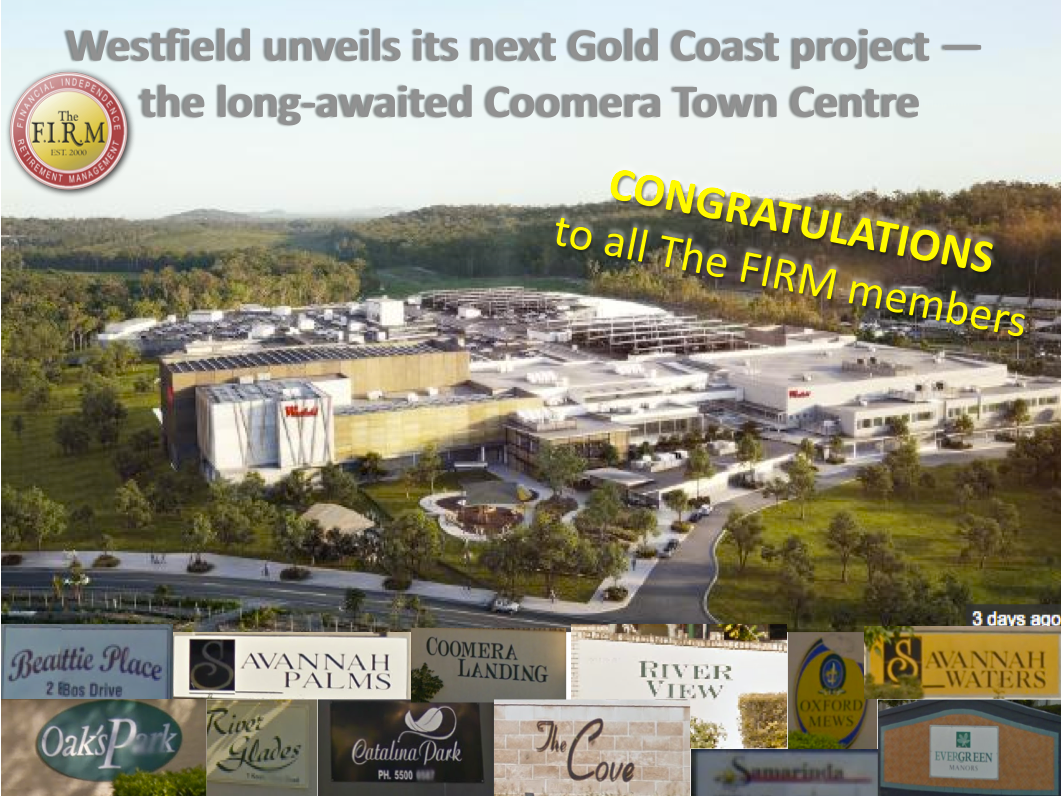 Good afternoon Fellow members,
Congratulations to all those members who invested in all these developments and more in the Coomera region with us back in the early days as now the $470 million Westfield Coomera Town Centre will open next year after decades of planning.
The shopping centre is under construction on a site next to Coomera Train Station and just 500m from the M1 and will feature 140 speciality shops where we drove around pointing out where the Coomera College was going on Foxwell Road.
Among its major tenants will be Woolworths, Coles, Kmart, Target and a cinema. The 59,000 sqm site off Foxwell Road will be transformed into a "new benchmark dining, lifestyles and entertainment destination".
Among its features will be a "bright alfresco dining precinct" which will be open alongside a fashion retailer area.
Construction is well-advanced and will continue into 2018 when it will be completed just months after the end of the Commonwealth Games. Stand by now and watch our investments grow rapidly as Coomera has been predicted according to Core Logic the Gold Coast is experiencing more rapid growth than Brisbane.
It seems that much of the demand across these regions is coming from acceleration in internal migration to Queensland, and where buyers from Sydney and Melbourne are using substantial equity earned to secure lifestyle properties in the state." Said Core Logic analyst Cameron Kusher.
Enjoy your week ahead and stay tuned for the next exciting episode in the world of The FIRM :)
In the mean-time stay HEALTHY, WEALTHY & WISE.
154th Monthly Edition NEWSLETTER
July/August 2017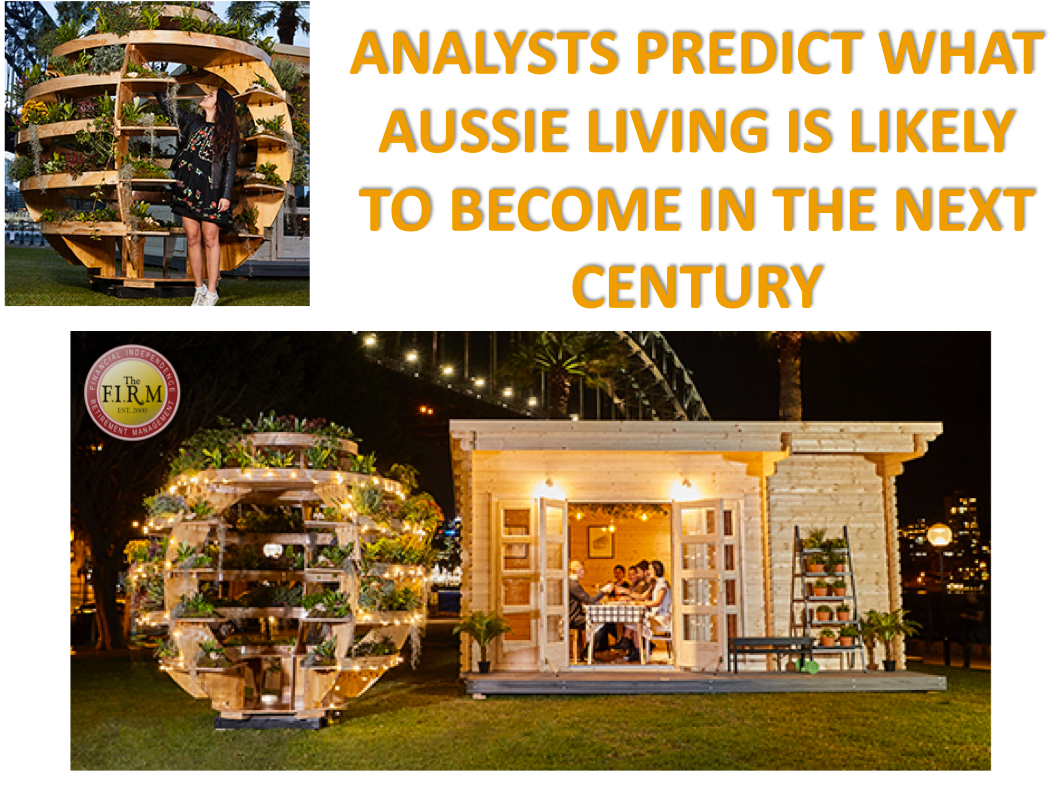 Good afternoon Fellow members,
As many of you are aware I have been working diligently on perfecting sustainable modular construction for the past 16 years.
It all started when we continued to improved a light weight recyclable concrete wall panel.
The FIRM Technologies
The FIRM Technologies developed FIRMTEC Panel which Features can now withstand Cyclone, Earthquake, Fire, Flood, Green, Insulation, Sound and Shock.
FIRMTEC Benefits include - Lightweight, Strength, Speed, Efficiency, Affordable, 4 Hour Fire rating, 100% Termite proof, Excellent Insulation,100% Recyclable, Certified ISO and Australian Standards and Proven projects over the past 20 years for structural integrity.
Our Manufacturing plant has now expanded into new premises in July 2017 by an additional 166,000m2 to cater to demands.
For more details - https://www.the-firm.com.au/the-firm-technologies.html
The FIRM Constructions
Part of The FIRM's business plan once we perfected the FIRMTEC Panel in 2001 was to manufacture and design factory built, relocatable modular buildings using the panel.
Emphasis and focus was for its ease, speed, cost, and transport capabilities, delivering completed full turn-key homes within days NOT months to all our members. 28 individual single story homes were completed as a pre-production run with strong market acceptance.
The FIRM Constructions are now preparing to achieving the second stage of those goals and objectives of full production with a multi-national corporation to handle volume orders for the future.
For more details - https://www.the-firm.com.au/the-firm-constructions.html
For more information please do not hesitate to contact me for more details.
I thought I would share this information from Business News Australia released the other other day what analysts are predicting how we are going to live in the future.
AS THE Australian population continues to grow, analysts are predicting what the country is likely to look like within the century. Research conducted by IKEA Australia in its People & Planet Positive Report shows that the headcount is likely to reach 70 million in the next hundred years, but only a fraction of the current population is anticipating and preparing for this change. All signs point to co-living as the next frontier for the population, where neighbours share cooking and dining spaces as well as gardens, living rooms and laundries.
The report found that 68 per cent of Australians believe the country is not prepared for a population increase, while 59 per cent do not believe that significant changes to housing conditions will occur within their lifetime. Kate Ringvall, sustainability manager at IKEA Australia, says a population growth which meets the forecasts will likely result in the rise of new cities where developers seek to make the most out of available space. "There's a very real chance that as a society, we may not be that realistic with our vision of the future of our society," says Ringvall. "Australians need to be open-minded about our sustainable future. As our cities become denser, this presents an enormous opportunity to actively create the cities we want, as opposed to inheriting the legacies of previous generations." In Copenhagen, Denmark,
IKEA has created a future-living lab called SPACE10 where it has been developing new solutions to address the changing needs of the world's population. One of these solutions is the 'Growroom' which is an open-source pavilion that introduces the idea of food production and sharing to the urban market. Simon Caspersen of SPACE10 says sustainable innovations like the Growroom are important to consider as part of future living.
"The next 20 years are going to be much more important for humanity than most people realise," says Caspersen. "With a growing population, rapid urbanisation, millions of people emerging from extreme poverty every year, climate change and growing pressure on natural resources such as fresh water, energy and food, we as humans need to rethink our way of life."
IKEA is hosting its sold out Shared Dining Experience in Sydney this week, where people can experience innovations including the Grow-room first hand.
Enjoy your week ahead and stay tuned for the next exciting episode in the world of The FIRM :)
In the mean-time stay HEALTHY, WEALTHY & WISE.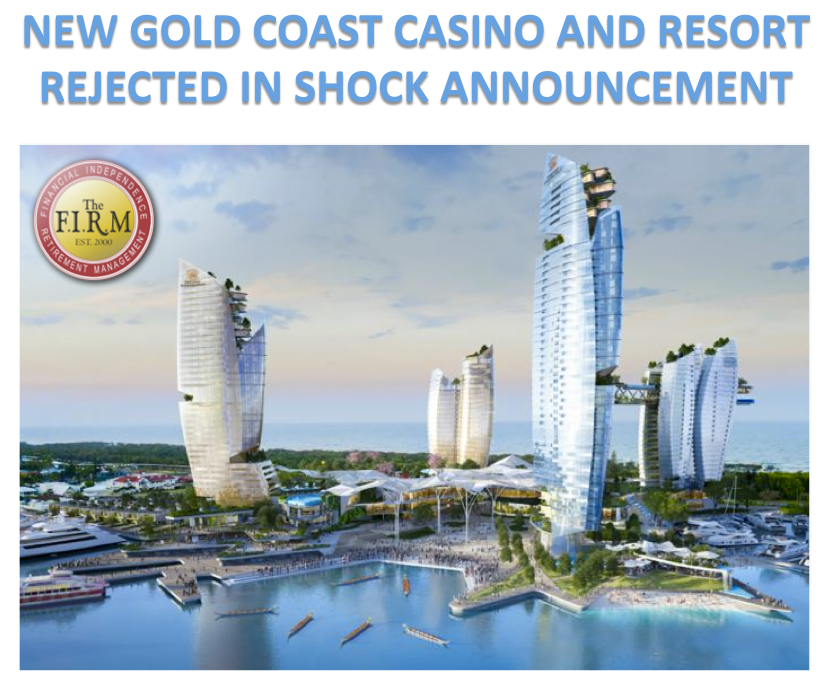 A $3 billion "integrated resort" casino development planned for the Gold Coast Spit has been rejected.
Good afternoon Fellow members,
THE Queensland Government has terminated a planned multi-billion dollar resort and casino on the Gold Coast, saying that there needs to be a balance between environmental and commercial concerns.
The resort, which had the backing of Chinese company ASF, was to have been built on Crown land on the Spit at Southport with a five tower integrated complex including a casino.
Queensland Premier Annastacia Palaszczuk says the decision is based on ensuring the "best long-term solution" for the Gold Coast, and says the Government will move forward with a community-led master plan. "Like many Queenslanders, I have enjoyed visiting the Spit for decades," Ms Palaszczuk says. "We need to ensure that character is preserved for future generations.
The Spit offers great opportunities for job creation through tourism, entertainment and recreation. "What the Spit really needs now is a master plan to revitalise it and increase its benefit to the Gold Coast as a community asset." "To be clear, this is not a decision that rules out a future Integrated Resort Development on the Gold Coast."
The Government says the new master plan will ensure the Spit remains a low-density area with a maximum three storey limit to apply to any redevelopment. It is expected the master plan will take 18 months to complete.
It's believed that the decision will not affect moves by Gold Coast Mayor Tom Tate to push for construction of a cruise ship terminal in the area.
Chat to you soon!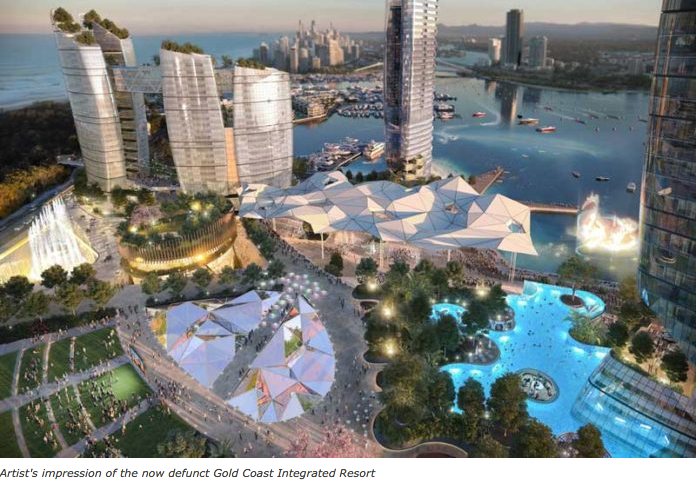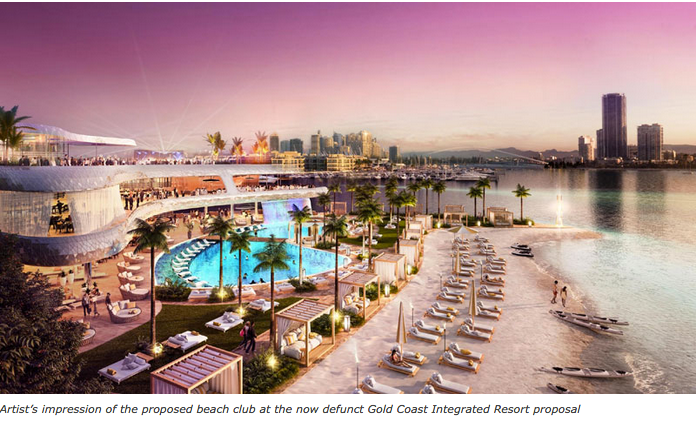 153rd MONTHLY EDITION NEWSLETTER
JUNE 2017
EOFY Check List

Good afternoon Fellow members,
Time is running out to get your financial house in order before June 30. This is especially the case for anyone who has funds available to make a large cash injection into their superannuation retirement savings before the rules change.
The 2016-17 financial year is your last opportunity to make a non-concessional (after tax) contribution of up to $180,000 to your super account, or as much as $540,000 under the 'bring forward' rule. This rule allows people under age 65 to make three years' non-concessional contributions in the current financial year by bringing forward two years' contributions. From 1 July, the annual non-concessional cap reduces to $100,000 and $300,000 under the bring forward rule. What's more, anyone with a total super balance of more than $1.6 million at the end of this and future financial years will not be able to make any more non-concessional contributions.
A golden opportunity
If you have recently sold an asset or received a windfall, this is the moment to think about making the most of the existing super rules while you can. A couple aged 50 or older could potentially put an extra $1.15 million into super before 30 June 2017 if they each made non-concessional contributions of $540,000 using the bring forward rule and concessional contributions of $35,000. Younger couples can make a maximum concessional (pre-tax) contribution of $30,000. Concessional contributions include superannuation guarantee payments made by your employer and salary sacrifice amounts. The advantage of doing this is that once your savings are in the super environment, investment earnings are taxed at 15 per cent instead of your marginal tax rate and are tax-free in pension phase. After June 30, people with more than $1.6 million in super will only be able to make concessional contributions and the annual cap will fall to $25,000 for everyone, regardless of age.
Take advantage of government contributions
Low and middle income earners may also be able to boost their super balance, thanks to government contributions.i If you earn less than $36,813 this financial year and make an after-tax contribution to super, then you are entitled to a government co-contribution of up to $500. The co-contribution tapers out once you earn $51,813. Also, low income earners on incomes below $37,000 may be eligible for a government-paid low income super contribution (LISC). This payment is equal to 15 per cent of your or your employer's concessional contributions over the financial year up to a maximum of $500.
Bring forward expenses, delay income
The countdown to June 30 is not all about super; some simple financial housekeeping tips could help you reduce your tax bill. Begin by collecting all supporting receipts and documentation for any work-related expenses. Depending on the work you do, this might include home office expenses, car and travel expenses, self-education, tools and equipment and charitable donations. Speak to your accountant or check the ATO site for guidelines about what you can and can't claim. Where possible, bring forward tax-deductible expenses to the current financial year and delay income until July. This is especially worthwhile if you think your taxable income will be lower next financial year. For example, you may be able to pre-pay 12 months' interest on an investment loan, or 12 months' premiums on income protection insurance held outside super, and claim the full deduction in this year's return. You may also be able to pre-pay membership fees for professional organisations and subscriptions for work-related publications.
Review investments
After a mixed year on global sharemarkets, you may be sitting on paper losses on some of your stocks. This could be a good time to sell some of your poor performers to offset against capital gains made on the sale of other investments over the past 12 months. Look to sell investments held for at least 12 months if you want to take advantage of the 50 per cent capital gains tax discount. Residential property has had a mixed year across the country, with the boom continuing in Sydney and Melbourne and prices falling in the West. With interest rates on investment loans on the rise, it's more important than ever to claim all allowable rental property deductions.ii You can claim an immediate deduction for interest on your investment loan, repair and maintenance and tenancy costs such as the preparation of a lease or advertising. Some expenses can only be claimed over a number of years, such as the cost of depreciating assets, structural improvements and borrowing costs such as stamp duty and loan fees. The tax and investment landscape is constantly changing and growing in complexity. If you want to take advantage of the current super rules or traditional end-of-financial-year tax-saving strategies, consult your tax accountant and call us if you would like to discuss planning opportunities.
EOFY checklist
Make the most of higher super contribution caps before June 30 Make a personal super contribution and receive a government contribution if you are a lower income earner Check your eligible work-related deductions and gather supporting documentation Pre-pay expenses and delay income where possible Offset capital gains by selling loss-making investments Claim all allowable rental property deductions Seek professional tax and financial planning advice
Source: ATO
i https://www.ato.gov.au/rates/key-superannuation-rates-and-thresholds/?anchor=govtcont#govtcont
ii https://www.ato.gov.au/general/property/residential-rental-properties/expenses-you-can-claim/

152nd MONTHLY EDITION NEWSLETTER
MAY 2017
17th Year Anniversary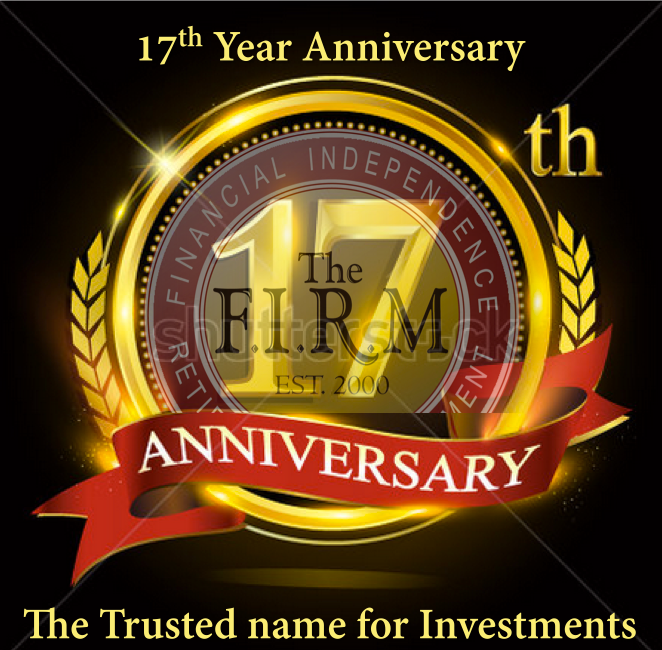 Dear fellow members,
I am delighted to announce our brand new Company Profile which highlights all our services that The FIRM offers to our members around the world.
Founded on the 10th June 2000, 17 years ago as a small property investment company on the Gold Coast of Queensland,
The FIRM has since grown to 10,074 current members, delivered 152 News and Reviews Newsletters and sold 10's of thousands of property to first and second generation of families. We have become one of the few residential property investment corporations with the expertise covering all facets of property as the market leader offering a full service for Financial Independence & Retirement Management.
All this would not be possible without our experienced and dedicated team, they are all experts in their field and passionate about their work. This team, combined with our ethical approach are the reason why our members return to us and referring friends and relatives year after year. Any wonder why we have gained a reputation as a Trusted Name in the Industry.
As part of our 17th anniversary celebrations we have decided after many years to evolve our image.
As many of you are aware The FIRM Technologies invested 16 years of research and development into producing our light weight concrete FIRMTEC panel for modular construction.
28 factory built pre production homes were delivered around Australia for testing durability and affordability.
The time has come now to launch our Fast Innovative Rapid Modular (FIRM) Construction to the market place.
Stay tuned for this Special Event where you will ALL be invited to witness the delivery for a full turn key solution home from our assembly line.
Thank you all for your ongoing support especially over these difficult times in the past.
And remember stay HEALTHY, WEALTHY & WISE until next time.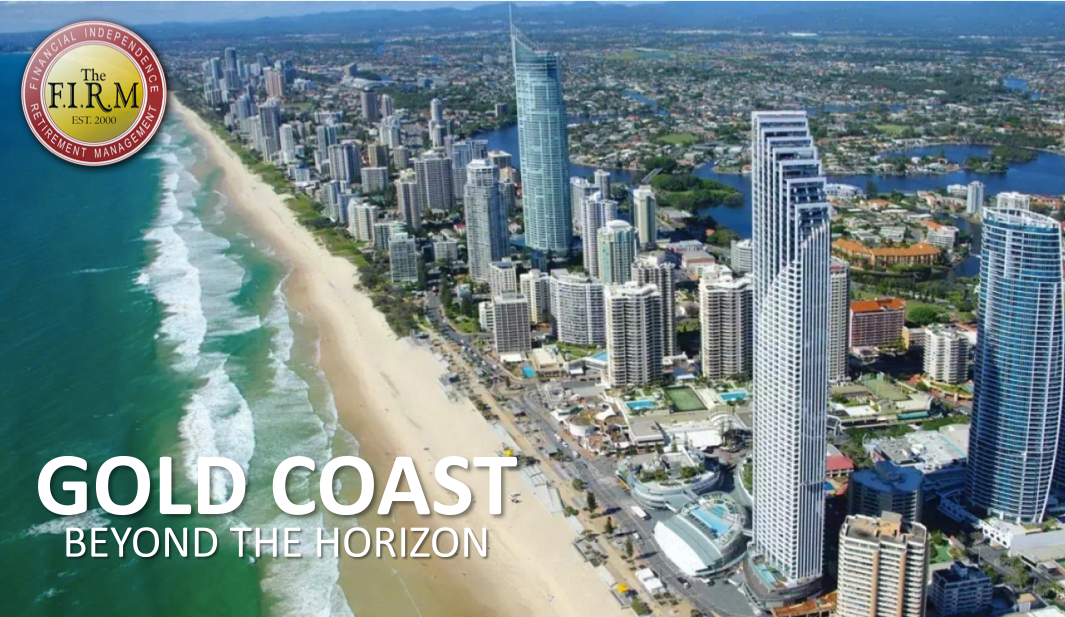 Good morning fellow members,
Well winter has come now, especially here on Mount Tambourine.
A very different atmosphere compared to the Gold Coast being 10 to 15 degrees cooler surrounded by tropical rainforests and the smell of open log fires raging as we do our morning walks.
Plenty to talk about in this month's edition here on the future of the Gold Coast - For all this YEAR'S NEWSLETTER'S CLICK HERE
We strive forward in preparations for the Commonwealth Games "Beyond the Horizon".
Our Off Site Manager retires after 25 years.
Interest Rates remain stable however Banks are clamping down on Interest Only loans.
Stamp Duty changes in Victoria.
Property market bubble in Melbourne and Sydney.
FIRST HOME OWNERS GRANT CLOSES in 52 DAYS
Beyond the HORIZON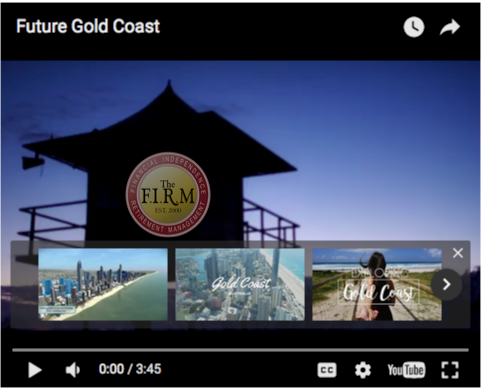 Beyond the Horizon of the Gold Coast. Sixth largest city on the Australian continent. Non-existent at the time of the 1954 census but today a metropolis of more than 600,000 residents.
By the middle of the century the Coast will still be this nation's sixth largest city but it will also be a city of truly metropolitan scale. What will the Gold Coast look like in 2050?
Beyond the Horizon paints a picture of what this truly remarkable city will look like. This 33 page report explains why! Click Here to download.
More information at https://futuregoldcoast.com.au/
Off Site Managers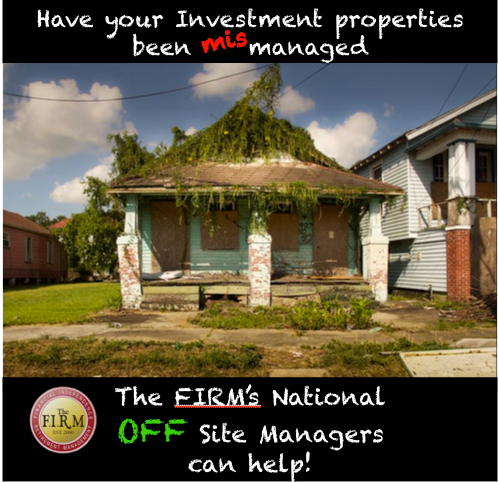 As you are all aware our previous Head of our Property Management Team have retired and we have been researching other management businesses to fill the gap.
We have been constantly on the alert looking for someone who can take over the role. We are in final negotiations now with a very exciting, new age format that is keeping up with the times yet still maintaining our good old fashion service of excellence. It will not be too long before the decision will be made to fill this very important role for the future. In the meantime business as usual with the rest of our team are at your disposal. If your On-Site Management is not performing to your expectations then give us a call.
Clampdown on Interest Only loans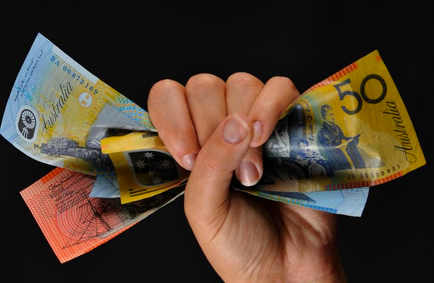 Interest Rates remain stable!
'The tough new rules announced by the Australian Prudential Regulation Authority yesterday which will limit higher-risk, interest-only lending to 30 per cent of all new residential mortgages and require strict controls on interest-only loans with deposits smaller than 20 per cent.'
Response:
Over 95% of our clients do contribute a deposit of 20% or more to their investment purchase so would be largely unaffected by this. Also - interest only loans are the most lucrative loan structure for banks so no doubt they will finds ways to circumvent this new APRA ruling in their quest to continually deliver great profits / returns to their shareholders.
Stamp duty rules in Victoria to change from July 1st.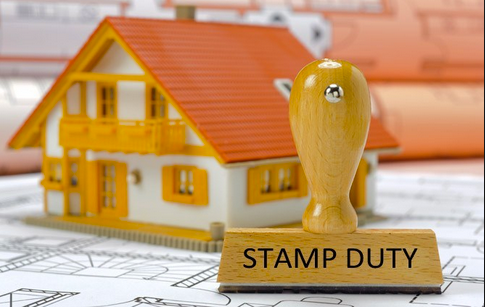 After July 1st, 2017, there will no longer be stamp duty discounts offered to off-plan purchases in Victoria.
Response:
Victoria is the last state to offer these discounts so it is somewhat surprising that the Government & State Revenue Office have taken this long to wake up to that significant amount of lost potential tax revenue. Most developers are still going to require 'pre-sales' to qualify for construction funding to enable their project to 'get underway'.
Most banks have increased the 'pre-sale requirement' imposed on developers over the last 12-18 months. The developers we have spoken to and the industry in general will respond by offering their own financial incentive to buyers that commit at the early 'off plan stage' of their projects which will effectively be a substitute for the loss of government stamp duty incentive.
This means that those developers will have to factor these financial incentives into the financial feasibility of a projects which may mean that a project that was previously viable will no longer be.'c'est la vie'. Having said all of that if you have a chance of buying before June 30th.DO IT!
Property Market Bubble in Melbourne and Sydney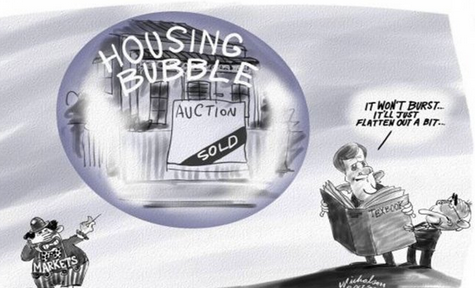 Response:
Melbourne is a city made up of hundreds of suburbs, it is therefore erroneous to talk about Melbourne as a single market. In a similar context, there are many companies that make up the ASX some are overpriced and heading south whilst others no doubt represent great investments (if anyone knows this share market secret please do tell!!)
Similar to the sharemarket, there are certain pockets / suburbs in Melbourne that: have had crazy growth that we believe is unsustainable. are oversupplied with apartments or 'new house and land packages' are currently undergoing 'gentrification', enjoying other infrastructure benefits, or other factors that are driving demand, with relatively low levels of ongoing supply In summary we believe, as always, that solid research and unemotional buying that is driven by solid data and research is critical and will avoid oversupplied and overheated market segments.
FIRST HOME OWNERS GRANT 52 DAYS to GO!!!!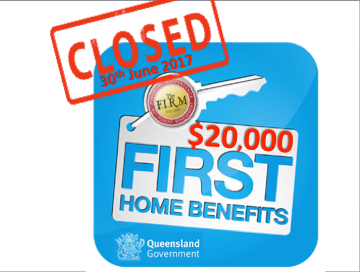 REMINDER:
Don't forget First HOME OWNERS GRANT (FHOG) for QUEENSLAND has only 52 DAYS to GO before it closes. If you are seriously considering the FHOG before the 30th June then please do not hesitate to contact me direct as we have some very willing developers and Lenders who are prepared to offer assistance where they can to help you in to your first home . Okay, that is a overview wrap for this month and we look forward to your call.
In the meantime stay HEALTHY WEALTHY & WISE.
151st MONTHLY EDITION NEWSLETTER
APRIL 2017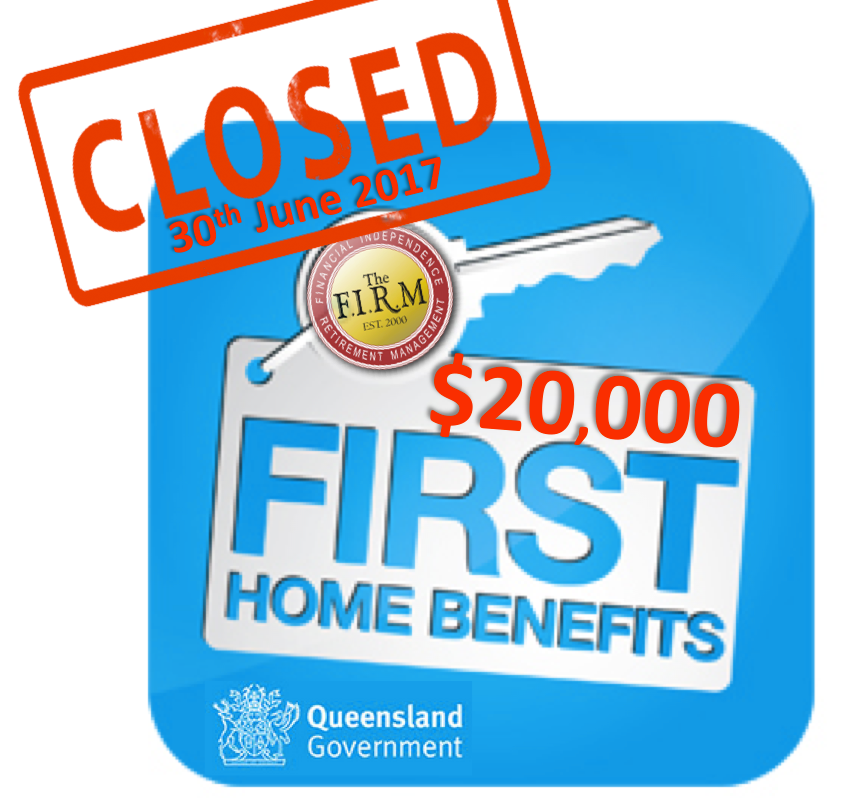 Good morning fellow members,
The FIRM has had many enquiries recently as the Queensland Government's generous offer is coming to a close within the next 79 DAYS as the FRENZY continues.
There's now just under three months left to take advantage of the recently increased $20,000
First Homes Owners Grant offered by the Queensland Government. Up from $15,000 since the 1st of July 2016, the extra $5,000 added to the grant ends on the 30th of June 2017 for brand new homes under $750,000.
Check out to see if you qualify - Click here
Are you looking to buy your first home?
First home buyers, take note: Queensland Treasurer Curtis Pitt recently announced an increase of $5,000 to the Great Start Grant, meaning the total grant is now $20,000.
All first home buyers purchasing newly constructed property under $750,000 are eligible to apply for the grant. The increase to the Great Start Grant will apply from 1 July 2016 for 1 year only, this is great for first home buyers looking to buy, new or off the plan. It's the first major increase to the Great Start Grant since it was established in September 2012, replacing the previous First Home Owners Grant established in 2000.
FACTS YOU SHOULD KNOW:
The previous 'Great Start Grant' has been renamed and as of July 1 2016 it is now called the Queensland First Home Owners' Grant The$15,000 Great Start Grant applies to contracts dated between 12th September 2012 and 30th June 2016
The $20,000 Queensland First Home Owner's Grant is not available to replacement contracts where there was a previous contract entered into before 1st July 2016, meaning you can't rescind a contract and sign a new one on the same property to claim the increased grant
Contracts entered into from 1st July 2016 for that financial year will be eligible to apply for the boosted $20,000 Queensland First Home Owner's Grant To apply for the current grant you must be buying or building a brand new home valued at under $750,000
First home buyers may also be eligible for a stamp duty exemption for homes under $550,000, which is an additional kick start to entering the market.
There is nothing like a brand new home, or the feeling of buying your first home and with these incentives on offer and interest rates at all time lows, it is certainly an interesting time to be looking at the property market.
If you want to check your eligibility for the Queensland First Home Owner's Grant, you can visit Queensland State Government's dedicated page by clicking here.
So if you have the capacity to consider your very first home and you qualify for the FIRST HOME OWNERS GRANT then I strongly recommend you contact us immediately before it is too late to arrange your finance as their are thousands of applications waiting for approval!
Also a wide selection of brand new homes and apartments around Australia to choose from.
Avoid disappointment and call us today!
In the meantime stay HEALTHY, WEALTHY & WISE!
150th MONTHLY EDITION NEWSLETTER
MARCH 2017
Found EXTRA CASH for YOU!!!!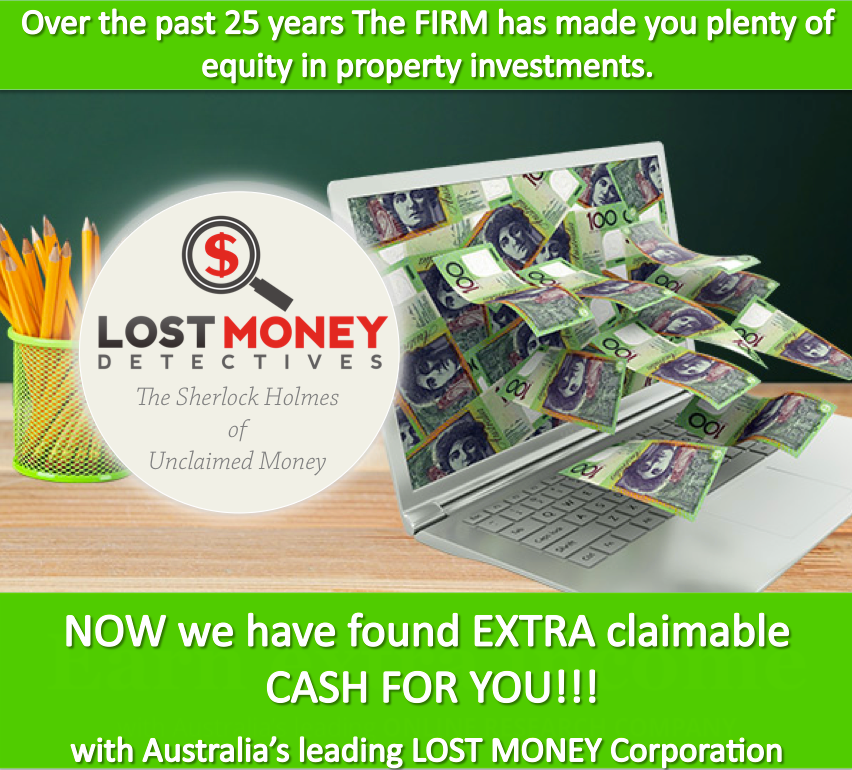 How it works
Contact Mark Gannon, Managing Director, Lost Money Detectives - 0425 708 113
Mark will ask you for relevant questions so he can carry out some forensic investigation (NO WIN/NO FEE)
Mark will contact you to explain the process to recover YOUR lost money.

Mark and Barbara Gannon have been personal friends for many years who have established The Lost Money Detectives. With over 30 years experience, offer a fully managed claims service and co-ordinating all the Government holding authorities. Their goal is to make the whole process as seamless as possible for all parties. They never ask for any upfront fees and prepared to offer all members of The FIRM a discount for their services. So dont forget when speaking to Mark that you mention The FIRM.
Average minimum claims from $10,000 to over $1m.
Some of the companies they have assisted in the past are -
Maurice Blackburn Lawyers
Harvey Norman Pty Ltd.
"The GOOD GUYS"
Brookfield Multiplex
Transfield Holdings
Brickworks Pty Ltd.
Colliers International
Fraser Coast Council
Swinburne University of Technology
BMW Sydney
just to name a few!!!
Testimonials
Some of Lost Money Detectives Clients have kindly given permission to list their phone numbers & relevant contact details on the attached
They encourage you to make contact with them directly to ask them any questions that you may have regarding our service.
CLICK HERE - See what our clients really say about us - The Good, The Bad and The Ugly!
Book NOW and take advantage of the EARLY BIRD DISCOUNT and mention The FIRM.
If you require any additional information please do not hesitate to contact me direct.
In the meantime stay HEALTHY, WEALTHY & WISE!
Chat soon!!!
JANUARY 2017
BACK TO WORK WE GO!!!!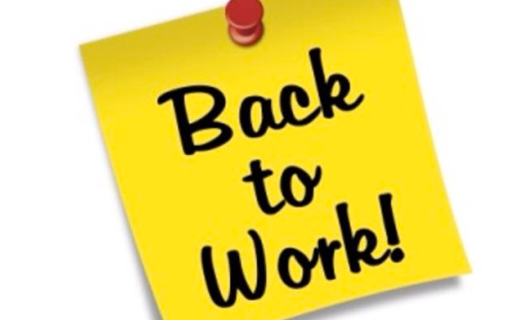 Good afternoon fellow members,
For all those members still on holiday break you should be back to work like the rest of us . ONLY JOKING!!!!
What a very active Christmas/New Year it has been here on the Gold Coast catching up with many surprise visits from many new and long term members from around the Globe. I guess this is why we are located on the Gold Coast :)
A special thank you to Q Property Law, Asset Finance and our developers for their wonderful support keeping their doors open during the festive season, again, going beyond the call of duty!
Thank you to all those members recommending The FIRM over the festive season to their friends and relatives who have recently joined us.
Thank you to all those new members who have joined us recently as we introduced you to a true pedigree of professionals who are all working quietly in the background to ensure that your journey with The FIRM is a wonderful and seamless experience as we have provided to thousands of members in the past.
Thank you for your confidence and on going support.
Remember sharing this information is the best compliment you can give us all.
We are now PROUD GRANDPARENTS to London Leigh Kealley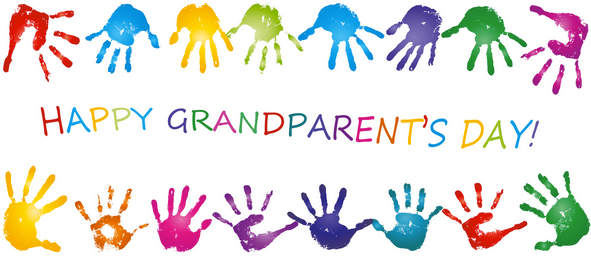 I want this opportunity to share this with all our grandparent members for the wonderful feeling it is to have your first grand child.
There is nothing like a grand child to put a smile on your face, a lump in the throat and a warm feeling in your heart!
The best Christmas present ever for both Annette and I as we are now the very proud grandparents to our first grandchild. Natasha (our daughter) and Tim are both doing well even though exhausting times. Her name is London, who is absolutely gorgeous, weighing in at 7lb 8oz.
Now home resting up preparing for a big year for 2017 deciding on what outfits to wear each day that were provided from all the Aunties and Uncles over Christmas... Talk about perfect timing :)
Thank you Tash and Tim for this beautiful gift as it should be declared HAPPY GRANDPARENT'S DAY every day :)
Looking forward to see you soon!
Stay HEALTHY, WEALTHY and WISE until next time!!!