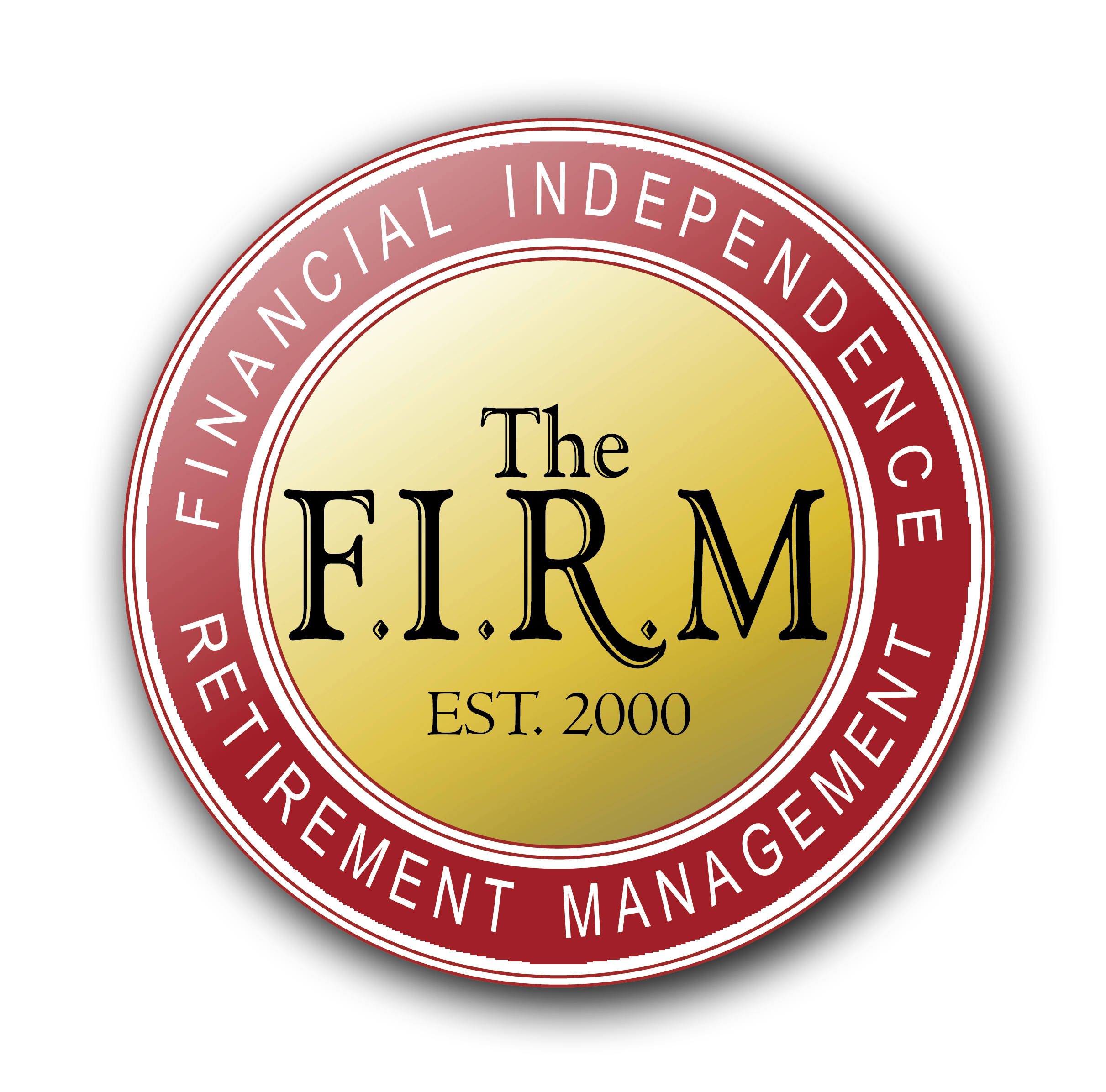 172nd EDITION
MONTHLY NEWSLETTER
JANUARY 2019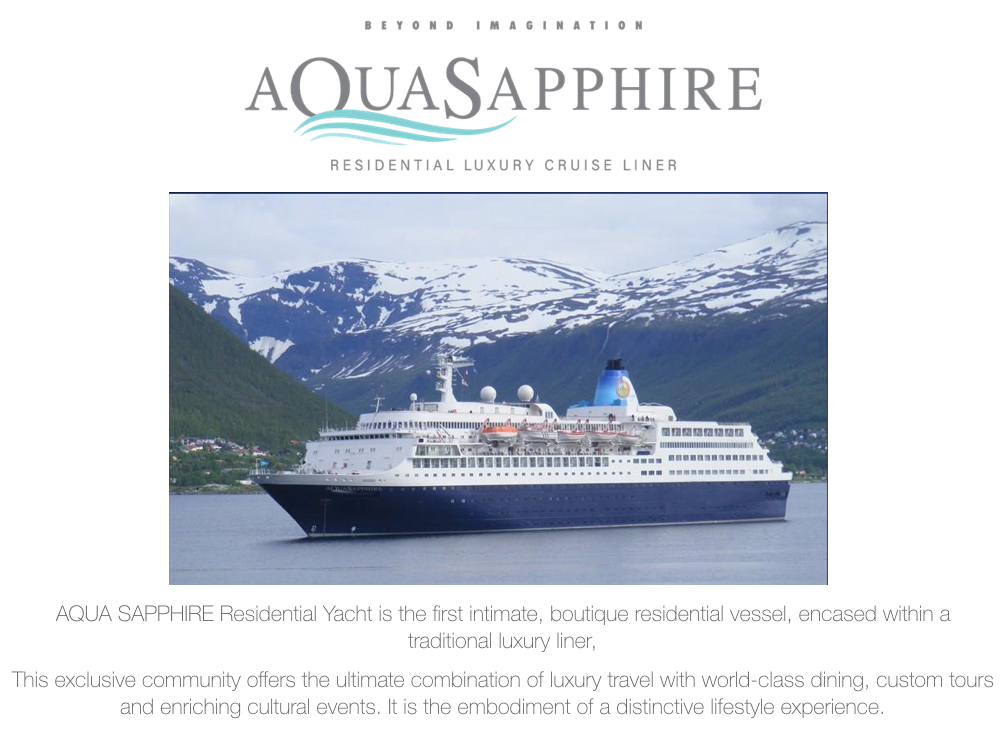 Good morning everyone,
I trust you had a rested holiday season and welcome to 2019.
Plenty of activity was happening last year as we all prepare for retirement. Many of us have developed strategies along the way to secure a better lifestyle for the future.
Reflecting on my previous goals and ambitions I feel very proud of all my achievements in my life which now are of closure.
I am now classified as a senior citizen, yet, now more than ever I have the passion, the hunger and the dedication to achieve more, which I wish to share with all of you.
Introducing AQUA SAPPHIRE Residential Yacht
Imagine the ultimate lifestyle that comes with combining a private yacht and an affordable luxury vacation home. A home that takes you around the globe allowing you to wake up to a new scenery outside your private balcony every few days.
Elegant, timeless, relaxing AQUA SAPPHIRE is all these things, but with a few little surprises too.
With only 376 individual homes, AQUA SAPPHIRE residents enjoy one of the most exclusive lifestyles imaginable. Not only do the residents own their own individual Residences but collectively, they own the ship, ensuring that the experiences- both onboard and off - are far beyond current luxury travel standards.
But what this community shares with one and other goes far beyond ownership. Each Resident has an endless thirst for knowledge, adventure and of course travel.

Join me, as time passes, neighbours become travel companions, and travel companions become good friends. Residents offer one and other new ways to experience the many destinations we sail to. But above all they offer each other comfort, good company, and lots of laughter.
Intrigued to know more, then please call me for a one on one discussion as I know you will be pleasantly surprised.
Chat to you soon!
With kindest regards and blessings!
John
Australia to see world's worst 2019 house price fall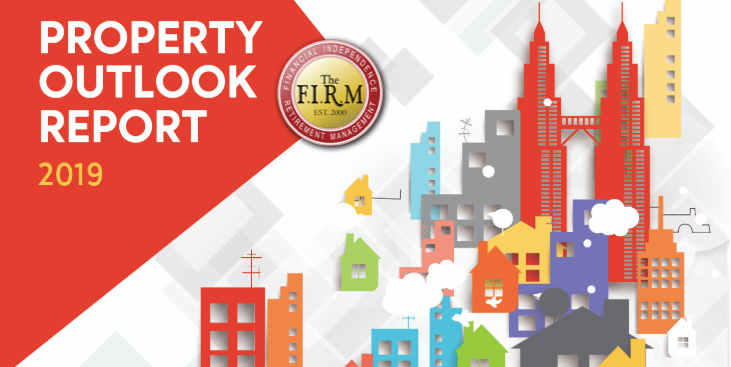 Courtesy ABC NEWS
Australia will see the world's biggest house price declines this year, according to one of the world's major credit ratings agencies, which declared homeowners would have to wait until 2020 to see any recovery.
Key points:
Australia faces the sharpest decline in house prices, a study of 24 economies shows

House prices are not expected to stabilise until 2020

Lending is likely to tighten further due to the banking royal commission findings
In a research report released on Wednesday, Fitch Ratings forecast Australian house prices would decline a further 5 per cent this year, on top of a 6.7 per cent decline from the peak so far, making Australian housing the worst performer out of 24 countries for the second consecutive year.
Fitch also warned that mortgage delinquencies will rise as house prices fall and homes take longer to sell.
It said Australia has now hit a household debt-to-GDP ratio of 121 per cent, which is a big risk to the nation's economy going forward.
But it said above-trend GDP growth, decreasing unemployment and strong net migration should stabilise prices by 2020.
Fitch said the national decline of 6.7 per cent as of December was being driven by lower investor demand as regulators imposed restrictions on interest-only and investment lending.
"We expect price declines to continue at a similar pace in 2019 in Sydney and Melbourne, where larger falls have occurred," Fitch's research report warned.
It noted peak-to-trough declines of 11.1 per cent in Sydney and 7.2 per cent in Melbourne as of December.
"The most expensive quartile of properties has experienced the largest declines with falls of 9.5 per cent [nationwide]," the report said.
Lending to tighten further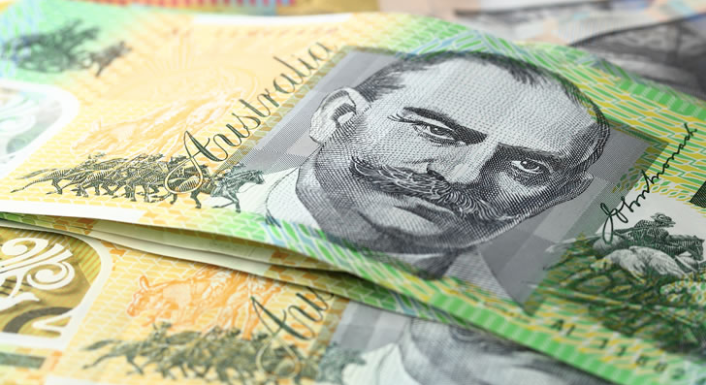 First home buyers have found it hard to get funding as banks imposed tougher screening processes for loan applications.
Property outlook for 2019
Policymakers have embarked on the delicate task of deflating a property bubble without bursting it this year we'll find out if they've succeeded.
Recognising the weaker housing market, the Australian Prudential Regulation Authority (APRA) last month scrapped its 30 per cent restriction on interest-only loans.
Fitch believes the banking royal commission's final recommendations, due in February, could further reduce credit availability.
The report said housing credit growth that is lending by banks would ease further this year to 3.5 per cent, from 5.1 per cent year-on-year growth in October.
Fitch also forecasts loans in arrears over 90 days to increase slightly by 2020.
"Properties in possession will take longer to sell as home prices fall, so loans will remain delinquent for longer" the report forecast
"Early-stage mortgage arrears 30 to 90 days in arrears will be broadly stable in 2019."
Household debt rises globally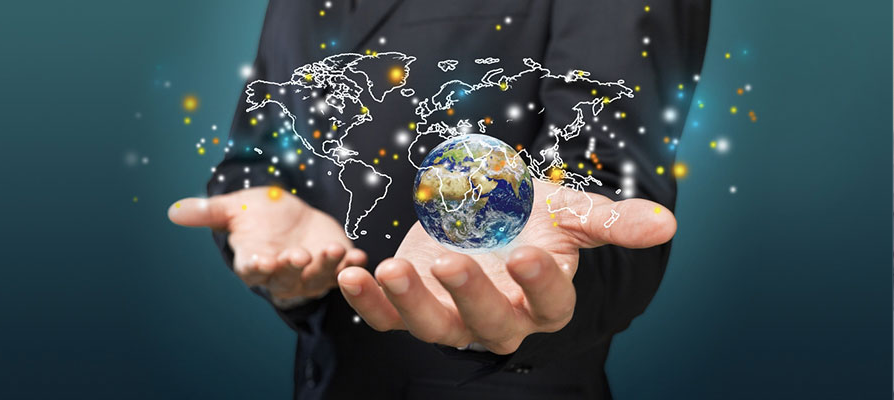 Globally, Fitch Ratings said that more countries will face challenges to home price growth this year as a result of high household debt levels, political risk, slowing economic growth and stretched affordability.
The report said high household debt amplifies risks, with debt-to-GDP ratios at or over 100 per cent in Australia, Canada, Denmark, the Netherlands and Norway, and over 85 per cent in New Zealand, South Korea, Sweden and the UK.
This housing downturn is different
Australia has had housing downturns before, but they usually happen when interest rates are high or rising, not at record lows.

It noted political risks, including Brexit, new governments in Latin America and less government participation in the US mortgage market, which could increase mortgage pricing and lead some lenders to reduce product offerings.
Suzanne Albers, senior director of structured finance at Fitch said, like Australia, Swedish house prices would also fall before stabilising in 2020.
She said "modest corrections" would occur in China and South Korea, and growth will stall in Canada and slow in several other countries.
Other economic forecasters have also warned of large house price declines.
CoreLogic's December figures showed Australian house prices had experienced the sharpest drop since global financial crisis and would continue to trend lower.