LATEST HEADLINES
How Much Does It Cost To Live On A Cruise Ship?

How Much It Costs to Live on a Cruise Ship For a Year?
By Tanner Callais -August 8, 2020

Who hasn't gone on a cruise and thought, "I could do this forever"?
Interesting article by Tanner Callais I wish to share with you as a comparision living onboard a cruise ship for a year as a tenant compared to owning your own cabin forever and receive a strong return on your investment of 5%.
The idea of retiring from the rat race and living out your days on a cruise has great appeal for some people.
There's no cleaning, no cooking, and no lawn to mow. You don't have to worry about doing the dishes or paying an electric bill. There's always something going on, new people to meet, and every day you wake up to some of the most beautiful views in the world.
Add to that the fact that Internet access allows many to work remotely from anywhere in the world, and wi-fi is widely available on any major cruise ship. That means even if you don't want to completely retire, but instead work from the cruise ship, it's technically possible.
Of course, not everyone can run off and live on a cruise ship, but that doesn't mean you can't dream.
And the first question that comes to mind when you think about escaping is how much it would cost to live aboard a cruise ship.
So how much would you have to pay? We recently priced out the cost of a sailing for an entire year. Just know that you'll definitely need to open your wallet to live full-time in paradise.
Where You'll Spend Money on Your Cruise.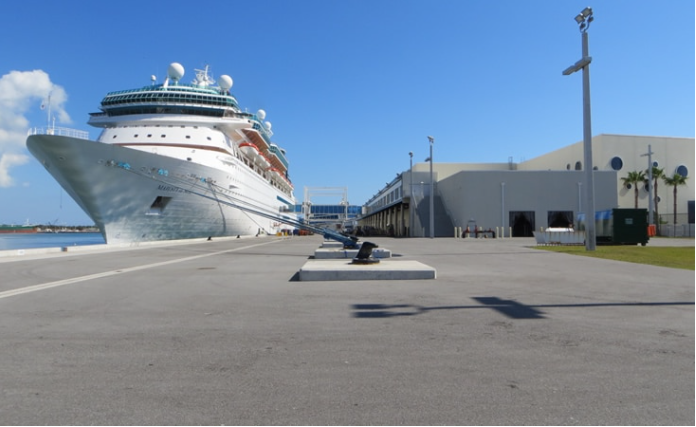 Head to any cruise website and you'll see plenty of cheap headline prices. Cruises starting at a few hundred dollars for a week are common. At first glance, it seems like living on a cruise ship would be amazingly affordable.
After all, a cruise for $500 a week would cost only $26,000 to sail for a year. For many people, that would be cheaper than living on land!
But anyone who has been on a cruise knows those headline prices are just the start of what you pay. In fact, in our opinion, it's a bit disingenuous of the cruise lines to advertise those prices. After all, what you'll actually pay is much, much more.
Double Occupancy Cruise Fare: Apart from a few sailings that offer solo cabins, any headline price you find is actually only half of what you will pay for cruise fare. That's because cabins are typically sold based on double occupancy, but prices are shown per person.
So for a fare that's $599, it will actually cost $1,198 based on double occupancy. Even if you are sailing solo (unless in a solo cabin), you will still have to pay this "double" charge.
In other words, whenever you see a cruise price, double it right away for what you'll really pay in fare.
Port Fees & Taxes: We all expect to pay taxes on things that we buy. It's no different for a cruise. However, the taxes aren't included in the headline cruise fare. As well, cruise fares will also have port fees tacked on. These are per-passenger fees paid to ports of call for the privilege of docking.
These fees vary, but in general, expect about $100-$200 per person for a seven-day cruise.
Gratuities: Sure, at the end of the day gratuities aren't a required cost (you can adjust them as necessary), but in practice they are usually considered a charge that you'll have to pay. They also add up quickly.
At around $14 per person, per day, a couple traveling on a week cruise will pay about $200 in gratuities. Over the course of a year on a cruise ship that amount comes out to more than $10,000.
Onboard Spending: Anyone who has taken a cruise knows that what you pay in cruise fare is the start of what you'll spend during your time on the ship.
From drinks to wi-fi to specialty restaurants, there are plenty of extra to spend on the ship. And even if you are a frugal sailor, you won't go any lengthy time without having a few drinks or signing up for the Internet package to check in back on shore.
We Priced a Year's Worth of Cruises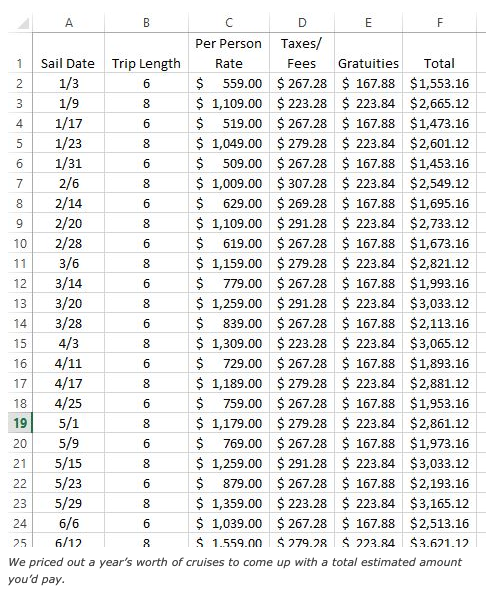 Table showing cost of cruising for a year
We priced out a year's worth of cruises to come up with a total estimated amount you'd pay.
With all of these expenses in mind, we dove into what it would cost to live on a cruise ship for an entire year.
Of course, when it comes to cruising for twelve months, you have an amazing number of options. From different cruise lines to routes, departure ports, ships, and even cabin types, there are a number of things that will have a big impact on what you spend.
That's why we aimed to keep everything simple. To price what it costs to live aboard the ship, we took a look at sailings aboard the Carnival Horizon in 2021.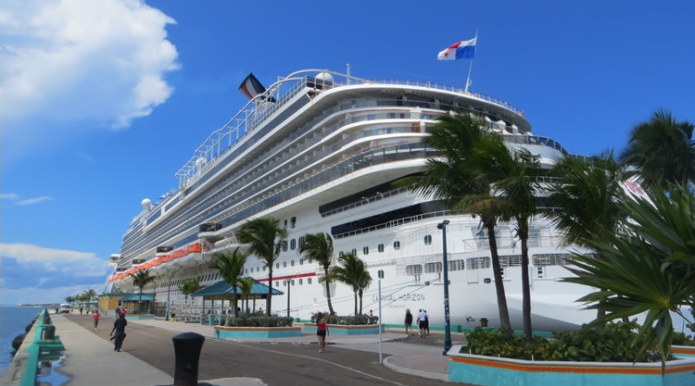 Carnival Horizon docked in Nassau
Carnival Horizon is a newer ship from the cruise line that sails six and eight-day itineraries year-round from Miami in 2021. That means you could sail the entire year without having to change ships and always coming back to a homeport in the United States.
The routes that the Horizon sails would take you all across the Caribbean, from Cozumel to Aruba, from San Juan to Grand Cayman. Because it is a bigger and newer ship in the Carnival fleet, you'd also have tons of amenities and activities on board, as well as a many restaurant options including Guy's Burger Joint.
As for the cabin, in our search we opted for a balcony cabin. Yes, you would be able to sail for cheaper in an oceanview or interior cabin, however, we assume that if you are aboard the ship for an extended period of time, having your own balcony is a must.
As well, we assume a couple is sailing with two people to the room.
Summing up, here's what we searched for our prices used in this estimate:
Cruise Line: Carnival
Ship: Carnival Horizon
Time Period: January-December 2021
Homeport: Miami
Room Type: Balcony
Number of People: 2
Here's How Much It Costs to Live on a Cruise Ship

So how much does it cost to sail on the Carnival Horizon for a year? We estimate it to cost around $175,000 for two people, although that number can vary from person to person, depending on their spending habits.
How Much Does it Cost to Cruise for a Year
We priced a year of cruising for two people aboard Carnival Horizon over the course of the entire year. Our estimates do not include money spent off the .ship.
Cruise Fare: The largest expense by far is cruise fare. Pricing a balcony room for each of the dozens of cruises the ship sails in 2021, it totaled $103,716, or about $2,000 a week. Keep in mind this is for two passengers on the ship and includes the bulk of what you'll spend on a cruise, including your cabin, entertainment, and food.
Port Fees & Taxes: There's no escaping taxes, even on a cruise out at sea. Pricing out our cruises, the taxes and port fees for two people totaled up to $14,191 for the year. That comes out to a little more than $1,000 a month.
Gratuities: One of the perks of being on a cruise is that you are waited on hand and foot. But it doesn't come free. Carnival charges $13.99 per person, per day for automatic gratuities. Over the course of a year, that adds up to more than $10,000 in tips paid to staff.
Onboard Spending: How can you know what you'll spend on the ship over the course of a year? It's impossible to know for sure, and different people will spend different amounts. For example, do you need to have a drink package every day of the year? Or are you fine drinking water or juice? Are you a gambler? How often do you want to eat at specialty restaurants?
While you can't pinpoint exactly what you'll spend, you can get a good estimate. As a public company, Carnival Corporation (the parent of Carnival Cruise Line) publishes detailed numbers about their business. For instance, in 2019, the company took in $14.1 billion in ticket revenue and $6.3 billion in onboard spending.
So onboard spending across all of its lines was 45% of ticket revenue. For every $1,000 in cruise fare, the average person would spend about $450 on the ship.
Using this metric, with a total cruise fare of $103,716, the average couple would spend $46,672 during the course of the year.
Total: Adding up tickets, port fees, taxes, gratuities, and onboard spending, the total estimated cost of living on a cruise ship for a year is $174,791 for a couple or about $87,000 per person.
Note: There is one week in late December 2021 where we found no sailing for the Horizon. For our estimates, we therefore included the next trip, which extends into 2022.
Too Expensive? Here's How to Lower the Cost
There's no doubt that it's expensive to live on a cruise ship, but there are ways that you can trim that amount. If you're interested in cutting down the price, here are a few ideas.
Limit Onboard Spending: In our estimate, we used the average spending Carnival Corporation sees across all its cruise lines, which is 45% of the cruise fare.
You don't have to spend near that much. After all, when people cruise they are on vacation and likely willing to spend more freely than they would normally. By limiting the amount spent on board, you can cut thousands off this estimated total.
It's doubtful you can get by without spending at least some money on a cruise, but our estimate comes out to about $450 per person, per week. Being able to spend less than that should be relatively easy.
Older Ships: Our estimate is aboard the Carnival Horizon. We chose this ship because it is relatively new (meaning you'll have the most amenities for a long-term stay), but it also runs a regular schedule from Miami.
That said, in general newer ships like the Horizon are more expensive to sail aboard. If you look for older ships, you should be able to cut the price down.
Be Flexible for Cheaper Trips: For this estimate, we priced out a year's worth of cruises on a single ship. This makes it easy if you're sailing long-term; you simply stay on the ship and don't have to worry about changing ships, or ports.
If you want cheaper options, however, you might find them by being more flexible with changing ships and/or cruise lines when you find a deal. That's where sailing from a port like Miami which offers a lot of options can be beneficial to your pocketbook.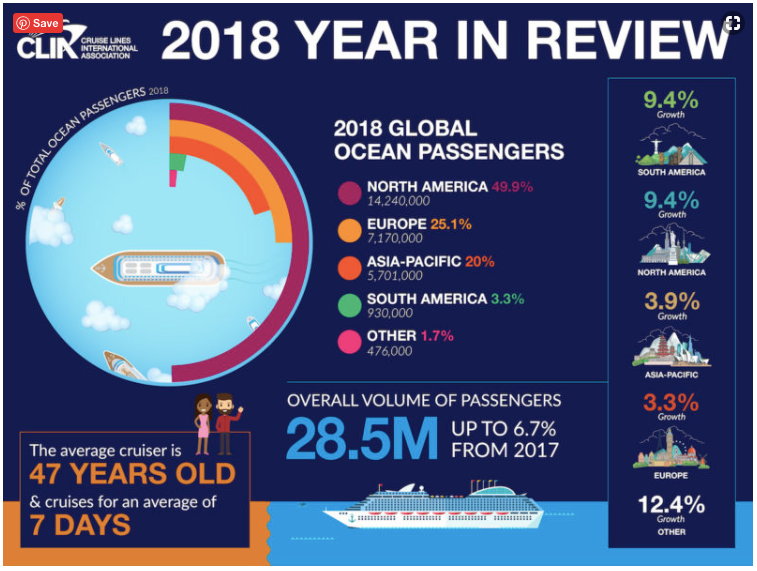 HOW MUCH DOES IT COST TO LIVE PERMANENTLY ON BOARD A CRUISE SHIP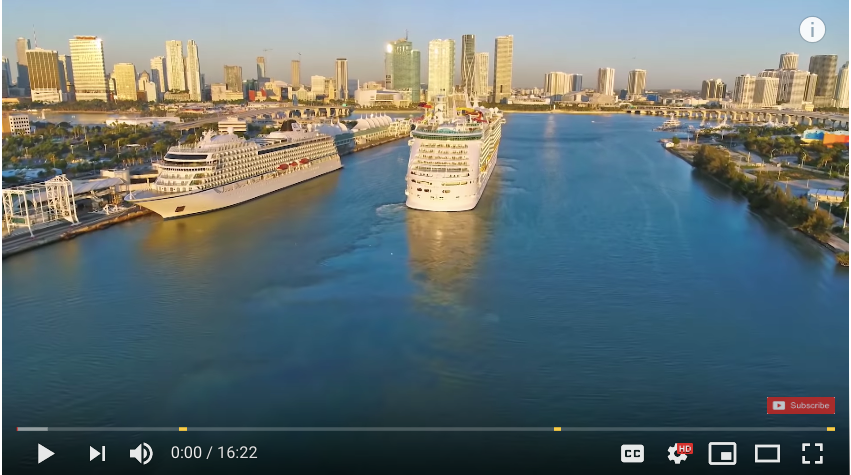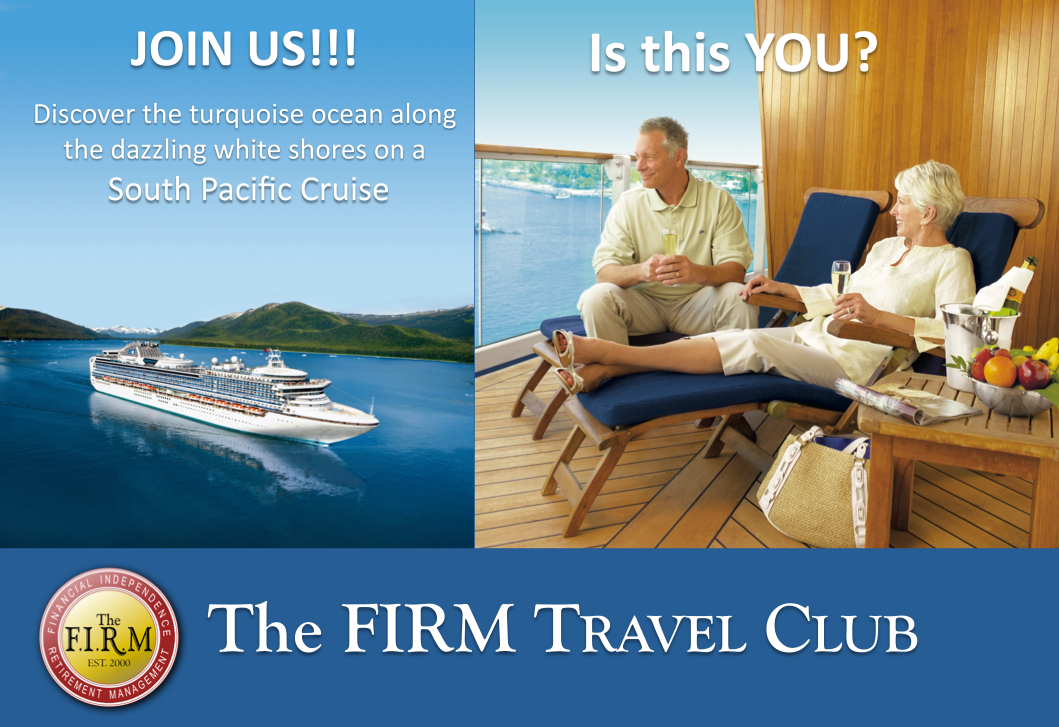 Good morning fellow members,
Discover the stunning turquoise ocean along with dazzling white shores on a South Pacific cruise; excellent for relaxing days snorkelling or even playing in the timeless sand.
Enjoy the countless on board activities, 5 star dining and quality Broadway style entertainment. Experience the culture and wonders of each and every region; Vanuatu, well identified for its wonderful white shorelines, World War II wrecks in addition to hospitable people; the volcanic island destinations of Fiji for its multicultural mixture of tradition, race and religious beliefs. Samoa, with palm-fringed beaches and booming surf, famous for its beachcomber way of life. Experience the cruisy life!
Stay tuned to find out how you can save and join us on a luxury South Pacific Island Cruise!
Have a great week ahead!
Bucket List YES or NO!!!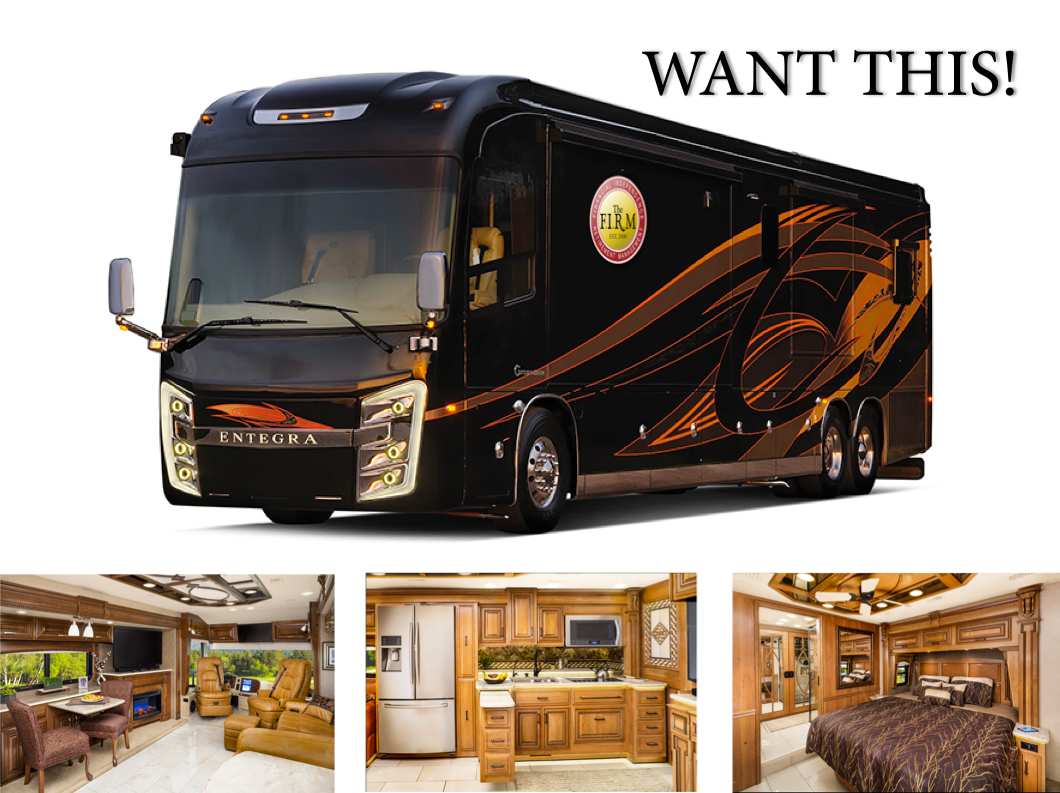 Good evening fellow members,
My feet have not touched the ground since my return back from Dallas, Texas.
So many things happening in my world that it will make your head spin, some very exciting news that I will be announcing very soon, mixed with some serious immediate challenges for the future, however more about this later.
If you remember, going back a couple years ago we conducted a holiday survey on what you would like to do when you were retired. One of the questions in the survey was a Motor Home which had a huge positive response. Further investigations proved that this was not possible due to the cost of a new Motor Home being anything from $650K to $1ml depending on size, so the concept was shelved.
Whilst in Texas, (just happens to be the largest manufacturer of Motor Homes for the USA) I was amazed at the prices, designs and the quality compared to Australia. "A Home away from Home" So, this had me thinking that we should revisit this opportunity to see if you are still contemplating a Motor Home for your "Bucket List" Since my return I have spoken to a few Australian manufacturers and they can not compete in price due to many factors, in-fact double the price. I will explain this detail later!
If you have any interest in adding a Motor Home to tour Australia on your "Bucket List" then please respond so I can gauge the volume to see if it is viable and economical to place volume orders.
I look forward to your reply!
On another note in a recent meeting with Byron Hamilton, AWMA Director, Charis Bible College Australia opened the meeting with a scripture from the Bible John 7:37, 38 which resonated with me, which I would like to share with you.
37. On the last day, the great day of the feast, Jesus stood and cried out, saying, "If anyone thirsts, let him come to Me and drink.
38. "He who believes in Me, as the Scripture has said, out of his heart will flow rivers of living water"
In the meantime have a great week ahead!
Until next time, stay HEALTHY, WEALTHY & WISE!!!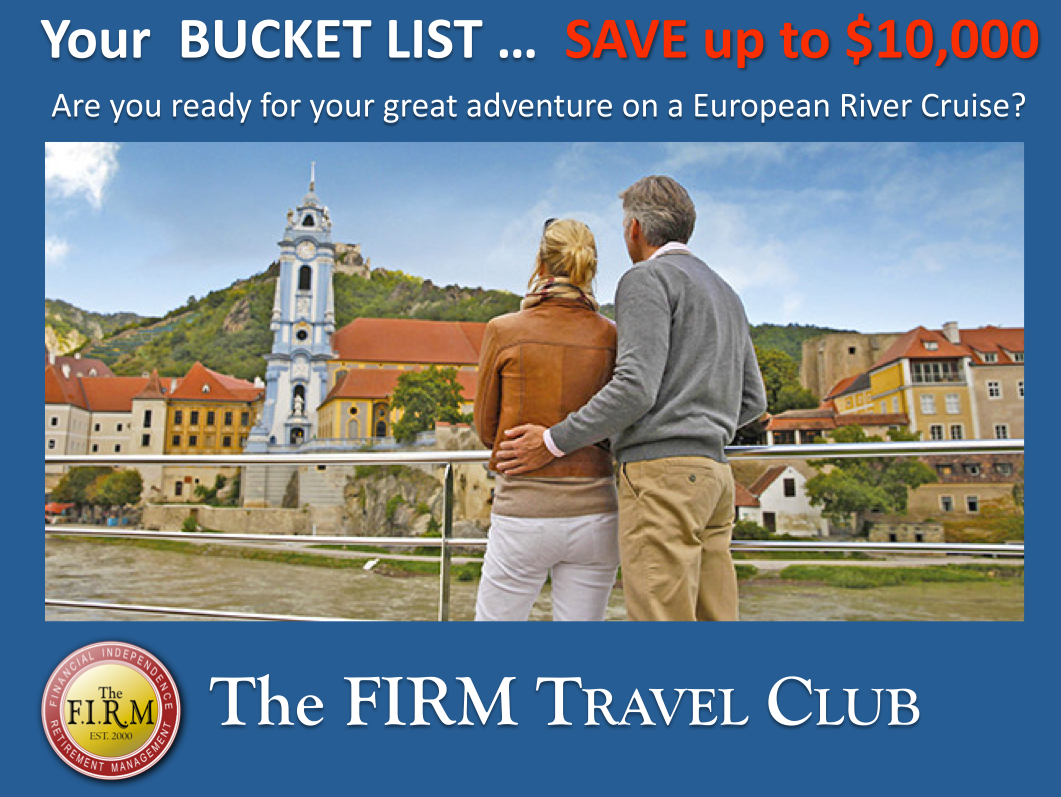 Stay tuned to find out how you can save up to $10,000* on a European River Cruise!
Good afternoon fellow members,
A luxury European river cruise is one of the highlights of anyone's life, and the best way to go in-depth to the very heart of Europe. With all onboard accommodation, meals and most excursions included, it's easy to get up close and personal with the cultural, historical and iconic sights in store for you! It really is a new discovery around every bend!
Stay tuned!!!
SHARE YOUR FAVORITE HOLIDAY MOMENT!
Share your favourite or unusual holiday moments on Facebook as we would love to hear from you!
Some of the MEMBERS currently on holidays are -
John is currently in the Antarctic, we would love to hear from you!
Tash & Tim roughing it in Bali!
Paul & Colleen just completed another tour of the Outback Australia!
Bruce & Leslie just returned from Europe!
Sharon enjoying Straddie!
Sophie on Magnetic Island! J
ohnny & Jo just returned from Dubai!
Kirsty & Leo Musket Cove, Fiji, feeling lucky!
& YOU?
Have a great weekend ahead!
"Village to Villa"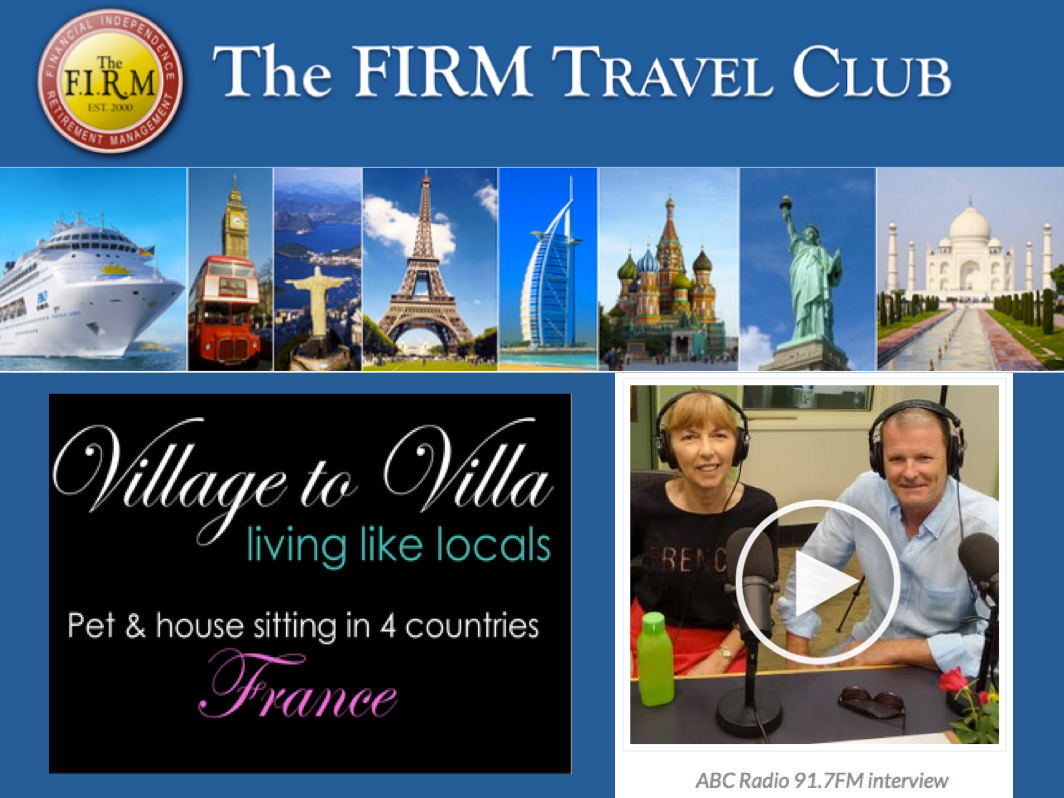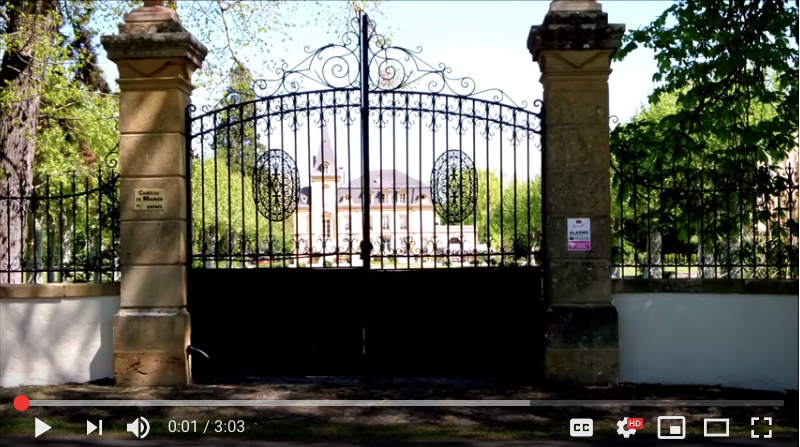 Good morning fellow members,
Something very exciting that I have to share with you if you are interested in TRAVEL.
Long standing members Gai and Neil read our recent launch of The FIRM Travel Club so invited both Annette and I over to their place for cocktails last Friday night to celebrate their "Bon Voyage"
They are on an incredible journey through Europe on a classic adventure houses and pet sitting for a year in four countries. They are producing a 13 part television series naturally called Village to Villa. If you would like to follow their travels, just subscribe on their website.
Neil and Gai send posts each week detailing where they are and what they have been doing. There will always be cute pictures and short (2-3 min) videos of their adventures. That's it.
They are both in their late 50's, spent decades in the television industry and are free of commitments so decided to go travelling for a year....and make tv series along the way.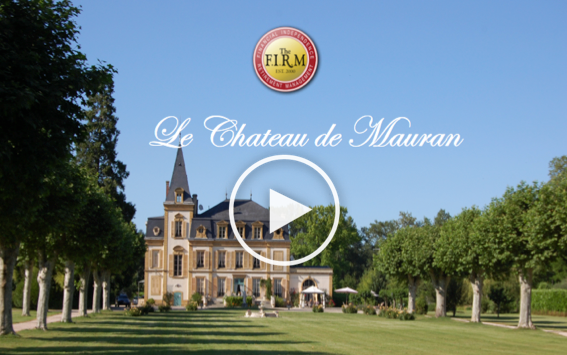 We are currently organising both Gai & Neil to stay for 4 weeks at the Chateau de Mauran, to do a special TV series for us to report back on how the locals live in the area before we consider to invest in the Chateau! Give them our support by visiting their web-site villagetovilla.com
Have a great week ahead!
Stay HEALTHY, WEALTHY and WISE until next time!!!
Chat soon!