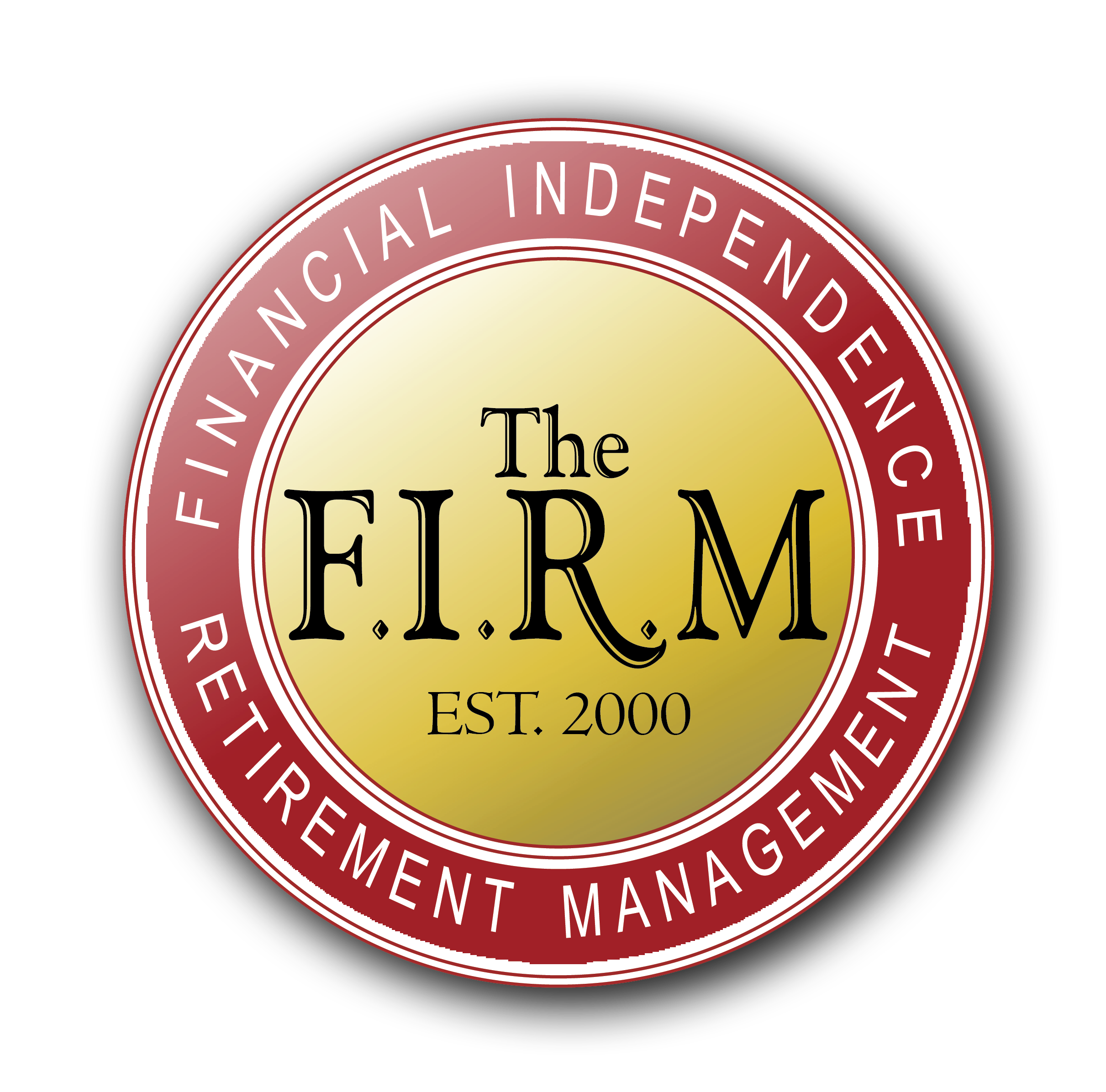 191st Monthly Edition
NEWSLETTER
DECEMBER 2020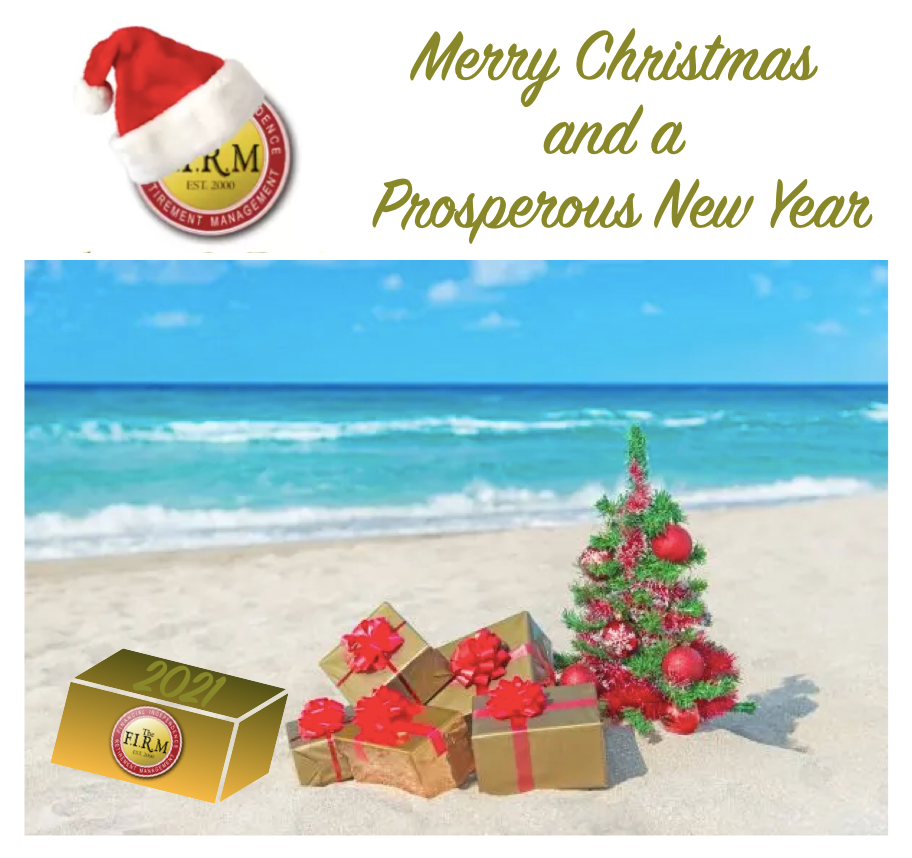 On behalf of all our dynamic team at The FIRM and my family we wish each and every one of you a beautiful Christmas and a safe happy holiday. We all thank you for your ongoing support over the years and look forward to continue our strong relationship for the years ahead.
Your comments, thoughts and contributions of constructive ideas throughout the year have been very important to us to constantly improve our standard of excellence, we are honoured that that you are part of our ever growing community of over 15,800 members.

Wishing you, your family and friends a wonderful Christmas, with love, continue blessings, laughter, and a prosperous year ahead for 2021.
Have a great Christmas holiday and we will chat soon!
We will be closed during the Public Holidays ONLY and looking forward to see many of you during your holiday break here on the Gold Coast over these chalenging times of COVID 19.
Stay HEALTHY, WEALTHY & WISE!!!
190th MONTHLY EDITION
NEWSLETTER
NOVEMBER 2020

OCEAN VIEW CABINS $450,000
Live - A - Board for 2 months
5% Return on Invesment
Good morning fellow members,
Lovely weather we are experiencing on the Gold Coast so wish you were to share. :)
As you are aware the cruise ship industry is in turmoil and under a lot of pressure to meet financial burdons of their fleets laying idle. For us this has been a golden opportunity and perfect timing as our legal team Piper Alderman has created a unique business model never seen anywhere in the world in designing an affordable luxury residential cruise liner called AQUA QUEST.
The FIRM International Cruise Line has unofficially launched AQUA QUEST to test the response to our retired members with this week 56 of our members expressing interest to purchase luxury cabins all with balconies with only Deck 4 with ocean view cabins from $450K .
AQUA QUEST is one of eight identical small cruise ships (350 Cabins, 750 passengers, 415 Crew) to our fleet with specific focus to cater for affordable live-a-board members only with the added comfort knowing that we have a 24 hour medical facility and carers if required whilst exploring the globe with like minded residents.
We conducted a survey with our members 12 months ago to determine the water-sport toys and activities they would like to see on board. The results are outstanding.
Your cabin investment into AQUA QUEST will allow you to LIVE A BOARD for 2 months, cover all fees and services and you should receive a comfortable nett ROI 5% p.a.paid quarterly in arrears.
Our team have been working diligently over the past 3 years ensuring that we can deliver the same standard of excellence as we have done over the past 30 years building wealth through property investments.
Details on AQUA QUEST walkthrough Video - https://www.youtube.com/watch?v=kh9p1gCESVw&t=2s
Details on AQUA QUEST are - https://www.the-firm.com.au/international-cruise-lines.html
Details on all the CABINS are - https://www.the-firm.com.au/international-cruise-line-cabins.html
Login Code - SAPPHIRE
The constitution for the most asked questions and answers that you may raise has been prepared to assist you if required.
Expression of Interest application for a $1,000 fully refundable deposits is also available.
Please do not hesitate to contact me for any additional information.
Chat soon!
Kindest regards,
John
189th EDITION
MONTHLY NEWSLETTER
OCTOBER 2020
"DCM Research reveals the retirement village market
is just 3% of older Australians, even with COVID"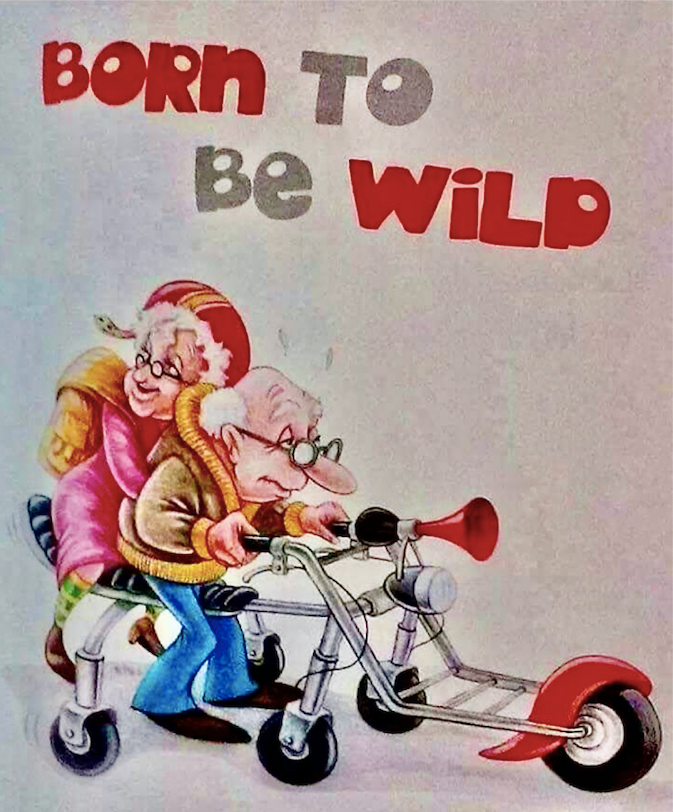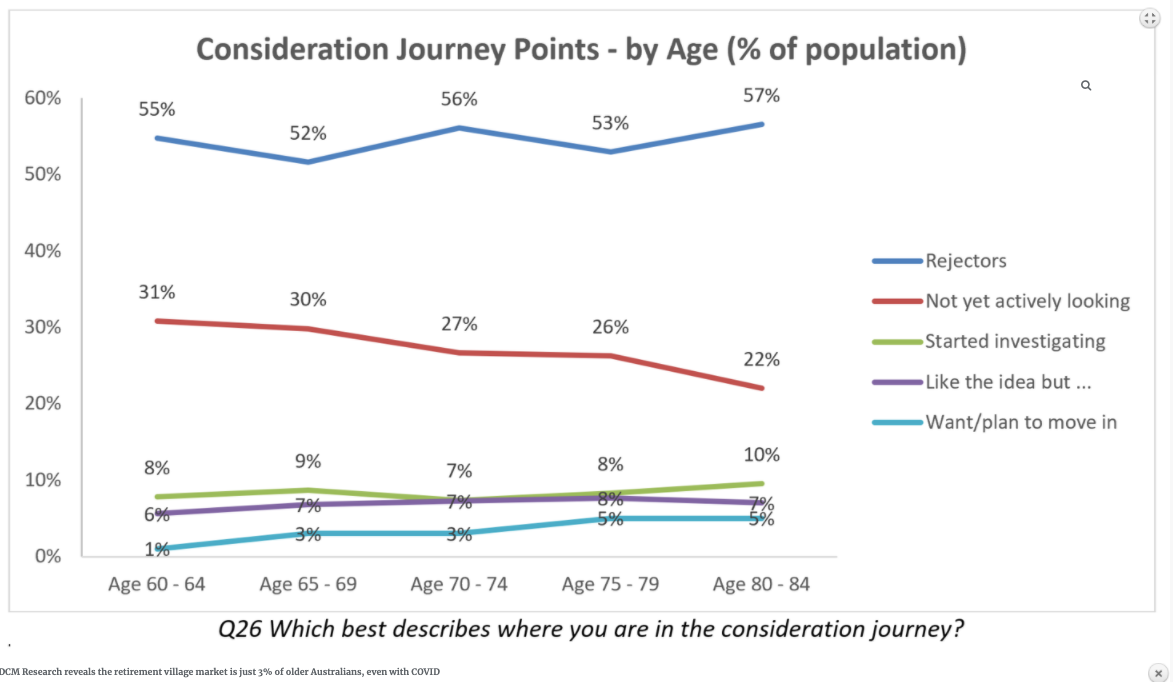 Published on October 6, 2020

Good afternoon fellow members,
I provided this interesting article that I wish to share with you and look forward to further comments.
For the first time, conclusively, the DCM Prospect Profile Research program has identified that just 3% of people aged 65 to 74 are genuinely retirement village customers.
For aged 75-84, the percentage rises to 5%. See the graph above for answers to Question 26:
"Which best describes where you are in the consideration journey?"
The survey, commissioned by DCM Research and conducted by leading research company AOR, was carefully constructed across 58 questions to allow extensive cross correlations to build a profile of the market funnel of potential customers.
Our further analysis identifies, at 3%, there are 74,100 real customers today across the entire country, but they are on different journeys. Some can take 15 years to eventually make a decision 'Yes' or 'No'.
This is not reassuring for the sector on first review but both we at DCM and AOR feel that this is a 'glass half full' vision of the village market.
We say, even with this small number of potential customers, that demand significantly exceeds supply. AOR states that:
"The retirement village sector is at a critical juncture where there exists enormous opportunity for growth. This is not just about maintaining sales, but creating a shift change in our society in the need the sector fulfills.
The Australian population is ageing. At the same time, COVID-19 has exposed the vulnerabilities of the oldest members of society.
43% of respondents report an increased sense of vulnerability as a result of the COVID-19 crisis.
Since 2018, there has been a significant increase in concern about ageing housing and care needs from 13% to 23% very/fairly concerned, in two years.
An additional 10% of the 60+ population is now concerned about their future needs, be they health, emotional or financial. More specifically, 20% are concerned about the suitability of their home."
Chat soon!
Kindest regards,
John
188th EDITION
Monthly Newsletter
SEPTEMBER 2020



Good afternoon Fellow members,
We have discovered an iconic parcel of real estate north to main river at Morningside opposite Port Side in Brisbane
This Brisbane landmark will be designed to attract the locals as a destination Hub of continual activities for seniors as a playground as well has the Head Quarters for The FIRM International Cruise Line.
The vision is to showcase shipbuilding and repairs offering the local population gainful employment and educate additional skillset in shipbuilding not seen in Queensland in the past.
At the moment it is on our wish list however plenty of due diliegence abounds, so stay tuned for the next exciting episode .... :)
187th EDITION
MONTHLY NEWLETTER
AUGUST 2020
"TRAVEL FROM HOME"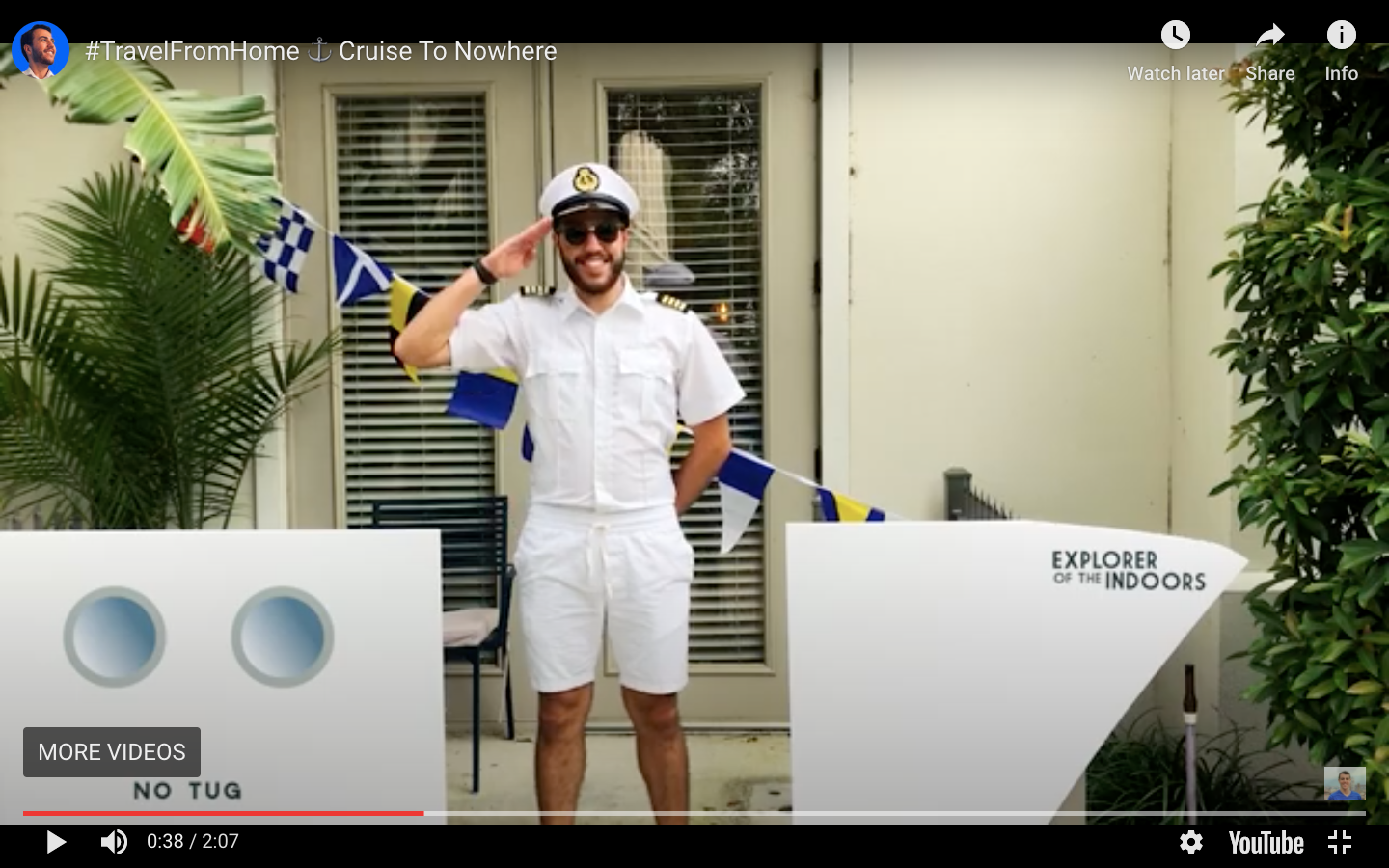 It's been over five months since the last cruise ships departed from Miami and other Florida ports for cruises to the Caribbean and Bahamas.

Cruise fever is running at an all time high and die hard cruisers are ready to fire up those boarding passes and step foot on a cruise ship again.
So how are cruisers coping with being stuck on land? One cruiser named Mike Faust created a cruise video from his house that shows exactly how much we miss being at sea. From towel animals to the sailaway party, he recreates the cruise experience that we all can't wait to have again.
Faust is the ultimate travel enthusiast having taken over 35 cruises and visiting 42 countries despite being only 24 years old.
His video can be seen on Facebook or through the YouTube embedded video below. We hope you enjoy it as much as we did.
"LIVING ON A CRUISE SHIP"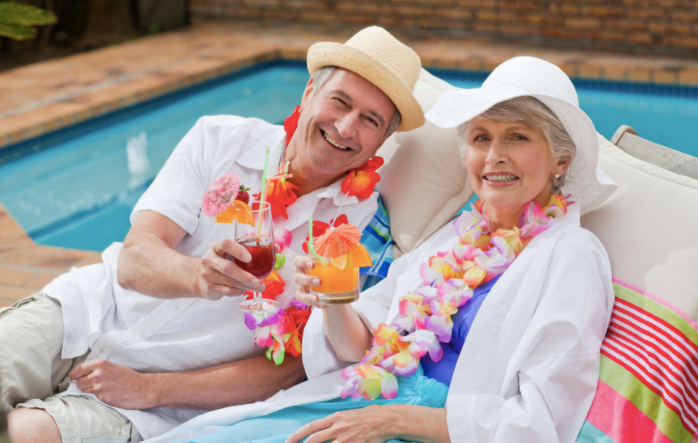 Good morning fellow members,
Everyone's vision for retirement looks different, and yours might involve visiting exotic ports of call aboard a cruise ship. Planning to retire on a cruise ship can help you fulfill your dreams of traveling while potentially allowing you to stretch your savings further.
What better way to spend your golden years than sailing the high seas in unparalleled luxury? While the idea of retiring on a cruise ship may seem extravagant and wildly unrealistic, it is in fact a cost effective dream that that many retirees live out with incredible ease.
It does, however, require a slightly different approach compared to traditional retirement planning. The first step is determining whether a cruise ship retirement is affordable for your budget.
The Cost of Living on a Cruise Ship
The average cost of retirement, based on the typical time spent in retirement and average household spending for retirees, is $828,000.
1. That works out to around $46,000 per year, assuming that your retirement lasts 18 years. Pinning down the exact cost of a cruise ship retirement can be difficult. The average cruise ship passenger spends around $213 per day, which would add up to $77,745 for someone living aboard the ship full-time.
2 . But that's the average spend; it doesn't take into account cheaper fares, which could drive the per-day cost of cruising down significantly or luxury fares which could push the final cost higher. When it comes to finding a deal on a cruise, you may be able to negotiate a discount by booking an extended trip that lasts several months, versus one that's just a few days. There are some cruise lines that allow passengers to book a cabin permanently and enjoy a discount when paying annually or biannually. If you're able to find cruise line bargains, it could be less expensive to retire on a cruise ship compared to an assisted living facility. An individual stay at an assisted living facility costs $48,000 on average.
3. And if living on a cruise ship helps you stay healthy, you could avoid the costs of long-term care, which could easily surpass $100,000 per year if you don't have long-term care insurance.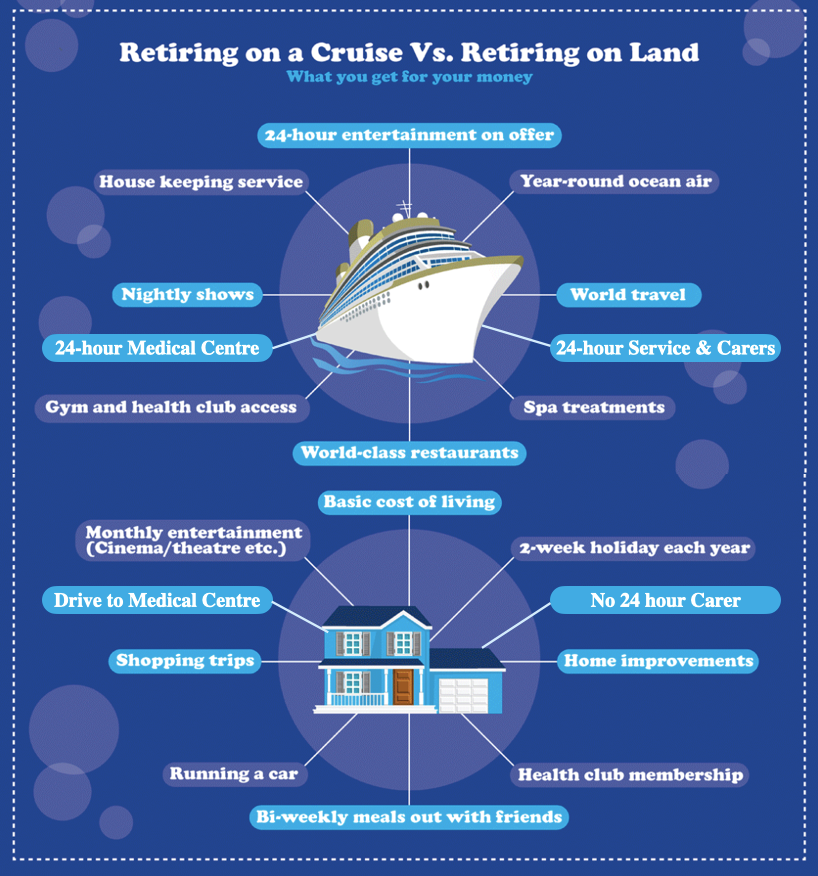 Does a Cruise Ship Fit Your Lifestyle?
Cruise ship living isn't for everyone and it helps to know what to expect. There are some cruises, for example, that attempt to duplicate a traditional landside retirement experience aboard the ship.
Senior Living at Sea is one full-time travel program designed for retirees. Some of the benefits of cruising through the program include:
Onboard spa services
Regular social events for passengers
Shopping
Fitness centers
Onboard 24 hour medical facilities
Licensed medical professionals onsite
Wheelchair accessibility
It's completely maintenance-free living since housekeeping, laundry and meals are handled by cruise ship staff. And the entertainment program is designed to give seniors regular opportunities to mingle and interact.
Those things might all be important to you, or you might value some of them more than others. Something else to think about: most cruise lines don't allow you to bring pets onboard.
Also, think about the places you'd like to visit. Senior Living at Sea, for instance, offers itineraries that take passengers through Asia and along the Pacific Coasts of North and South America, Europe, and the Caribbean. If you're going to retire on a cruise ship, you want to make sure that you're able to see all the sights on your travel bucket list.
Consider forming a contingency plan in case of a crisis event, such as a widespread outbreak of a virus or illness on-board. Your plan should cover things like what to do if you become ill or how to find lodging if you have to disembark unexpectedly in a destination that wasn't on the original cruise itinerary.
Check each cruise line's refund or reimbursement policy in the event that your cruise has to be cut short for any reason.
How to Prepare for a Cruise Ship Retirement
If you're sold on the idea of spending your retirement sailing the seas, there are several things to do to get ready. This checklist can help you stay on course with your cruise ship retirement plans.
Calculate your retirement budget using the estimated costs of retiring on a cruise ship. Research the costs of booking cruises aboard different ships or cruise lines, versus living aboard one ship permanently.
Determine what you'll do with your home and personal possessions. Will you sell your house, for instance, or rent it out? And if you're doing either, how much will it cost to store your possessions while you're away?
Plan for pet care if you have pets. That may mean leaving pets with a family member or long-term boarding at a kennel.
Check your health insurance coverage. Medicare generally won't cover you for health care expenses when you're outside Australia. You may need to get a private health insurance plan or a travel insurance plan to cover medical expenses while you're cruising.
Make a plan for staying in touch with friends and family while you're away. Check the ship's internet and WiFi connectivity to make sure you'll be able to use your mobile device to stay in contact.
Compare different cruise itineraries to find one that fits your desired travel route. Check out the ship's amenities as well to make sure it's got all the perks you're looking for.
One last step to take before you retire on a cruise ship is scheduling a chat with your financial planner or financial advisor. Living aboard a cruise ship doesn't exclude you from paying income taxes, so you'll want to discuss how your tax filing will be handled each year.
In addition to itineraries and routes, check the safety ratings and reputation of any cruise ship line you're considering traveling with.
It's also important to talk with your planner or advisor about your plans for taking Social Security benefits and drawing down assets from your taxable investment accounts, and liquid savings accounts. They can help you come up with a strategy for coordinating withdrawals from your various accounts to make sure that your cruise ship retirement is smooth sailing.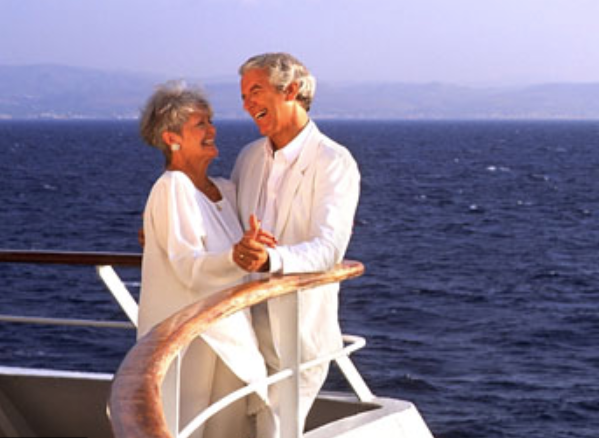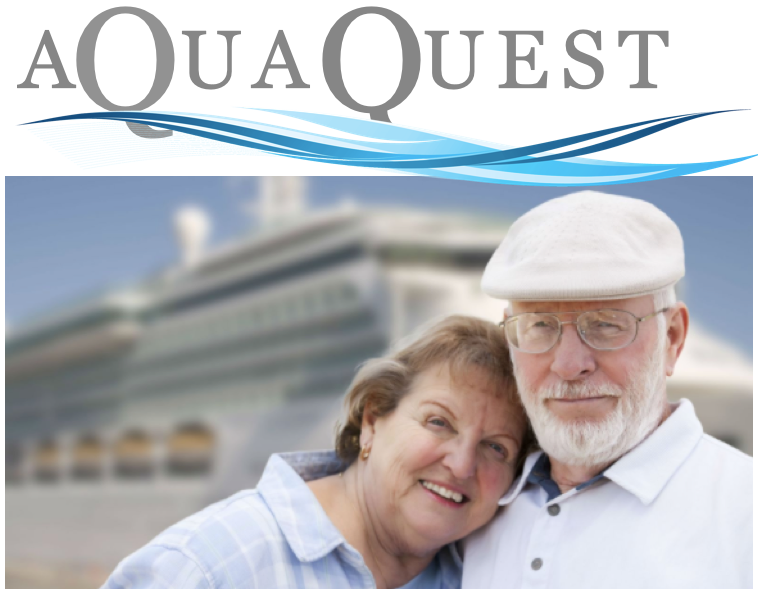 If you still need convincing, here are our top five reasons why you should retire on a cruise ship!
1. It's cost effective
Despite what people may initially think, living on-board a cruise ship is often significantly cheaper than residing in a serviced retirement home or spending a constant flow of cash on the annual upkeep of a house. Many lines offer special long term contracts and fractional ownership arrangements that make the deal even sweeter. With extras such as food, beverages and entertainment often included as part of cruise ship deals, retiring on a leisure vessel will also slash your day-to-day living expenses.
2. It's social
One issue that retirees sometimes face is loneliness. Living on-board a cruise ship offers a constant stream of fellow passengers and staff with whom you can socialise and develop camaraderie. You'll also be given the opportunity to interact with a much more diverse age group than you wouldn't find in a conventional retirement community perfect for those who still have a spring in their step!
3. It offers the opportunity for travel
By far, one of the best benefits of retiring on a cruise ship is the opportunity for travel. You eliminate the stress and hassle of airport travel and are offered the chance to embark on pre-arranged excursions which makes sightseeing easier than ever. With an exotic list of local and international destinations to choose from, retiring at sea keeps the excitement of travel well and truly alive!
4. There is a constant stream of entertainment
While retirement homes offer day trips to the cinema, shopping mall and other nearby attractions nothing beats the spectacular entertainment factor of cruise ships! From shore excursions, bingo tournaments, cabaret shows, comedians, day spas and more, those opting for retirement on the high seas are spoilt for choice.
5. You'll be treated to unparalleled service
Cruising is all about attentive service which makes passenger ships the perfect place to retire. Staff are always willing to go to that extra mile to keep passengers comfortable and are more than happy to accommodate your every need. You'll also be offered a huge range of dining options which means you'll never have to lift a finger in the kitchen again. When you've spent your whole life looking after other people, you deserve a little attention!
If you're thinking about retiring on a cruise ship and want a taster of all the fantastic experiences that you can expect from your new life at sea, call us today on 0808 301 3025, or head over to Cruise 1st and browse the incredible range of cruising packages.
Article Sources
Motley Fool. "Retirement Will Cost the Average American $828,000 and Most Workers Risk Falling Short." Accessed July, 2020.
Cruise Market Watch. "2018 Average Cruise Revenue and Expense per Passenger." Accessed July 2020.
Genworth Financial. "Cost of Care Survey 2019." Accessed July, 2020.
186th EDITION
MONTHLY NEWSLETTER
JULY 2020
The FIRM International Cruise Line announces first release
Residential allotments for sale from $450K (oceanview cabin)
+ LOW ANNUAL FEES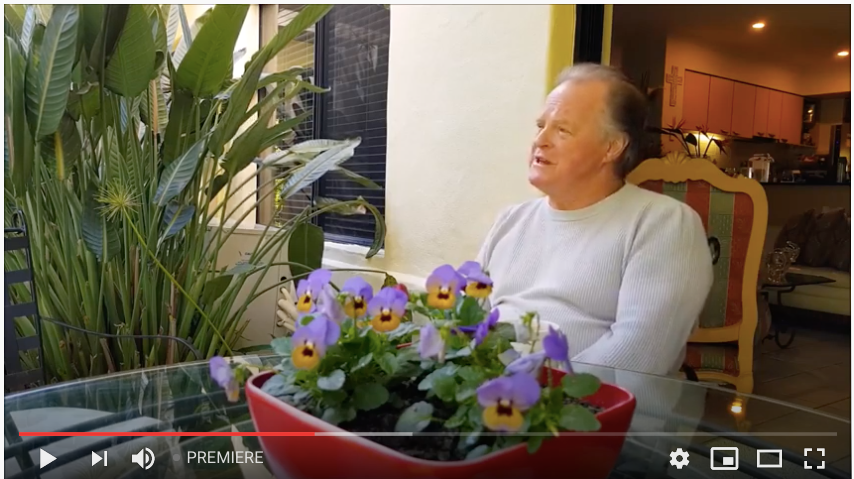 Good afternoon fellow members,
Firstly, I wish to thank all the team behind the scenes for their painstaking dedication in creating a dream into a reality for all our members over the past 2 years. The timing they say is everything, and COVID 19 certainly worked to our advantage to accelerate the corporate structures to deliver a smooth transition period while we finalise the settlements of 3 x R Class Cruise ships to our fleet.
These small 700 passenger luxury cruise ships were designed and developed to be the highest 6 Star rating in the world, and we are privileged to call this home. Welcome aboard and look forward to seeing you all again very soon for the maiden voyage, hopefully when COVID restrictions are lifted in December.
Meanwhile, to reserve your cabin onboard AQUA QUEST will require a $1,000 fully refundable deposit to secure one of these affordable cabins with low body corporate fees.
CALL OR EMAIL ME your Interest so I can forward to you all the details.
Thank you, Neil McLean, for putting this interview together for us. Most of you know of Neil who interviewed me when we had Bartinon Manor, now retired from Channel 7 a few years ago and decided to see Europe creating nearly 40 lovely lifestyle programs on Village to Villa, thank you Neil & Gai!
https://www.villagetovilla.com/
Chat soon!
Kindest regards,
OUR 3 YOUNG GIRLS TOGETHER PREPARING FOR PARTY TIME IN GLASGOW
ADDITIONAL NEW CONCEPT DESIGN FEATURES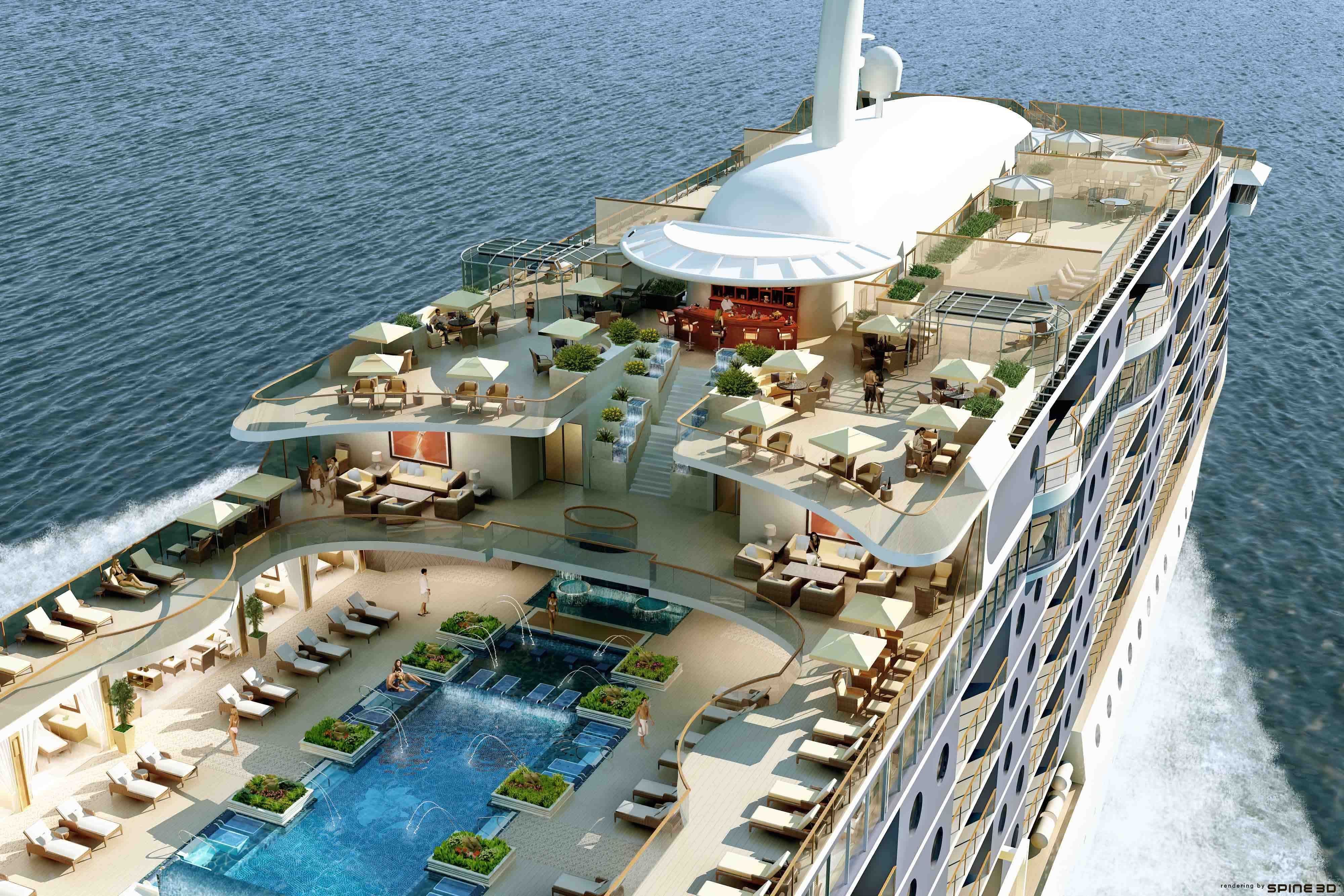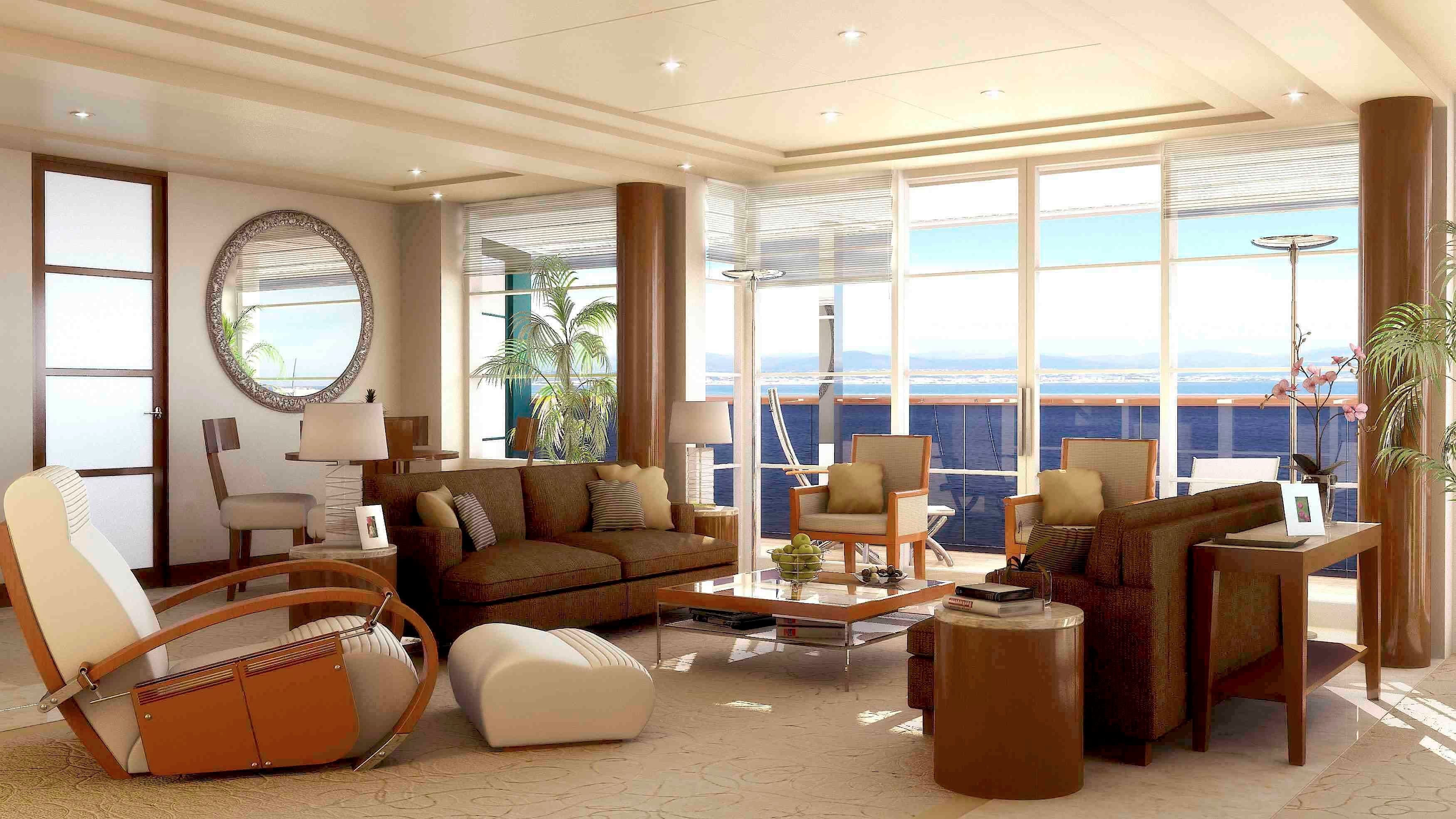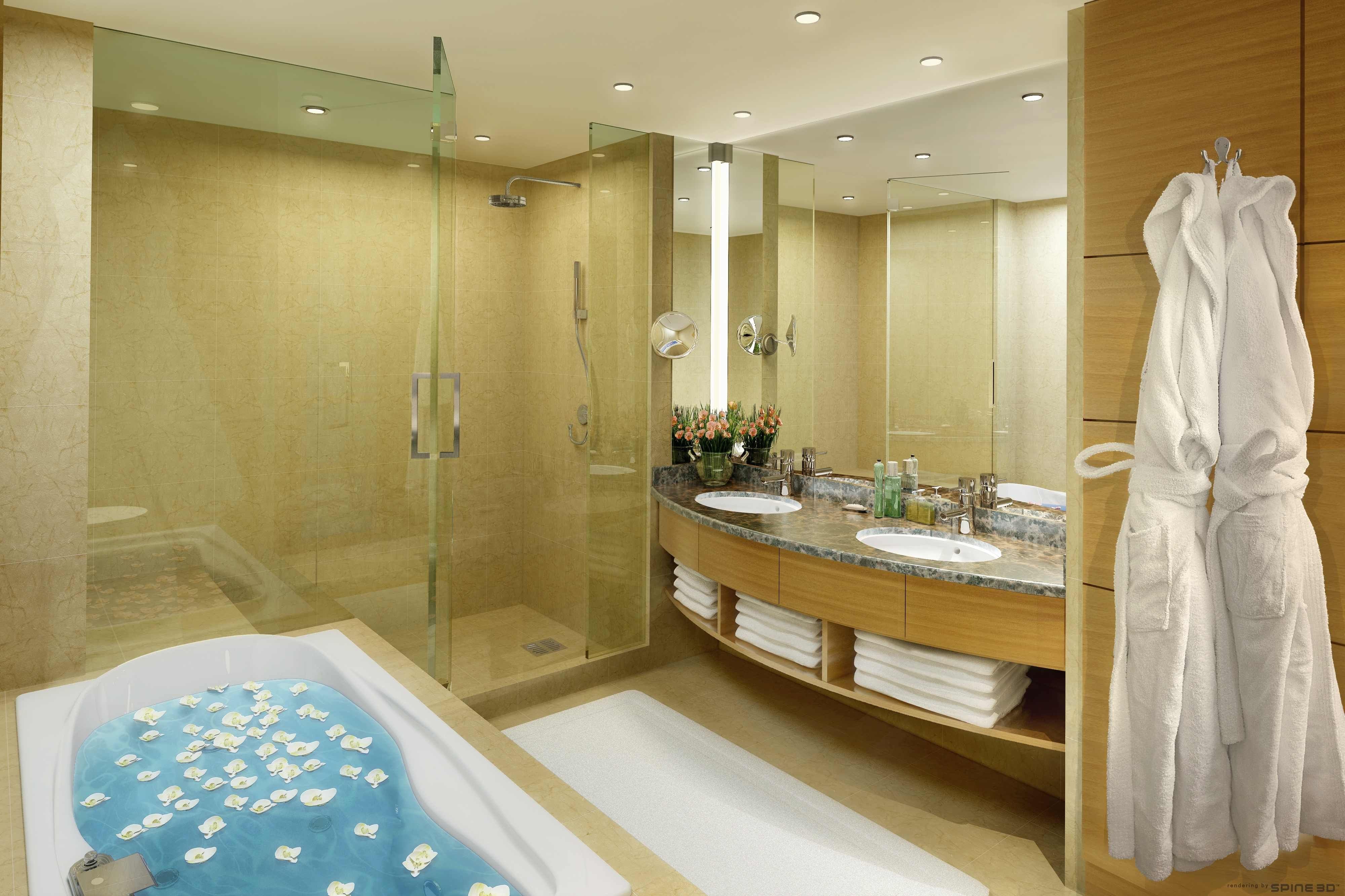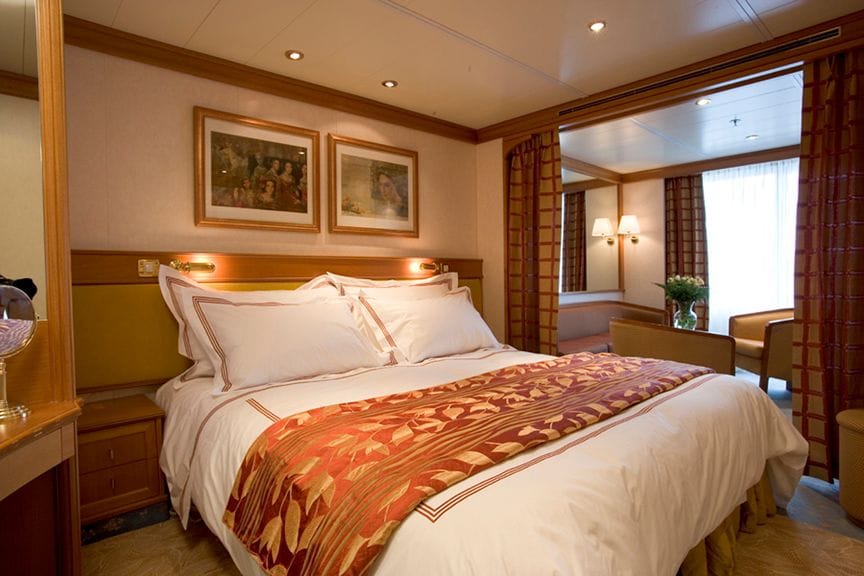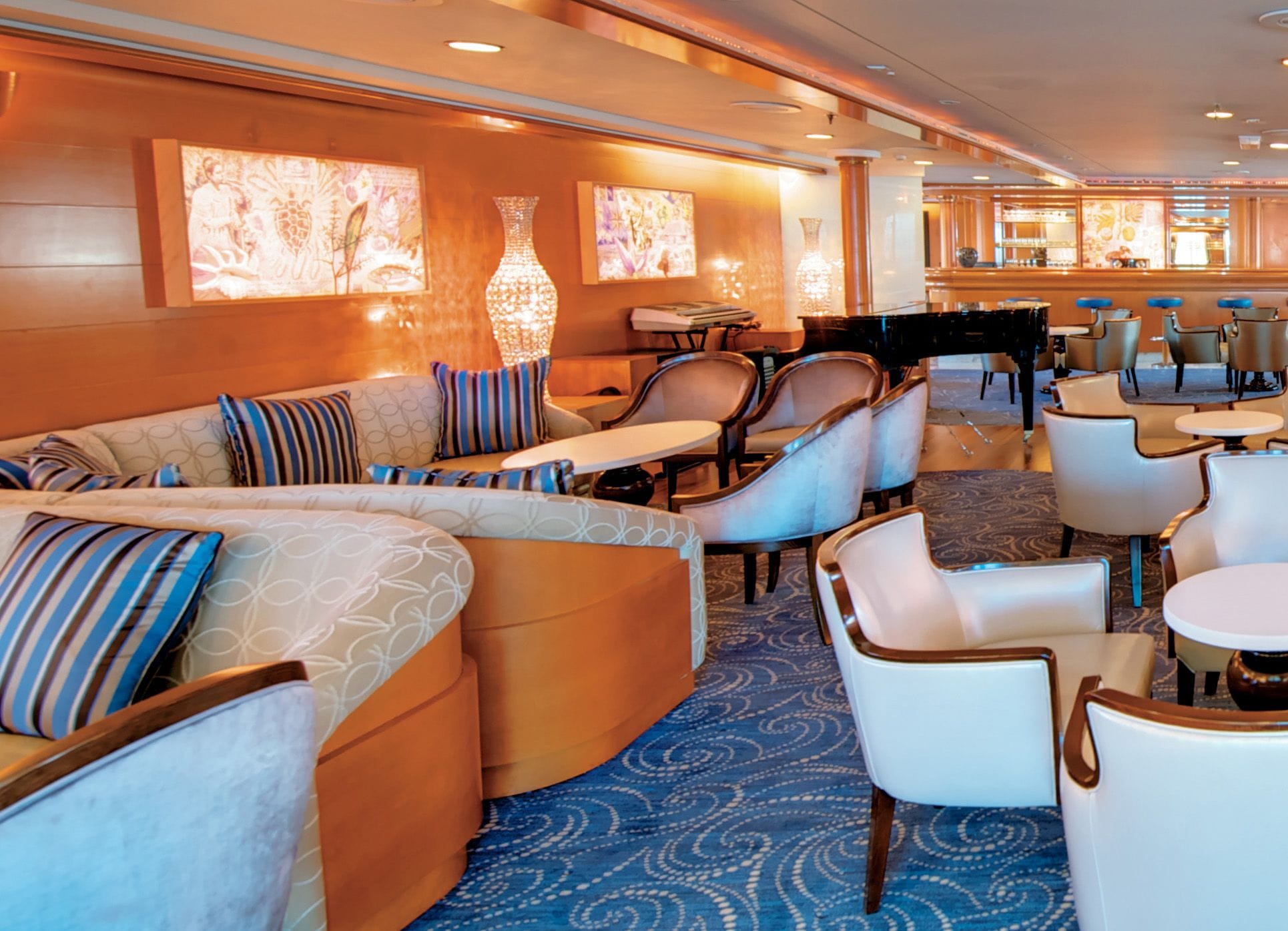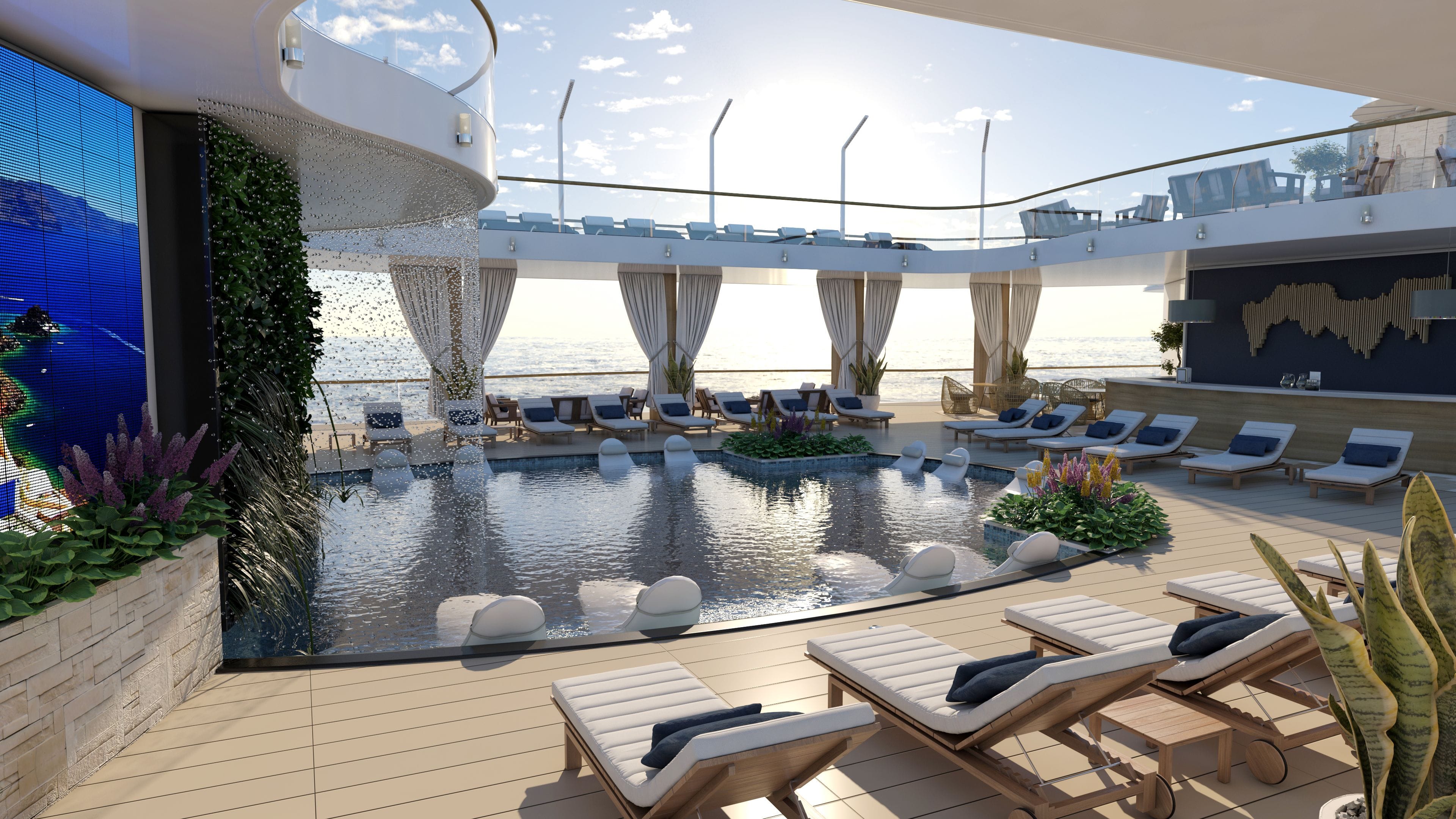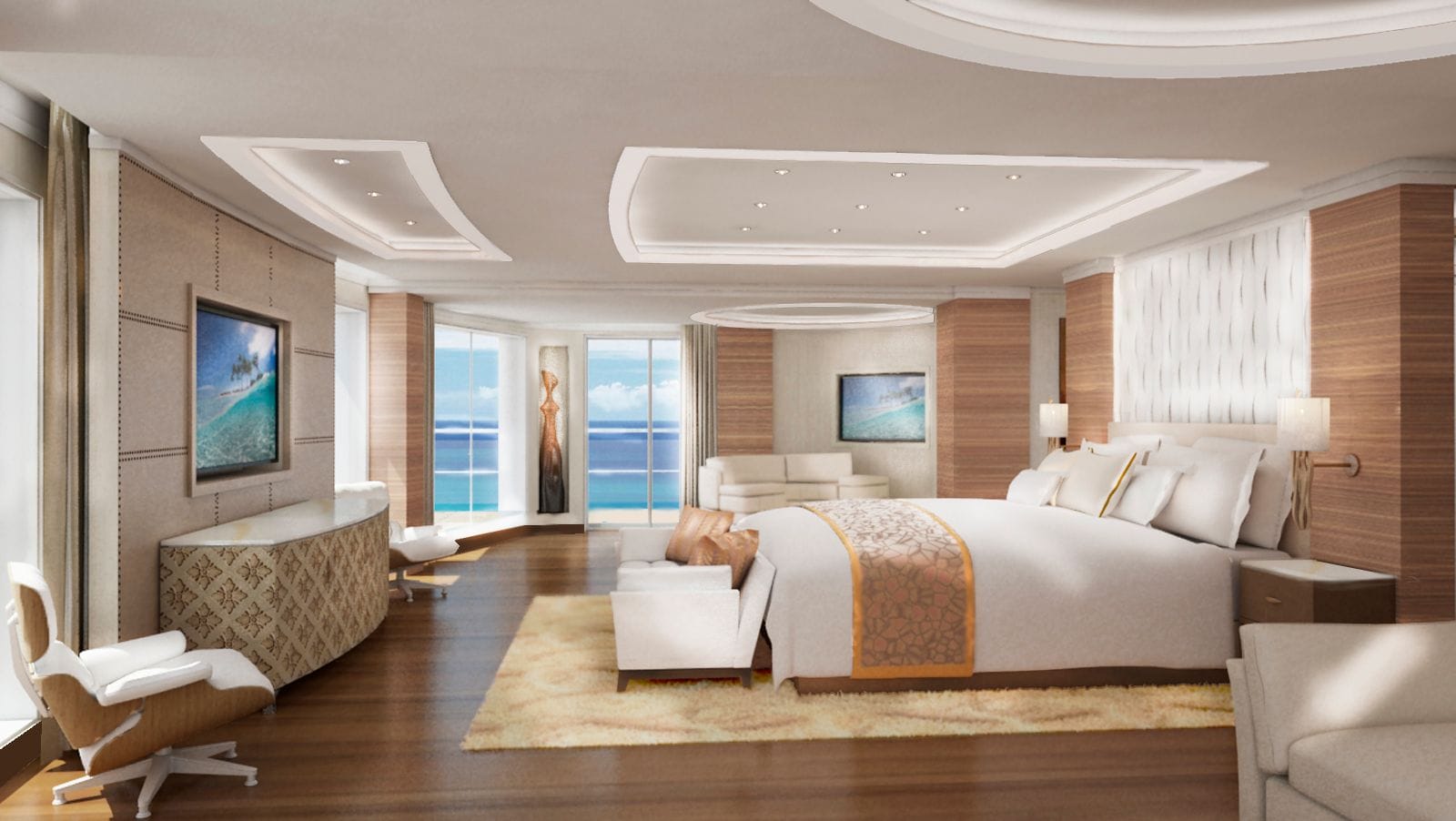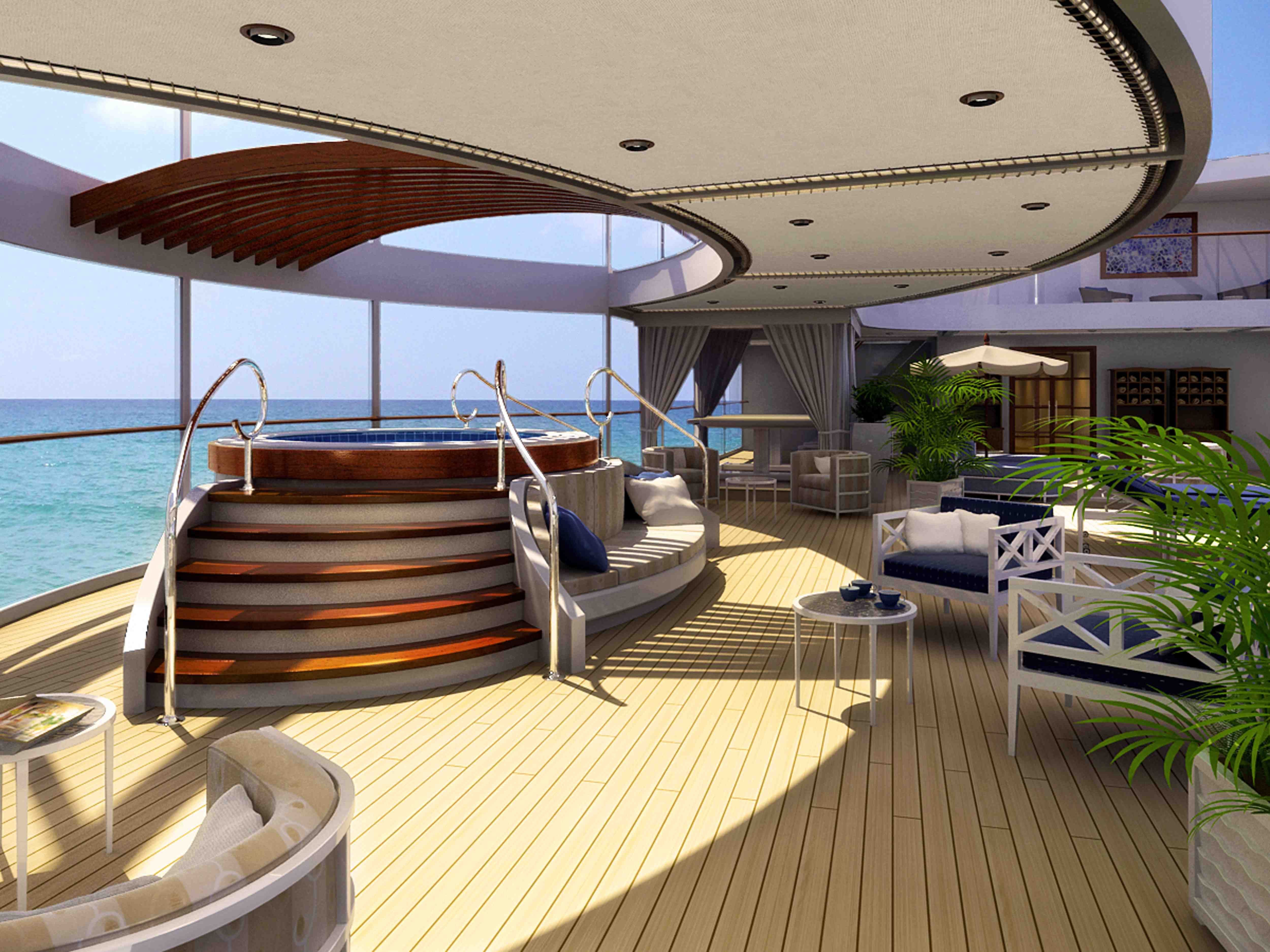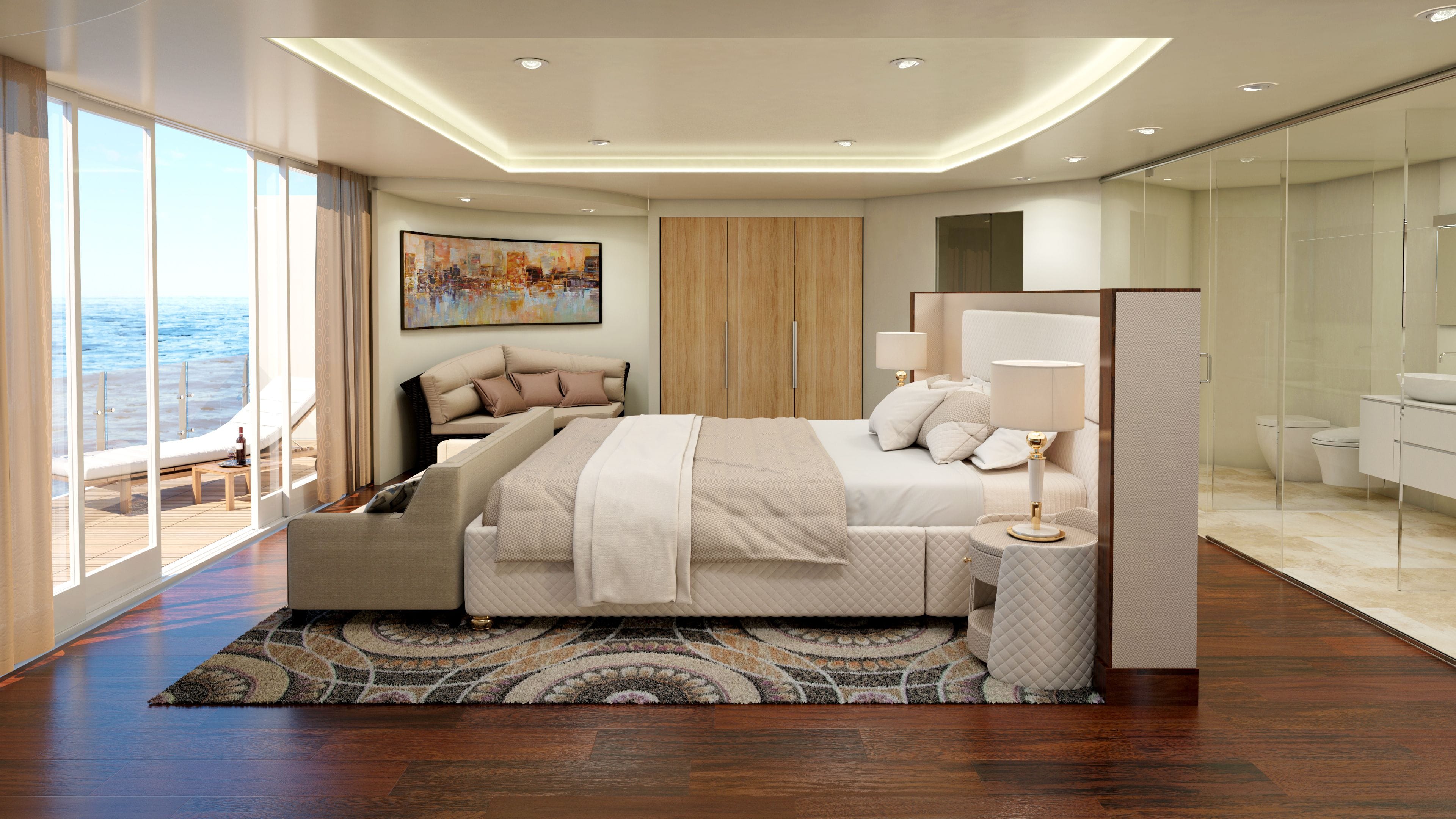 - BREAKING NEWS -
COMBATING COVID 19 on Cruise Ships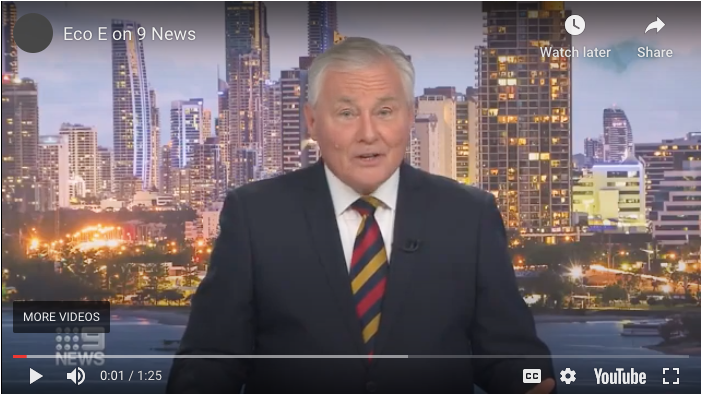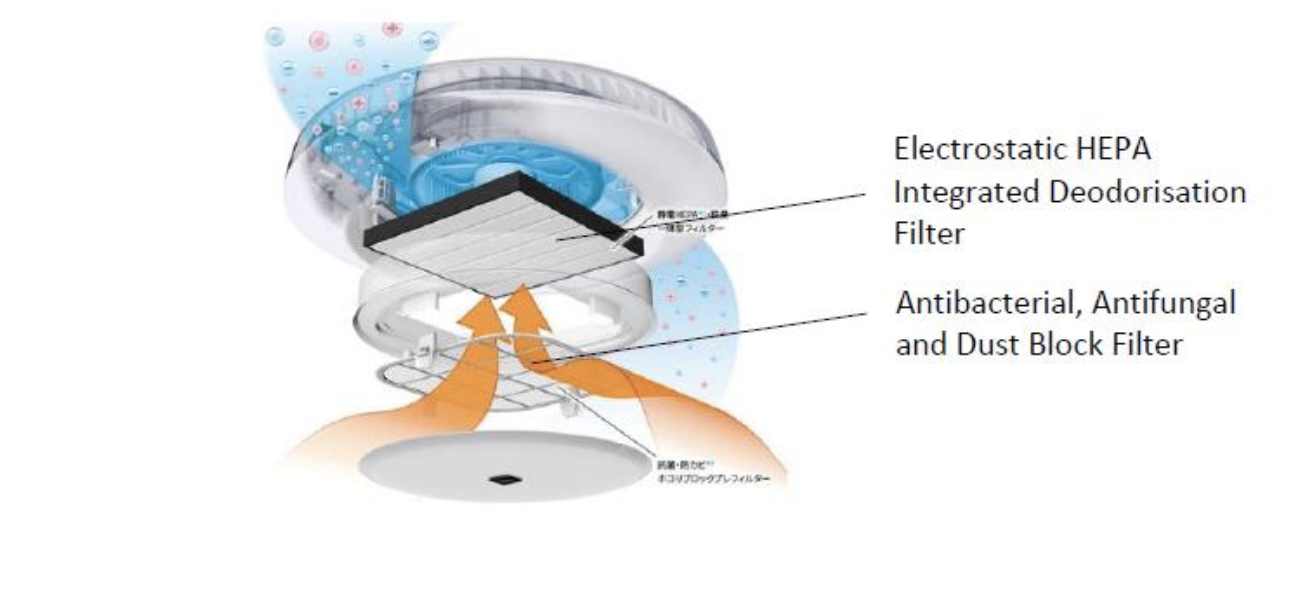 The FIRM has been working closely with EcoE over the past 3 years in developing a safer, healthier environment onboard our cruise ships.
The Ee IQ Lumin Air device takes air from the surrounding area and returns it cleaned through the patented clean air filters on a 24/7 basis. This kills airborne bacteria and removes dust particles reducing associated illnesses.
The lighting component has time changes in intensity and colour to replicate natural daylight and aid the circadian Rhythm (body clock) promoting restful sleep, relaxation and general well being.
Equipped with an "electrostatic HEPA / deodorizing integrated filter" that collects 99.97% or more fine particles of 0.3 m.

- Integrated electrostatic filter. Antibacterial, antifungal, dust block filter.
- Keeps the air environment comfortable. Catches the fine dust by powerful suction from the ceiling.
- Dimming : 10 levels
- Colour change : 10 levels (Cold colour ~ warm colour)
- The air purifying and lighting functions can be used independently.
For more details https://www.the-firm.com.au/the-firm-eco-lighting.html
We had our first delivery a couple weeks ago and continuing trails for perfection, so stay tuned!!!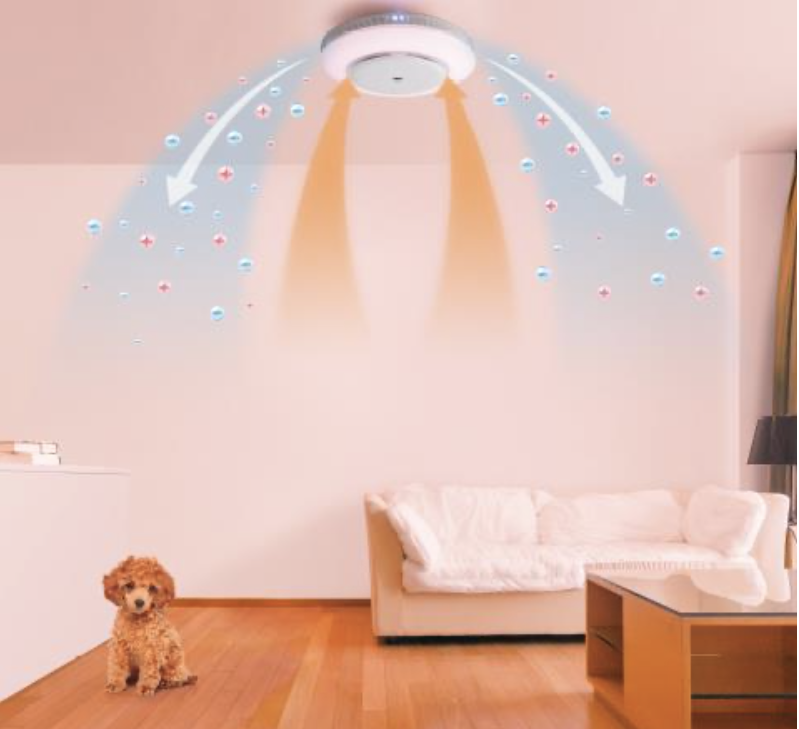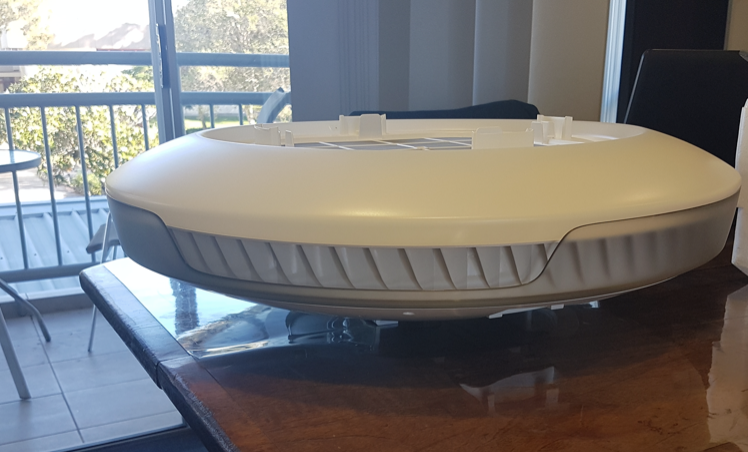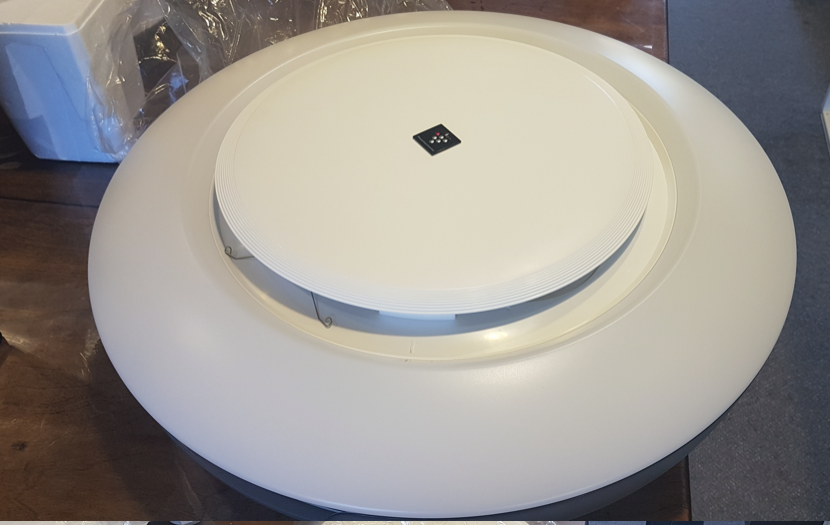 HISTORIC EVENT - ALL 3 X R CLASS SHIPS TOGETHER!
Courtesy Glasgow Live
Good morning fellow members,
A very rare site to see all 3 X R Class ships together R8 AZAMARA PURSUIT, R7 AZAMARA QUEST & R6 AZAMARA JOURNEY on the Clyde River Glasgow Scotland.
Hundreds gathered on the banks of the River Clyde at Renfrew to greet the ship as it prepared to berth at the King George V Dock in Shieldhall.
The Azamara Journey was due to dock in Glasgow yesterday, but instead spent an extra day anchored out in the Irish sea.
The Journey joins sister ships the Azamara Quest and Azamara Pursuit which docked in our city in recent days.
Here's why a cruise ship has been spotted sailing up the Clyde
At the beginning of June, harbour operator Peel Ports have confirmed three ships would be moored at the dock near Braehead during the ongoing coronavirus pandemic.
David Huck, Peel Ports' group managing director said back on June 1: "Due to the current suspension of the cruise industry, cruise lines require to moor vessels in ports worldwide. Like our counterparts in other countries, UK ports are already berthing cruise vessels on a temporary basis, including at Rosyth, Tilbury, Bristol and Southampton.
"These are vessels which have skeleton crews of around 40 crew members each and have not had passengers on board for many weeks. The vessels involved have been deep-cleaned, are free from Covid and will be on the high seas for at least two weeks prior to arriving on the Clyde.
Stay tuned for the launch of AQUA SAPPHIRE COMING SOON!



FULL SHIP TOUR
Courtesy - Visit with Us

185th EDITION MONTHLY NEWSLETTER
JUNE 2020
"BEST RETIREMENT PLAN EVER"

COMING SOON!!!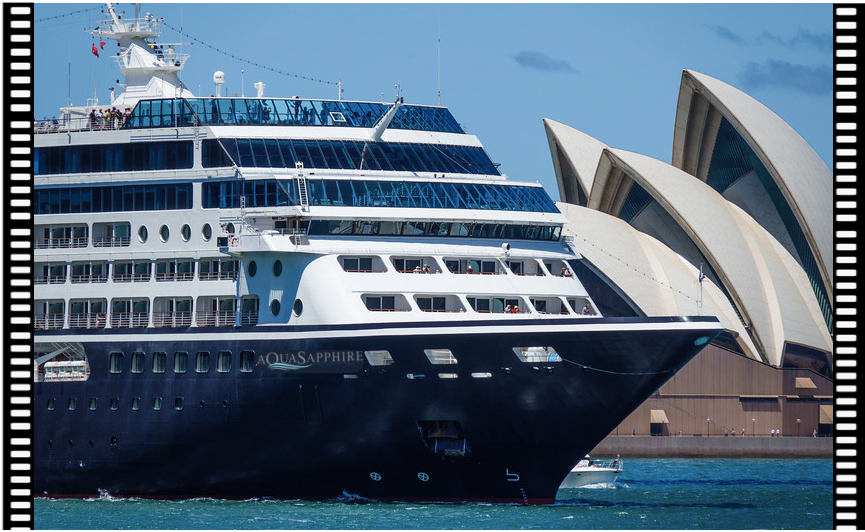 184th EDITION
MONTHLY NEWSLETTER
May 2020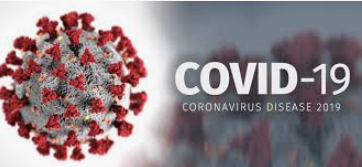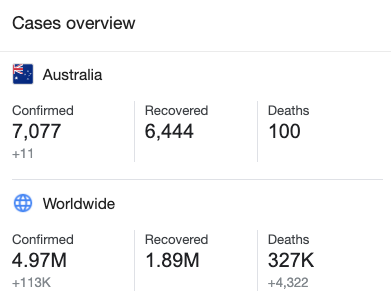 RENTAL RECOVERY
I am sure like most of us we are pleased to see the relaxation of many of the restrictions and we are hopeful that we will continue to manage this well and avoid the risks that some people are touting of a second wave of COVID-19. I am extremely optimistic.
I had a large amount of enquiry from people wanting more information, most of those enquiries were from our investors. As the rental market makes up around 60% of the entire residential real estate market here on the Gold Coast, we realize what happens in the rental market does have a very profound effect on the real estate market as a whole, so Andrew Bell Ray White Surfers Paradise will today give some more detailed information about our residential rental market. If anyone would like more details regarding the commercial market I suggest you reply back to his eNewsletter as it does differ so differently between retail, office, and industrial space, and different areas of the Gold Coast, so a response or information provided would need to be adapted to your area of interest.
Let's start with the much talked about hit on individual tenants and the requests for rental relief. It appears that across the nation through most rent rolls the request for rent relief came in around 20% of the total rent roll. For many, rent has remained at that level simply because perhaps inexperienced property managers took the requests at face value. However, when digging deeper and working with tenants, and the assistance from many programs by Federal and State Governments, we were able to get our rent relief levels to just 6%. Within that group, we had the small group of landlords who have had long-term outstanding tenants and they were happy to provide them with a rent-free period for a couple of months. A forgiveness of rent. However, the great majority have simply provided rent reductions for three months on the proviso that the amount by which the rent has been reduced will be paid back during the term of their lease or at the end of their lease. I must say, with the exception of just a handful of people, there has been enormous goodwill from both landlords and tenants in this regard.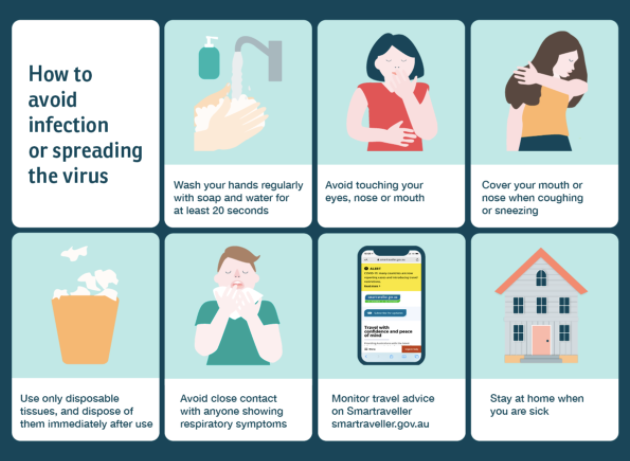 Now to the bigger question of vacancies. Three percent vacancy for the past 40+ years has been considered a balanced market. Vacancy rates above 3% means a higher level of vacancies and therefore a softening in rent, and vacancy rates below 3% means a stronger demand for rentals which sees rents rising.
Previously through my 45 odd years in the industry, the lowest I have seen vacancies rates was around 2%. However, by mid-March of this year, our rent roll, which is the largest on the Gold Coast, recorded a 0.4% vacancy. It is what I describe as an acute shortage situation. Whilst that wasn't reflective of the rest of the industry, which was around 2%, it was an incredibly low rate almost 0% vacancy.
However, the minute self-isolation and levels of restrictions came in, airlines stopped flying, borders were closed, and fundamentally most hotels shutdown, all of the properties that were in holiday let situations (Airbnb etc.), faced the prospect of a long period of vacancy and no rent. It caused many those people to immediately switch from holiday letting into permanent rentals. In the same of 4 weeks, vacancies across the entire Gold Coast rose from 1,200 properties in mid-March to 3,500 properties by early April. I could give you a lot more information about the breakdown of how that impacted in different regions and different property types such as apartments versus houses, but it will make this report too long.
The immediate situation was a huge supply of rental properties and because of the COVID-19 situation, very little enquiry in late March and early April. My goodness, how the situation has now changed. Rapidly we saw an acceleration in the second half of April of rental demand. We have now become so busy we have had to increase staff levels to handle the volume of rental enquiries and inspections. We are now letting properties at record levels and looking deeper into that we have identified an interested trend. More than 50% of the rental enquiry were people who had moved from interstate, and particularly out of Victoria. Our early research is telling us that these people were sitting at home during late March and early April and reassessing their world. Some had lost their jobs, some who owned businesses felt that the business would not reopen in the future, and some just wanted a better life. Huge numbers of people have made that bold decision to make their move now. Not next year, but now. COVID-19 had forced their hands and they seized the moment.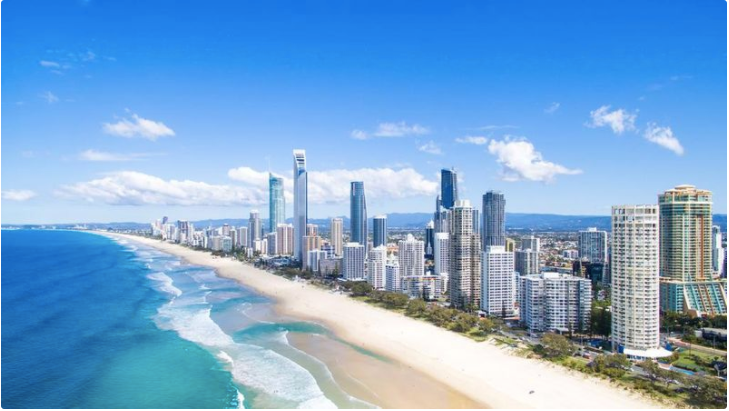 It is certainly helping to wade through the big increase in vacancies, however that was unlikely to be enough to stabilize that vacancy factor in the short-term. What will be a game changer is when airlines start flying again, borders are opened, and domestic tourism fires up again. The Gold Coast is expecting a huge influx of holidaymakers, especially coming up to the June/July school holidays. As such, many of the properties that came out of holiday lets will go back into them. As quickly as we saw the big increase in supply for permanent rentals, we are likely to see much of that disappear by July/August., and so this situation of high vacancies is just a very short-term knock-on effect of COVID-19.
There is a whole other expertise that will need to be worked on as we go through some pretty challenging economic conditions that are likely to face us certainly through the balance of this year with higher levels of unemployment, most likely an extended period of a recession, and so on. Our office has certainly had a lot of experience through those conditions in the past and the commonly used term 'this will pass' certainly applies, but it does need good strategies in landlord and tenant relations and around vacancies and rentals to ride that period of time.
Great to see that the few restrictions that were placed on real estate have now fundamentally been lifted, with just a little restriction on the numbers of people. We are back into public auctions from June onwards and open homes are back on from last weekend. We are thrilled to see the great volumes of people who were back out and about at our opens.
I trust your world is getting back to a little degree of normality, although I know it will never be the same again. Just as 9/11 had such a dramatic affect around security and the way we travel, I am sure COVID-19 will have a huge ongoing impact on how the hospitality industry and so many others industries function in the future.
I couldn't be prouder to be an Australian for the way we have handled 2020 through droughts, fires, floods, and now COVID-19.
Stay safe and we will chat to you all very soon about our special exciting project which we will be announcing next month.
183rd EDITION
MONTHLY NEWSLETTER
April 2020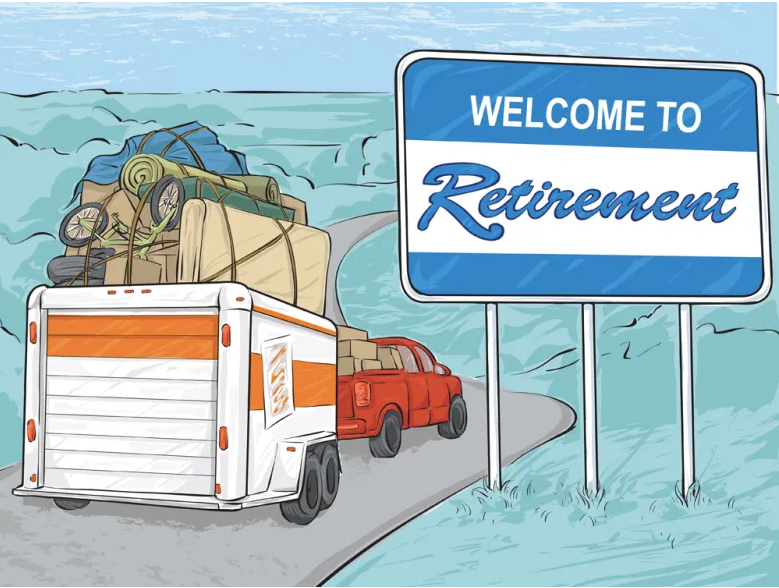 It may surprise you how much it costs!
Good morning fellow members,
While declining health can bring challenges, the financial impact doesnt have to be too bad, or nearly as bad as you thought.
One of the things you may wish to consider when you're close to retirement is whether to stay in your home, downsize or move to a facility that can support your critical needs. But if you don't require constant care and you prefer to live independently, retirement villages may be a suitable option.
1. If you move out of your home, you are leaving behind meaningful expenses. First off you will eliminate most of your food costs and utilities. If you are renting, you will eliminate your rent. If you are an owner, you will eliminate all your utility fees and/or maintenance costs, as well as any Body Corportate fees. It is impossible to provide a general savings number given the range in lifestyles and realty costs across the country, but it would be fair to say that most people will eliminate anywhere from $18,000 to $60,000 a year by not living at home.
2. When you are at the stage of living in a retirement residence or nursing home, your lifestyle expenses usually decline meaningfully. Your travel costs, dining expenses, new clothing budget and your entertainment spending which could have been $25,000 or more when you were 70 might now be $2,500 or even $0 when you are 88.
3. There are tax credits that can meaningfully help. In particular, the Medical Expenses and Disability Tax Credit are two of the largest among several that can reduce after-tax expenses. For example, if there are health care costs in a retirement residence or the entire cost of a nursing home, these can be considered medical expenses and a large percentage of those expenses can be deducted from income. To keep it simple, this means that many seniors could get back maybe 25 per cent to 30 per cent of their health-related expenses if they are sizable. This includes your investment port-folio if you have more than 3 negative geared investmentsf structured through The FIRM.
4. When funding senior living, many seniors don't take into consideration all of their sources of income, which could include Pension Plan, rental income and non-registered investment income, pension plans (personal or from spouse), family recreation property, etc. It is important to remember that these funds have been built over a lifetime so that they could be used to cover retirement expenses. Now is the time.
5. In some cases, people have bought long-term care Insurance that will cover some health care costs.
This entire topic is often not discussed, so even getting the questions out in the open is a great start. Unfortunately many families find the topic too difficult to broach, and as a result, informed decisions sometimes never get made.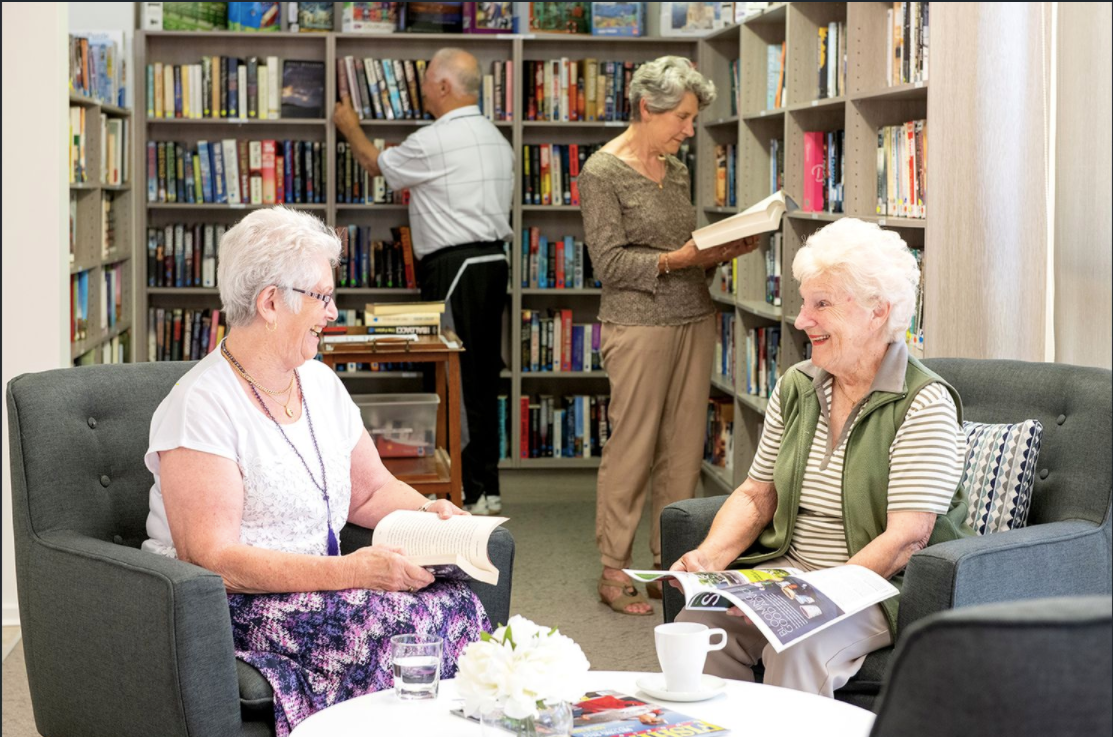 When trying to answer the question of where to live for your personal situation, some of the key issues to include would be:
Your health status and the level of support required
The annual expenses of living at home today
Your preference in terms of residence
The question of private versus public
Whether your family is close by and can be relied on for support
Where you want to be (i.e. your current neighbourhood or closer to your children)
A financial assessment of the real options and how much income could be created from the sale of a home
Let's start with costs.
While a general overview, living at home with 30 hours a week of private care; living at a private retirement residence; and living in a public nursing home.
While prices range across the country, the basics for a public nursing home can range from $0 to roughly $3,000 a month.
A private retirement residence can range from $3,000 to roughly $7,000 a month for basic care. These numbers can easily climb another $1,000 to $3,000 a month as extra care is required.
Living at home with part-time private care of 30 hours a week can cost $31,200 a year at $20 an hour. This is a large enough number, but as health deteriorates, the amount of care required increases substantially. If this becomes full time 24/7 care at $20 an hour, the number becomes $175,200! Not only is this a huge cost, but someone now needs to manage the three to five people required to work as full-time caregivers.
These numbers can certainly look pretty frightening, but remember as I mentioned at the top of the article, it isn't as bad as it looks. The health care costs of Australians in their latter years will very likely rise, but in many cases those extra costs will not only be largely covered by expense reductions, but for homeowners who sell their property as part of the transition, the income generated from the sale of the home can often more than cover off any additional living expenses.
As an example, someone sells a home for $1 million and moves into a retirement residence. The $1 million is invested and in total returns a fairly conservative five per cent a year. That translates into $50,000 in growth a year. Even if this is $40,000 a year after tax, in many cases your annual expenses will grow less than $40,000 a year if moving to a retirement residence.
There are also many provincial health programs that provide some personal care services to those in need regardless of where they are living. These support services are usually provided at no cost but do have a limit in terms of the amount of service provided.
While declining health can bring many challenges, the impact to your finances doesn't have to be too bad or not nearly as bad as you thought.
Enjoy the rest of the month and chat to you soon!
182nd EDITION
MONTHLY NEWSLETTER
April 2020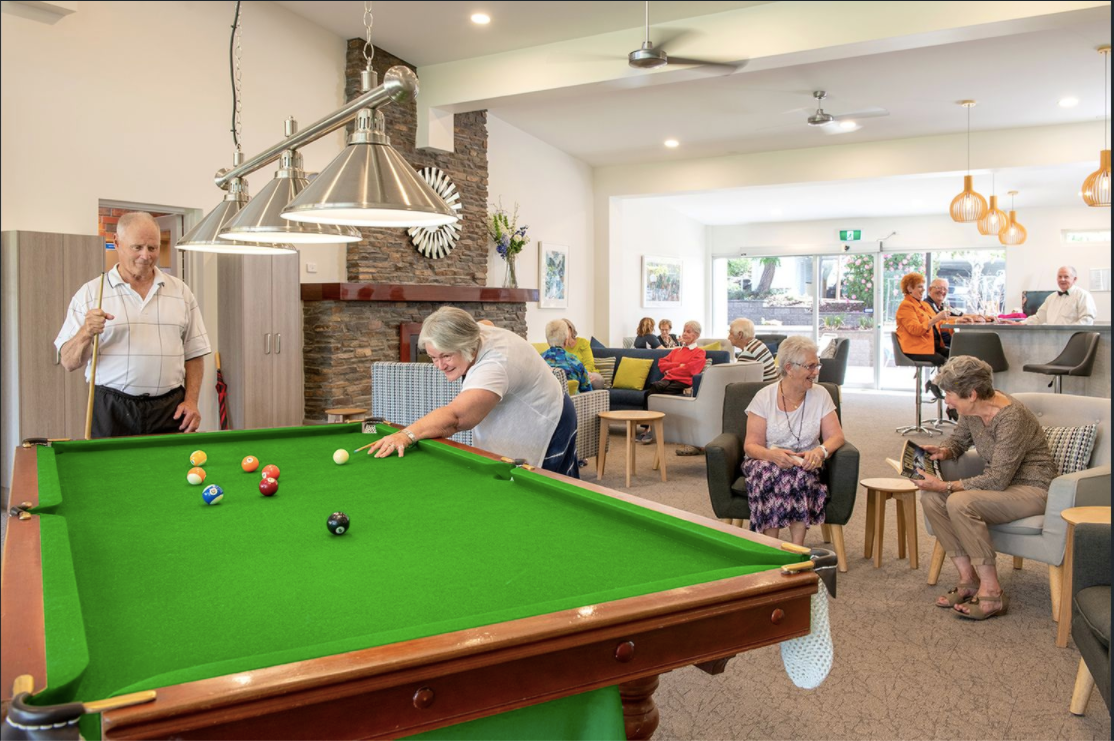 A SYDNEY academic has launched an online calculator to help people compare the long-term costs of different retirement villages.
Tim Kyng, a senior lecturer in actuarial studies at Macquarie University, was prompted to develop the calculator after experiencing problems with retirement village contracts when his mother was looking at moving into one.

"As a researcher who specialises in financial products, I didn't expect that the contracts on offer would tax my ability to analyse them. They did," Dr Kyng said.
"What I found was a great variation in the entry fees, ongoing fees and so-called 'deferred management fees' across the retirement village industry. The entry fee is substantial, usually comparable with the cost of buying an apartment.
"It is difficult and time consuming to get the details of how the contracts work and even more difficult to compare one with the other.
"In fact, some operators in NSW demand a $1000 deposit for the privilege of looking at a contract. They will give you the money back if you decide not to proceed but it really inhibits comparison shopping."
The free calculator takes the complex range of fees (entry fee, ongoing fee, exit fee and information about the sharing of profits or losses on the resale of the apartment) and calculates a simple equivalent monthly rent for the years of residence.
It also estimates the length of time someone is likely to live in the village, based on their age and gender at entry.
"It's important that consumers are able to compare the cost of retirement housing, as well as the facilities and social environment," Dr Kyng said.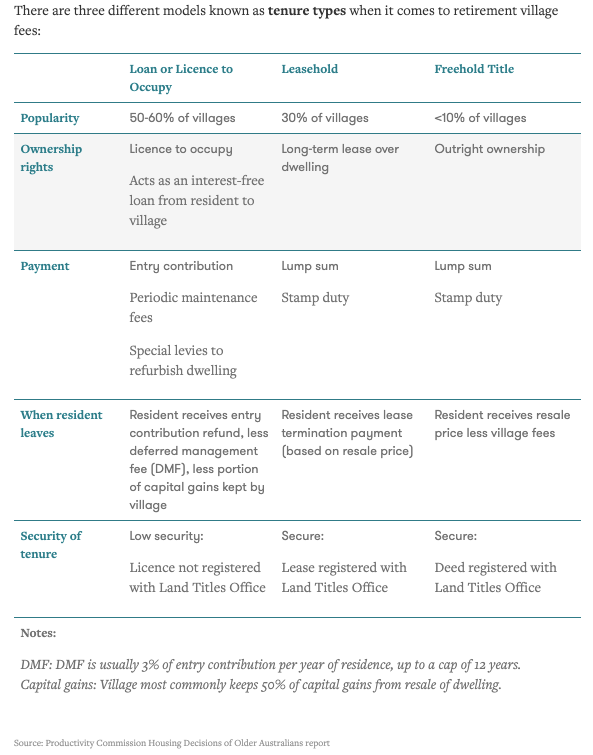 "To help comparison shopping, consumers should be able to get key cost information in clear language when they are first looking around. Some retirement villages are withholding key cost information or only giving it in complex documents."
Dr Kyng gives an example of two retirement villages in Sydney with entry fees of $775,000 (village A) and $750,000 (village B). Village A also has higher monthly fees, $850 compared to $450 for village B. However, village B has an exit fee of up to 35 per cent but no share of capital gain/loss whereas village A has no exit fee and a share of capital gain/loss.
When the calculation is done it can be seen that the equivalent monthly rent over seven years for village A is $1800 but for village B is more than double at $3900.
"Most retirement village contracts are very complex arrangements," Dr Kyng said.
"Many consumers think it is like buying your own apartment. It usually isn't, and you don't own it. Residents only have the right to live there until they become too sick, voluntarily relocate or die."
Dr Kyng recommends people thinking of entering a retirement village shop around and not settle for the first one they find; to negotiate with the operator and not just accept the deal offered; and to be aware of all the terms of the contract.
NSW Fair Trading recommends anyone thinking of moving into a retirement village should carefully read and consider all the information and seek independent, expert advice before signing any contracts.
That completes another monthly update. Stay safe and chat to you all again soon!
181st EDITION
MONTHLY NEWSLETTER
February 2020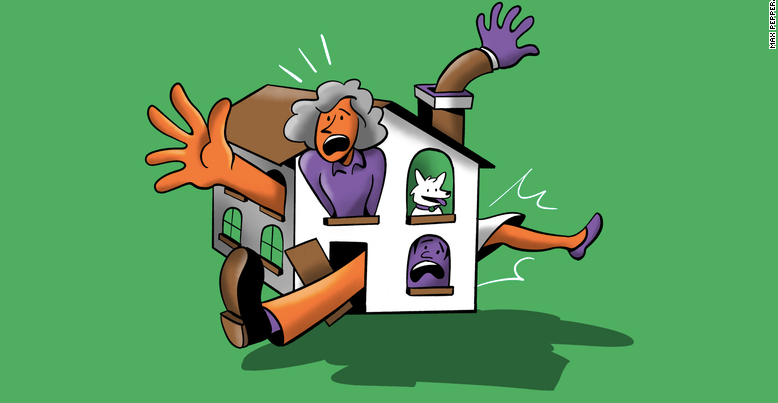 God afternoon fellow members,
I trust you are all well and are not suffering from cabin fever being confined to home duties :)
Our team have been working diliegently on a very special project AQUA SAPPHIRE with some amazing results which we will be sharing with you in the future.
So our apoligies as we will have to refrain from our monthly NEWSLETTERS due to CODE OF SILENCE regarding this exciting project.
Stay safe and chat to you soon!
Kindest regards,
180th EDITION
MONTHLY NEWSLETTER
January 2020
Do you want to join us for a taste of Retirement?

You're invited to join us to take a closer look at how good retirement living and aged care can be on board AQUA SAPPHIRE.

This is the perfect opportunity to experience what living in our vibrant communities is all about.
Get a feel for what will make our community a special place to live.
Join us in a group to tour the community
Visit a display suite to see for yourself just how well-appointed they are
Chat with residents to find out what they love about their community
Discover the activities and amenities available
Meet our friendly team who are there to help
Call me for more details 0414 888 186
HOW MUCH DOES IT COST TO LIVE ABOARD A CRUISE SHIP PERMANENTLY?
Many members are now travelling around the world jumping from cruise ship to cruise ship and spending serious money every year.
How much are they spending ... Watch the interview below!!!