NEWS HEADLINES
MARCH 2022
Pre Election Budget Criticised for Short Term Fixes Instead Of Long Term Solutions


Good morning fellow members,
The big-spending pre-election budget provides short-term relief for households struggling with the rising cost of living pressures but has been criticised for failing to provide long-term solutions.
The budget delivers $8.6 billion worth of temporary cost of living measures at a time of rising inflation, with some experts warning they will add to inflationary pressures ahead of an interest rate hike that may come as soon as June.
While the budget attracted the usual mixed reaction, both the Committee for Economic Development of Australia and the Australian Council of Social Service slammed its reliance on short-term quick fixes.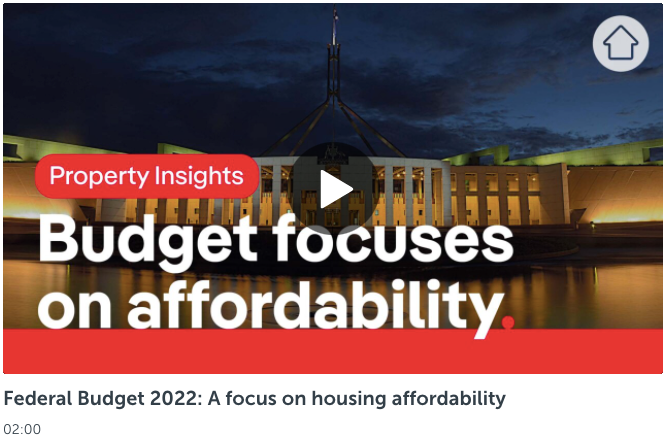 CEDA chief economist Jarrod Ball said the budget's focus on temporary measures to alleviate rising costs of living will be welcomed by many.
"But the budget has only taken modest steps to permanently lift the capacity of households to navigate the growing pressures on the economy," Mr Ball said.
"The $8.6 billion of cost of living measures mostly benefit income earners and motorists, with many income support recipients receiving the least relief from cost of living pressures.
"With growing inflationary pressures and interest rate rises on the horizon, cost of living pressures will not dissipate any time soon and these measures do not provide a long-term solution."
More than 10 million low- and middle-income earners will get a one-off $420 cost of living tax offset, six million welfare recipients receive a one-off $250 cost of living payment, and the fuel excise has been halved for six months.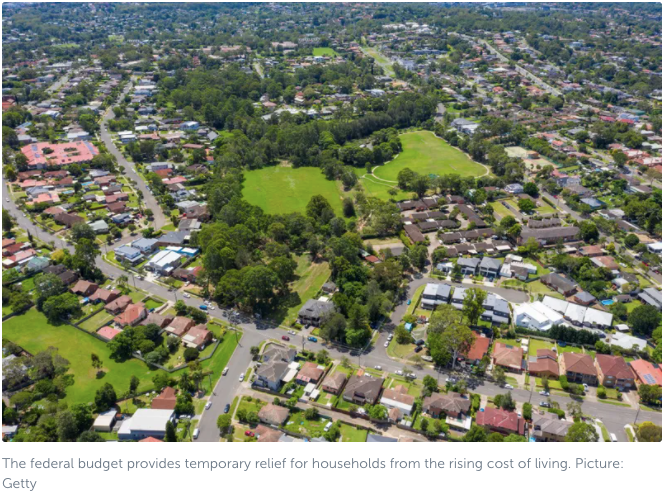 ACOSS chief executive officer Dr Cassandra Goldie attacked the "flash in the pan budget", saying much of the assistance goes to people who don't need it and too little goes to those who need support.
"This budget is full of temporary fixes, when we need permanent solutions," Dr Goldie said.
The fuel excise cut would have been better spent lifting income support and boosting social and affordable housing, she said.
"Unfortunately, although the government says this is a cost of living budget, it fails to deal with the biggest cost of living, which is housing. Perversely, the housing measures it contains will very likely push up house prices and make housing affordability worse."
Treasurer Josh Frydenberg defended the cost of living measures, describing them as being targeted, responsible and delivered at a time when Australians needed it most.
"The measures we announced last night were responsible, they were targeted, they were temporary, and they were designed to provide the cost of living relief for Australians who need it most," Mr Frydenberg said on Wednesday.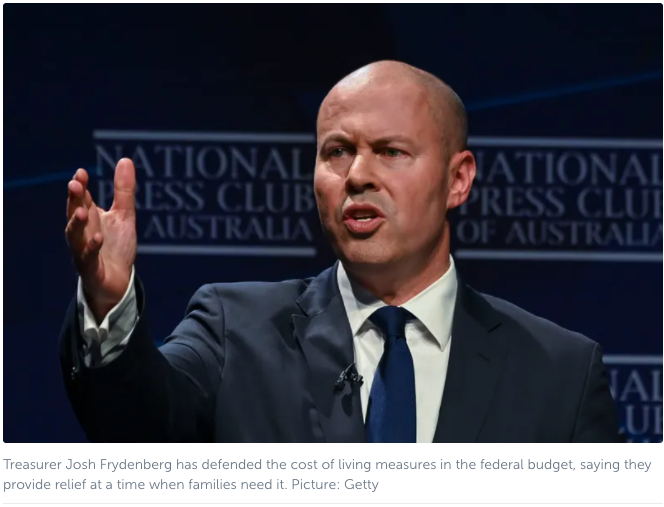 The budget papers note inflation is expected to rise to 4.25% through the year to the June quarter of 2022, reflecting higher global oil prices and ongoing supply chain pressures as well as price pressures in the housing construction sector.
But Mr Frydenberg said inflation is then expected to start to moderate, which will help alleviate some of the cost pressures faced by households.
The fuel excise reduction is expected to reduce headline inflation by a quarter of a percentage point in the June quarter, he added.
Westpac Group chief executive officer Peter King said the budget strikes the right balance.
"With many Australians paying higher prices, this support will make a difference," Mr King said.
"Together with major commitments on infrastructure projects across the nation, more work on wage subsidies for apprentices and incentives for businesses to hire them, the budget strikes the right balance between providing much needed short-term assistance and lifting Australia's long-term growth potential."
The federal government is expected to soon call an election for May.
An interest rate rise is on the way
Some economists warned the budget's cost of living measures will add to inflationary pressures, although they have not changed their expectations for when the Reserve Bank of Australia will lift the cash rate from the record low 0.1%.
"The cost of living payments announced in the budget will add to near-term demand and inflation pressures in an economy where rising inflation is already a concern," Commonwealth Bank of Australia economists said, noting the fuel excise cut will reduce inflation in the second quarter.
CBA chief economist Stephen Halmarick said the extra stimulus the pre-election budget will apply to the economy is relatively muted.
"However, given rising inflation and strong employment and wages growth, we maintain our view that the Reserve Bank of Australia will raise interest rates in the near-term, with an initial increase to 0.25% expected in June this year, rising to a peak of 1.25% in early 2023," Mr Halmarick said.
AMP chief economist Dr Shane Oliver said the budget provides a "magic election pudding" of more spending but lower deficits.
"The pre-election cash splash... risks overstimulating the economy at a time when it is already strong, further adding to inflationary pressures and adding to the amount by which the RBA will have to hike interest rates," Dr Oliver said.
He said the extra stimulus in the budget increases the chance that the first rate hike in June will be a 40 basis points rise rather than 15 basis points. That would take the cash rate to 0.5%, with AMP expecting it to reach 1% by the end of the year.
Westpac chief economist Bill Evans said the total spending in the budget is a bit more than expected but he did not expect the measures to massively increase demand and change the RBA's thinking.
"It's a bit more than I expected but I don't think it's enough to say shock horror - the Reserve Bank governor will go to work tomorrow and say we must raise interest rates," Mr Evans said.
Mr Evans, who expects the first rate increase will be in August, noted the RBA board is still being patient and is in a "wait and see" mode.
National Australia Bank economists also noted "there is as much politics in this budget as economics", but said the budget did not change their expectations for monetary policy.
"The RBA will move soon to moderately increase rates - we expect that process to start by August this year," the NAB economists said.
Housing supply remains a key issue
Property industry groups have praised the budget's key housing measures but also warned supply remains a major issue in addressing affordability challenges.
The budget's major housing initiatives were an additional $2 billion in low-cost financing to community housing providers and a significant expansion of schemes helping first-home buyers struggling to save a deposit as property prices surge.
Property Council of Australia chief executive Ken Morrison said Australia's economic recovery has been remarkable and the budget confirmed strong conditions are likely in the year ahead.
"However, it is clear that the budget results are contingent on a strong bounce back in population growth and there are risks that falling housing supply also becomes a looming drag on the economy," Mr Morrison said.
The budget highlights the extent of the housing supply crisis, predicting dwelling investment levels will drop from 5% growth in 2021/22 into negative territory (minus 0.5%) by 2023/24, he pointed out.
"Both HomeBuilder and the expanded Home Guarantee Scheme are welcome demand-side measures, and cannot address the supply-side issues which increase the cost of new homes," he said.
The Urban Development Institute of Australia said the budget backs the housing and construction industry to prime the economic recovery and start tackling the affordability crisis.
South East Queensland set for $1.8b
"CITY DEAL"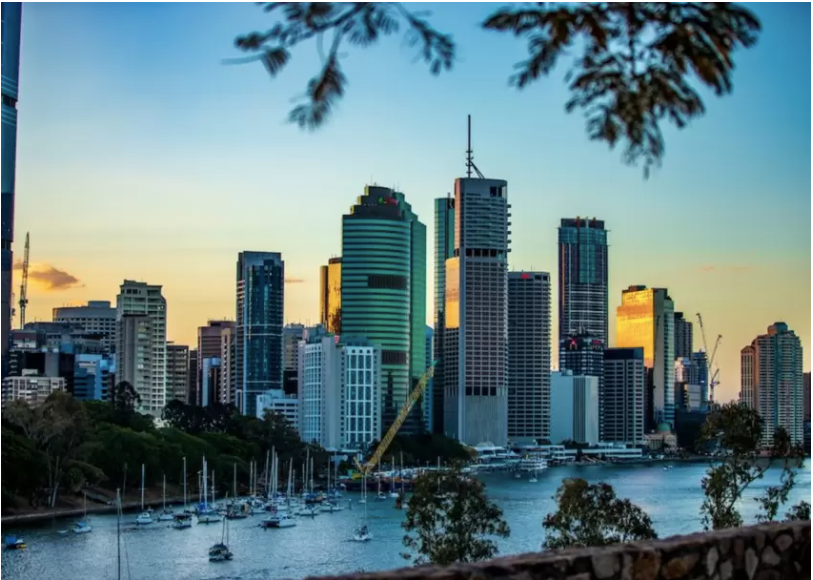 Courtesy Business News Australia
A new South East Queensland City Deal worth $1.8 billion has been announced today by the State and Federal Governments, with funds to build infrastructure projects in the region.
As part of the City Deal, a new $450 million Gabba Brisbane Metro Station will be built, as well as investments in social and economic projects, a $150 million 'Innovation Economy Fund', funding for a waste management program, and $70 million for digital connectivity projects.
The City Deal is supported by a $667.77 million investment from the Commonwealth, $618.78 million from the Queensland Government, $501.62 million from SEQ Council of Mayors plus $75 million from the industry.
"This is a partnership for Queensland jobs and Queensland investment to deliver a stronger economy and a stronger future," Prime Minister Scott Morrison said.
"South East Queensland is one of the fastest-growing regions in Australia, and with the population expected to continue to grow, it is crucial that we invest in the infrastructure it needs to thrive for decades to come.
"From Brisbane to Toowoomba, Ipswich to the Sunshine Coast and everywhere in between, this Deal delivers for South East Queenslanders."
Advertisement
Queensland Premier Annastacia Palaszczuk said the project will prepare SEQ for the 2032 Olympic and Paralympic Games, with more than 30 projects set to generate more than 2,000 jobs.
"I have always said we work best when we work together," the Premier said.
"The City Deal provides the vital infrastructure to plan for our growing population.
"That includes new transport links for the Gabba in time for the 2032 Olympic and Paralympic Games. The winners are Queenslanders."
Key projects in the City Deal include:
$450 million for the Gabba Brisbane Metro Station, to deliver enhanced transport connections and support the 2032 Brisbane Olympic and Paralympic Games;
$285 million for the SEQ Liveability Fund to deliver projects of social and economic priority for the councils;
$150 million for the SEQ Innovation Economy Fund to support capital projects that promote and grow the region's innovation economy;
$105 million for resource recovery infrastructure to develop a region-wide approach to managing waste and progress the region to a circular economy;
$70 million for digital connectivity projects to support place-based telecommunications infrastructure and improved digital connectivity.
Queensland Deputy Premier and Minister for State Development Steven Miles said the cooperation between all levels of government will ensure that the region has the right infrastructure in place as the population grows.
"We have seen a recent surge in people looking to call SEQ home, and by 2041, the region is set to grow to 5.4 million residents," Miles said.
"A new Gabba Metro Station will improve linkages between cross-river rail and the Brisbane Metro at the Woolloongabba Olympic venue that create long-term improvements to the public transport network and transformational city-shaping opportunities."
The announcement comes days after the Federal Government expanded its commitment to the jointly funded Perth City Deal, which is a major infrastructure project for the Western Australian capital that was originally signed in September 2020.
Both governments announced an additional $49 million to build the new Edith Cowan University (ECU) campus and $25 million each to the Swan River Bridge construction project.
The new funding from both the Federal and WA governments brings the total value of the Perth City Deal to $1.69 billion. In addition to the ECU build and the Swan River Bridge, the City Deal includes:
Investment in Curtin University's Historical Heart Cluster, including the expansion of the Graduate School of Business and Law School and the creation of a healthcare and clinical training facility.
Investment in Perth's cultural attractions, including the Perth Cultural Centre rejuvenation, the Perth Concert Hall Redevelopment and the WACA redevelopment and the public swimming pool. These investments will create vibrant, safe and attractive offerings delivering improved liveability, cultural and tourism outcomes for the city.
Investment towards the celebration of Western Australia's rich Aboriginal culture and history, including important community consultation and engagement, feasibility studies and preliminary design work for the Perth Aboriginal Cultural Centre.
The CBD Transport Plan, is an investment to improve active and public transport accessibility and safety in the CBD, increasing the attractiveness and sustainability of the city for residents and visitors.
JANUARY/FEBRUARY 2022
FULL RECOVERY 2023 FOR CRUISE LINES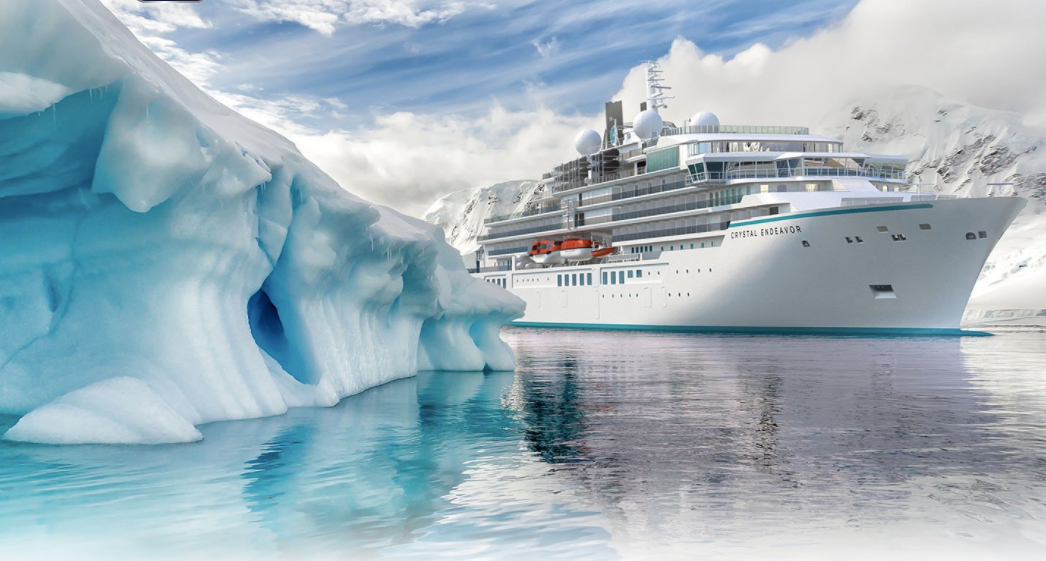 The global cruise industry is set to return to full service by August 2022, owing to climbing vaccination rates and border reopenings, whilst passenger volumes are forecast to return to pre-pandemic levels by 2023, according to the Cruise Line International Association in its 2022 report.
Known as being the peak industry body for cruise operators, the CLIA represents nearly 50 global cruise companies, and close to 300 cruise ships from operators including Norwegian Cruise Lines, Carnival Cruise Lines, Royal Caribbean International - 3 out of 4 of Asia's largest cruise operators (the last one being the now-troubled Genting Hong Kong).
Pre-pandemic, Asia had 79 cruise ships operating in its waters, though this number slumped to 34 in 2020.
Recovery in the waters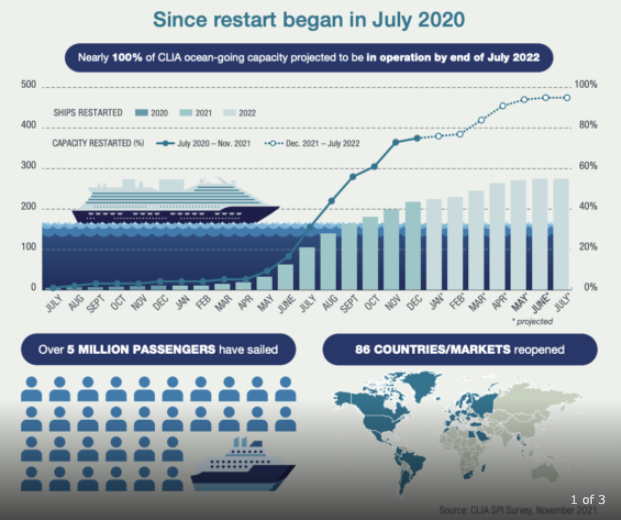 Looking into the industry's recovery trajectory in 2022, CLIA said it projects 272 ships will be in operation globally in 2022, while another sixteen new ships are set to make their debut this year.
The cruise association was also optimistic about passenger volume recovery, with baseline projections pointing to pre-pandemic passenger volumes by 2023. Upside projections move this timeline to as early as the end of 2022.
Meanwhile, all three (downside, baseline, and upside) projections unanimously expect global cruise passenger volumes to exceed 2019 levels by 2024.
Unfortunately, there is one major Asian cruise operator that is unlikely to be in a position to partake in the industry's recovery.
Last month, Genting Hong Kong's Dream Cruises unit filed a winding-up petition, with its parent company warning of a potential default on debts of $2.77 billion. The company's Crystal Cruises is also said to be closing up shop and letting go of its U.S. employees only days after its ships were seized in the Bahamas for unpaid fuel bills, according to those close to the matter.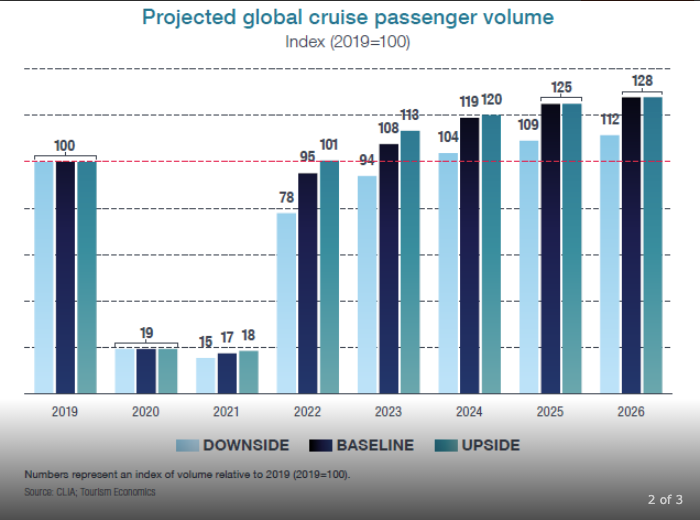 Despite this, the CLIA remains confident of a solid restart of the cruise industry after nearly two years.
Whilst 70% of cruise-related businesses and organizations reported layoffs and furloughs during the pandemic, approximately 60% of these businesses are now hiring, it said.
Responsible cruise tourism spotlight
Interestingly, a large portion of this year's State of the Cruise Industry report focuses on sustainability, the environment, health, and safety protocols, perhaps in a bid to encourage more governments to allow cruise shipping to resume in their localities.
CLIA quoted the Global Economic Contribution of Cruise Tourism report from BREA in 2019, finding that every 24 cruisers create one full-time equivalent job. It also noted that 6 out of 10 persons who have taken a cruise say they have returned to a destination they first visited in a cruise ship.
New technologies have already been employed in its members' cruise lines to mitigate the potential spread of Covid-19.
These include the use of mobile apps to navigate ships, track kids, monitor onboard spending.
In MSC cruises, they've employed in-cabin voice-activated AI, acting as a receptionist for general inquiries.
Cruise ships have also adopted e-mustering, rather than in-person mustering, RFID wristbands to use as a track and trace device, and other advanced cleaning and sanitization, ventilation and contactless technology.
Passengers are also required to be fully vaccinated and undergo Covid-19 testing prior to boarding.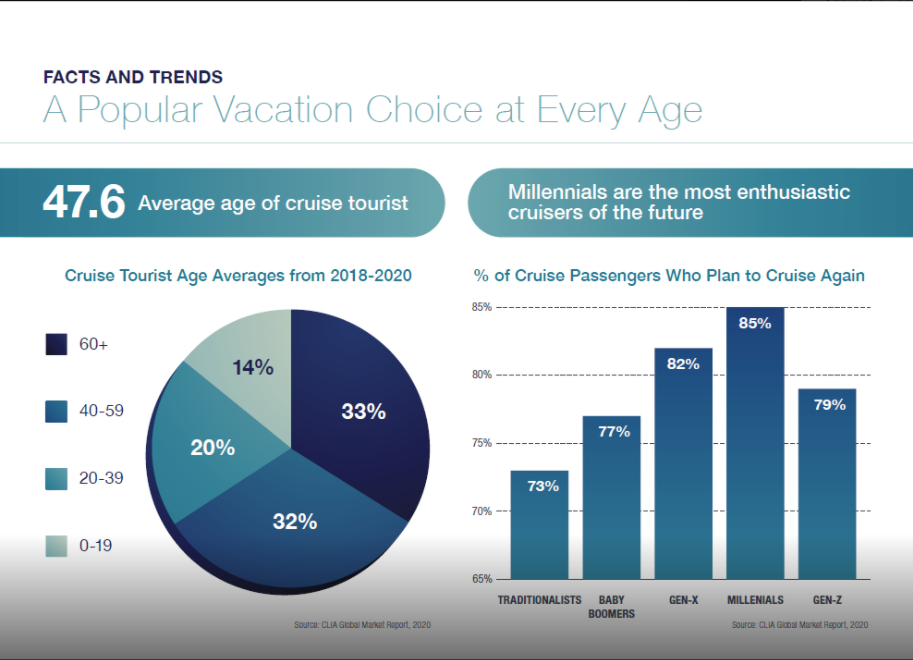 The association has set targets in its pursuit of more environmentally friendly ships and voyages, including 26 LNG-powered ships by 2027. LNG is considered one of the cleanest marine fuels.
Notable trends continue
Unsurprisingly, the Caribbean, Bahamas, and Bermuda remained the top destinations by average passenger volume between 2018 and 2020, accounting for 44% of passenger volume.
Asia took second place in this regard, accounting for 13% of passenger volume.
This reflects the top five source regions for cruisers - with 51% of cruise passengers coming from North America, 21% from Western Europe, and 12% from Asia.
The average age of the cruise tourist has also remained largely the same over the last three years, rising slightly to 47.6 years of age. The CLIA continues to see millennials as the most enthusiastic cruisers of the future, just in front of Gen-X.