NEWS HEADLINES
OCTOBER/NOVEMBER 2021
QUEENSLAND BORDERS OPENING ON 17TH DECEMBER 2021!!!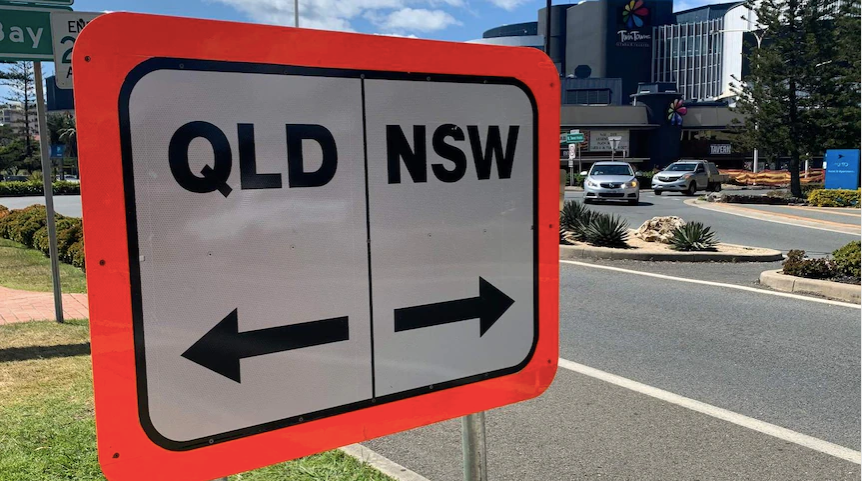 The QLD Premier has announced that QLD borders will be re-opened on Friday 17th December 2021 for arrivals from all areas of the country as well as some international arrivals. At the time of writing, Sydney and Melbourne are still considered "hot spots" by the QLD Government and its Health advisers however entry is still permitted into QLD after the 17th December if :
(a) You are fully vaccinated
(b) Have a negative Covid-19 PCR test performed up to 72 hours prior to your arrival into QLD.
(c) You may arrive by AIR or ROAD
(d) There is no quarantine period required if you meet the above criteria.

NOTE: If arriving into QLD from a non-hot-spot area (i.e. all other areas of Australia other than Sydney and Melbourne), there are NO restrictions on entry into QLD and NO quarantine is required - as from the 17th December, of course.

And there's more.....

At the 80% level of vaccinated Queenslanders (and from the 17th December):
All fully vaccinated Queenslanders, as well as fully vaccinated travellers/visitors to QLD, will be able to:
- Attend hospitality venues such as Hotels, Pubs, Clubs, Taverns, Bars, Restaurants and Cafes.
- Attend indoor entertainment venues such as nightclubs, concerts, theatres or cinemas.
- Attend outdoor entertainment activities such as sports stadiums or theme parks
- Attend festivals - indoor or outdoor venues
- No Covid-19 density limits will apply to these venues
And note: Masks will no longer need to be worn in QLD, except at an Airport, on a domestic or International flight departing from or arriving into QLD (as agreed by the National Cabinet).

When 90% of the Queensland population is fully vaccinated, then :
(a) There are no restrictions on entry into QLD and no quarantine required for anyone arriving from any part of Australia (including any future "hot spots") if you are fully vaccinated.
(b) If you are not fully vaccinated, you will need to meet the relevant requirements for entry announced by the QLD Government at that time and you will be required to undertake a period of quarantine - the length of which is yet to be defined.
These two rules (above) apply to all entrants into QLD from all parts of Australia as well as overseas (and including New Zealand).

Here's what you will need in preparation to enter QLD:
(1) A Qld Entry Border Pass: click here:
https://www.qld.gov.au/border-pass
(2) The Check-In Qld App - required to enter venues: click here and download on your mobile phone :
https://www.covid19.qld.gov.au/check-in-qld/im-a-customer/download-and-set-up-the-app
SEPTEMBER 2021
NEW LAWS COMING - TENANCY ACT QUEENSLAND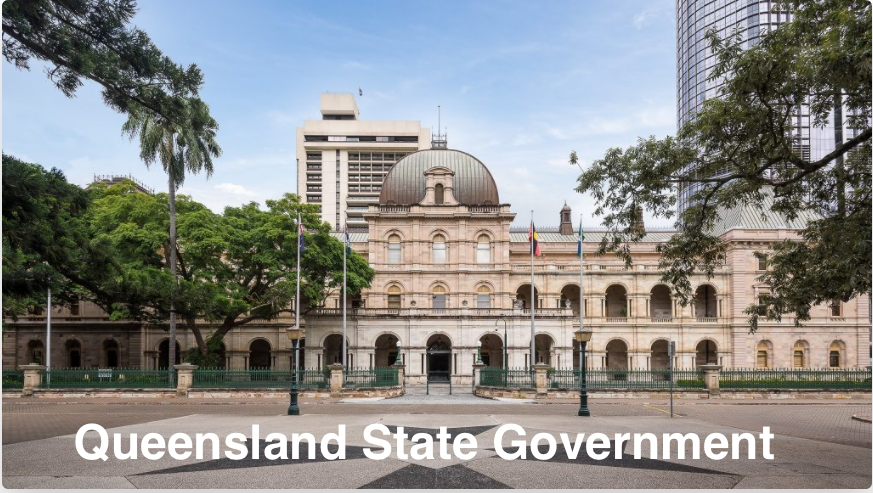 Dear Valued Members,

Recently, Leeanne Enoch, Minister for Communities and Housing, Minister for Digital Economy and Minister for the Arts, announced that The Housing Legislation Amendment Bill 2021 was passed in Queensland Parliament. The full extent of these changes are yet to be implemented however we would like to take the time to explain how these amendments may affect you as an owner of an investment property in Queensland.

What has changed?

The temporary measures that were implemented under the COVID-19 residential tenancies response will become a permanent part of the RTRA Act. This will affect tenancies where the occupant may be experiencing some form of domestic violence. The following terms will now be a formal part of all tenancy agreements:

- A tenant can leave immediately (after giving 7days' notice) and access any bond contributions that they have made during the tenancies.
- The fees for compensation payable by the tenant have been capped at a total of 1 weeks rent.
- The tenants cannot be held liable for property damage caused by domestic or family violence.
- Any remaining co-renters can be asked to top-up the bond by the managing agent.
- The tenant can have the locks changed at the property without seeking the owners or agents consent to ensure their safety.
- The tenant must provide documentation to support their claim. Property owners, managers and their employees must not disclose this information (except where permitted) and may be subject to penalties if they do so.

The following laws have not yet commenced however we will keep you up to date with any changes as they come to light.

Minimum Housing Standards
This law is to establish minimum standards to ensure all Queensland rental properties meet standards for safety, security & functionality. This includes but is not limited to ensuring all windows and doors have functioning latches, fixtures & fittings provided are in good repair, the premises are to be free of vermin, damp and mould, privacy coverings, adequate plumbing and drainage and the property does not present a safety risk with normal use. Properties are also expected to be weatherproof and structurally sound. The standards will apply to all new leases entered into from the 1st of September 2023 and to all tenancies from the 1st of September 2024. In addition, the tenant will have 7 days (currently 3 days) to complete and return the entry condition report and tenants/property managers can authorise emergency repairs for the equivalent of 4 weeks rent.

Ending a Tenancy
A rental property owner will not be able to issue a notice to leave 'without grounds' which is aimed to provide renters with more certainty.

Pets
If a tenant requests to keep a pet, the rental property owner must have reasonable grounds to refuse and respond in writing to this request within 14 days. Reasonable grounds include if the property is unsuitable and if keeping the pet would breach the laws and by-laws. As an owner, you can place reasonable conditions on pet ownership including keeping the pet outside or that the carpets are to be cleaned and property to be fumigated at the end of the lease. The laws state that a rent increase as a part of the pet approval is not considered a reasonable condition however the laws do clarify that fair wear and tear does not include pet damage and tenants will be responsible to repair/rectifying any damages caused directly by keeping the pet at the property.
We have taken swift action with regards to these changes and have arranged an exclusive training session with one of the most highly regarded experts in the industry to ensure all on-site and management staff are well versed in the current changes and are well prepared for the further changes to come. This will ensure that were are able to protect your interests as a property investor and act on your behalf in these situations to ensure the best outcome for all involved.

We will continue to monitor the changes with regards to the rental reforms and keep you up to date with the latest information available. If you have any questions or concerns regarding these changes please do not hesitate to contact us.

We would like to thank you for your continued support throughout the year and we look forward to keeping you up to date.

"Welcome Back to the GOLD COAST"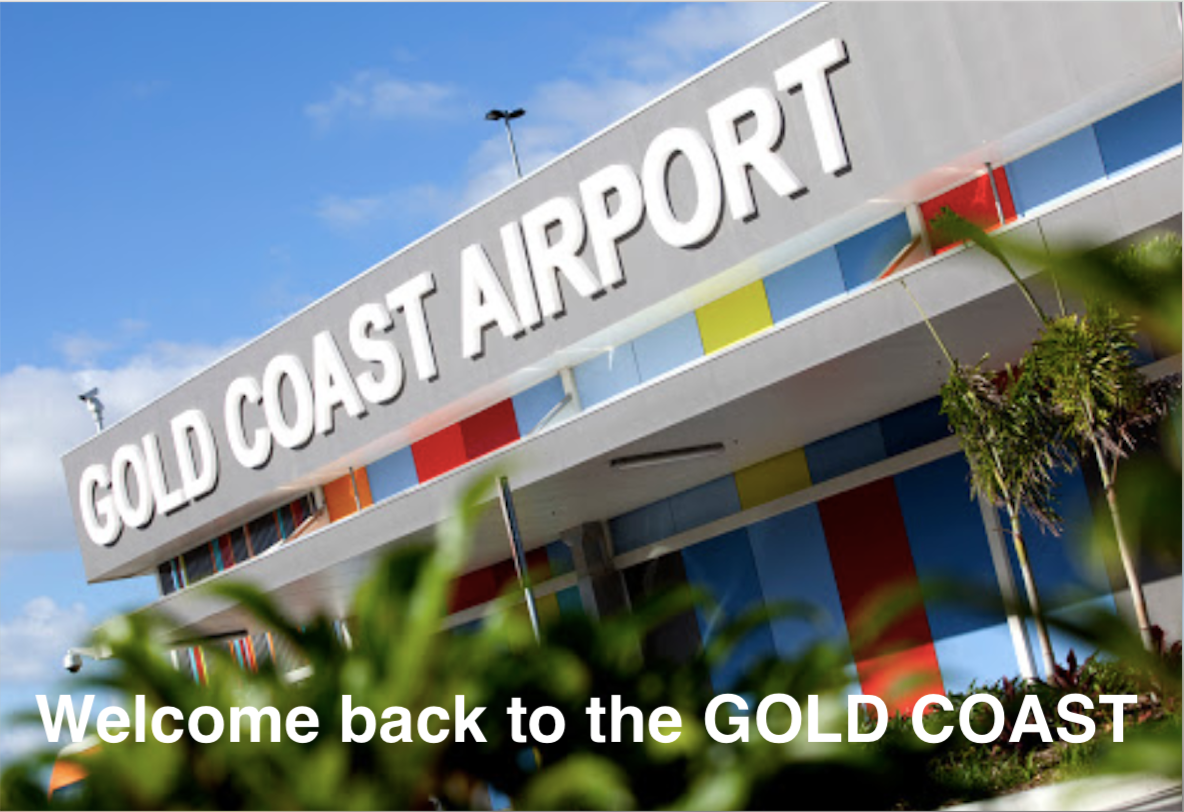 The real Estate Super boom will coincide with mass business migration and returning ex-pats to Australia. Coupled with the lowest interest rates in history and many Southern buyers that are all cash will not be swayed by threats of interest rate rises and will not hesitate.
There will be a buying frenzy for Queensland Property throughout 2022. Buy now before you miss this opportunity.
Also, Foreign buyers, who wish to seek a low COVID infection State such a Queensland will swamp the Real Estate markets.
This has already started watch this space ....
"Significant ROI here on the GOLD COAST"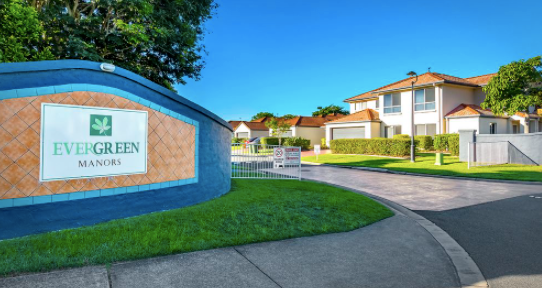 Good afternoon Fellow Members,
Do you remember back 25 years ago when we were all purchasing in Labrador, Coomera and Robina before the shopping centre had started construction?
Do you remember what we purchased those developments for back 25 to 30 years ago when you were concerned that investing in property outside where you lived would have been considered a risk?
Do you remember when I used to handwrite personal letters to you with a photocopy of the latest Headlines from the Gold Coast Bulletin?
Well, as I predicted all of this has happened now when we can sit back and enjoy the fruits of our labour.
Temperatures are soaring across the Gold Coast, and it's not just limited to the weather, but the heat is rising in the property market, too. Building upon an already successful financial year, top domestic real estate agents on the Gold Coast continue to dominate the entry, middle and prestige sectors of the Gold Coast real estate market, with more than $87 in property sales throughout August alone. With numerous records being set in recent times, the strength of the Spring property market is indisputably strong. Step into any café, barbershop or Uber and you'll at some point, invariably, become a part of a conversation regarding real estate. In other words: it's the talk of the town.
These consistent sales exhibit the lucrative opportunities that buyers and sellers can exploit to make significant ROI's and profit, considerably. Enquiries from Sydney and Melbourne buyers amid the COVID outbreaks is continuing to stimulate the appetite for a property on the Gold Coast, with no signs of slowing down anytime soon. Even with the increasingly contagious Delta Variant of COVID-19 spreading rapidly throughout Australia, CoreLogic data indicates lockdowns have not slowed the property market whatsoever.
Throughout the most recent financial year, there was an excess of 582,000 transactions in Australia; the highest annual sales volume that has been witnessed since 2004, even despite these continual lockdowns. Therefore, there is truly no better time to buy, sell or invest, with all property data showcasing an upward trend that indicates nothing but incessant growth. Resistance is well and truly futile in this market, join while you can and reap the benefits.
With over 80% of potential buyers initiating their property journeys through online mediums such as social media and real?estate landing pages, the 'traditional open home' is taking a step back for contemporary digital outlets.
Stat tuned for the next exciting episode as the property investment markets accelerate.
Have a great weekend and chat with you soon!
NEWS HEADLINES
AUGUST 2021

Good afternoon fellow members,
What only six months ago seemed like a major talking point is today just how it is, everyday life. I am referring to sales of over $5 million according to our friend Andrew Bell, Ray White, Surfers Paradise
It was a rare event on the Gold Coast to hear of a property selling for over $5 million. They occurred, but with great frequency to the point that such a sale would make headline news. Today, sales of $5 million is a daily event and it is not until a sale is getting up around the $20 million brackets that it is getting significant media attention in isolation. What we will more commonly see written about these days is the pool of sales in the $5 million, $10 million, and $15 million price ranges.
This is a reflection of the significant change in the Gold Coast's real estate market. So much real wealth has arrived here on the Gold Coast through that interstate migration that is being well publicised. As I reflect over the past 30-years, so many of our then record sale prices were to people who so often were massively leveraged in their real estate purchases and as soon as business conditions toughened they were often the properties that came back to the market either as mortgagee sales or on the brink of being so. Today, so many of the purchasers are from a strong wealth basis and so many of the purchases are with cash.
The Gold Coast prestige market now is rock-solid and we can safely say it has been completely revalued. Most of us knew it was always undervalued, but now the catch-up to other major markets in Australia has well and truly occurred and only those who have not understood or appreciated how undervalued we were being surprised by the current volume of sales at significantly higher levels.
Those of us who are passionate believers in the wonderful lifestyle the Gold Coast offers and the incredible community that we have become has not been surprised by the events of the past 12-months. The only issue for those wanting to join our market is a lack of available properties for sale, but as the Gold Coast prestige market has now opened up to all corners, and almost in every suburb, redefining the areas and property types you are seeking may well be the answer to finding a property in this current market.
As the Gold Coast's most experienced agency in the prestige market for over 30-years, we are here to assist and give you the trusted guidance that you may seek without any self-interest or commercial decisions weighing into that advice. With Spring upon us, let us help you with your real estate decisions, whether buying or selling, by reaching out via return email.
Have a great end of August as Spring is officially arriving where everything starts to bloom in our gardens.
Chat soon!
JULY 2021
BRISBANE Announced as 2032 Olympic Games as host city IOC in Tokyo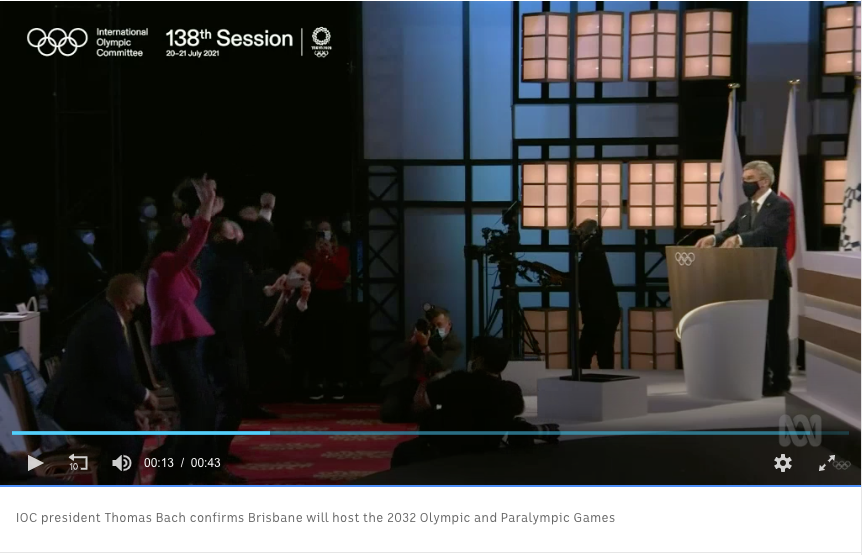 Brisbane has won the right to host the Olympic and Paralympic Games in 2032.
Key points:
IOC delegates voted 72 to five in favour of Brisbane hosting the 2032 Games
A refurbished Gabba, complete with its underground rail stop, will be the Olympic hub
IOC president Thomas Bach cited the bid's sustainability as one of the reasons for its success
The decision was confirmed after a meeting of International Olympic Committee delegates in Tokyo.
Queensland's delegation including Premier Annastacia Palaszczuk, Brisbane Lord Mayor Adrian Schrinner and Federal Sports Minister Richard Colbeck had to restrain themselves from standing and clapping with COVID-19 restrictions ruling out any close-contact celebrations.
Brisbane's CBD riverside erupted in fireworks as the announcement was made.
Following the announcement, Ms Palaszczuk, Cr Schrinner and Australian Olympic Committee president John Coates took part in the formal signing of the Olympics contract.
Ms Palaszczuk said she was "so excited".
"I have so much pride in my state for our people. Never in my lifetime did I think this was going to happen. It's amazing," the Premier said.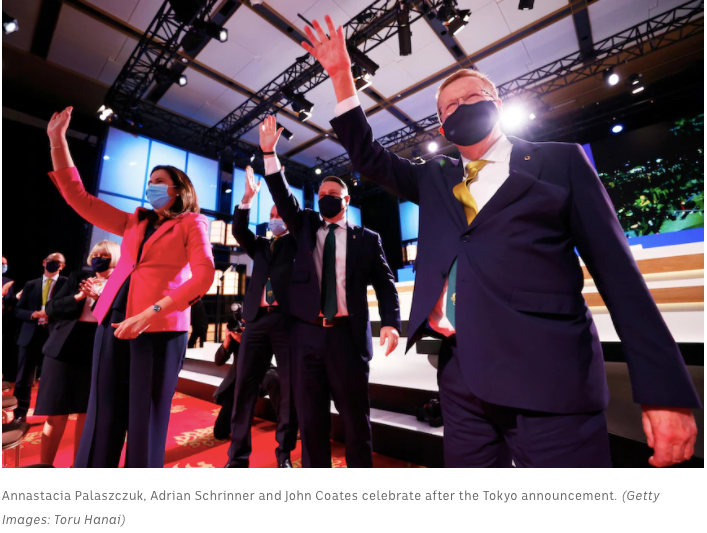 IOC president Thomas Bach cited Brisbane's alignment with reforms and the Olympic agenda as among the reasons for the city's successful bid.
"It's a very sustainable project and it's a project with a great legacy and it's projected from a sports-loving nation and this is what it is all about, to see sports-loving Aussies facilitating the Olympic Games. I hope I can still make it till then to be there,'' he said.
The 80 IOC delegates in Tokyo voted 72 to 5 in favour of Brisbane, with three abstentions.
The bid's support from all levels of government and the private sector, Brisbane's experience in handling major events, a high percentage of existing venues and favourable weather were among the attributes that helped convince the IOC to award the city the Games.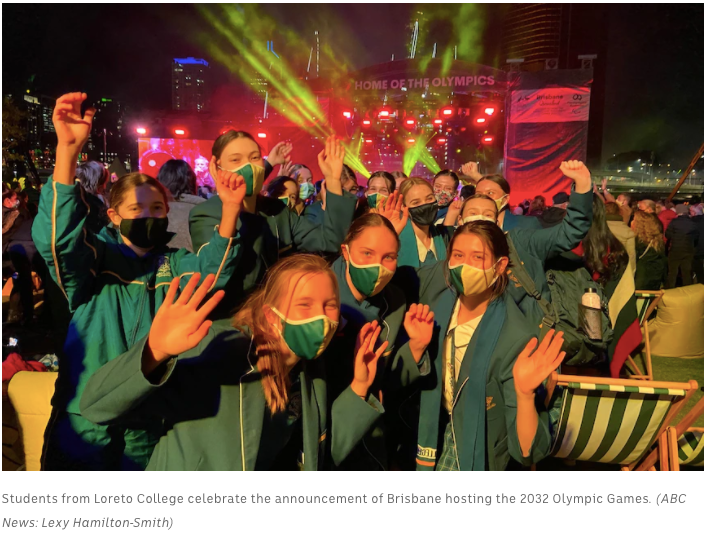 Prime Minister Scott Morrison described the win as a "historic day not just for Brisbane and Queensland, but for the entire country".
"Only global cities can secure the Olympic Games, so this is a fitting recognition for Brisbane's standing across our region and the world,'' Mr Morrison said.
The Brisbane bid predicts an operating budget of $4.5 billion will be needed for the 2032 Games.
The IOC is set to provide $2.5 billion in funding, leaving the rest to be raised from ticket sales and sponsorship.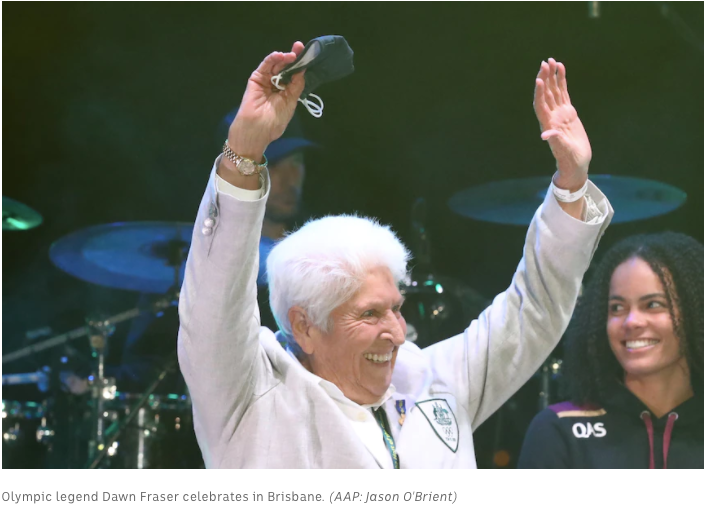 The selection of Brisbane means Australia becomes only the second country in the world, after the United States, to stage the summer Olympic Games in three different cities.
It was the second successful bid for Mr Coates, who also took part in lobbying for the Sydney 2000 Games.
"I was never sure how I would feel the second time around every bit as emotional," Mr Coates said.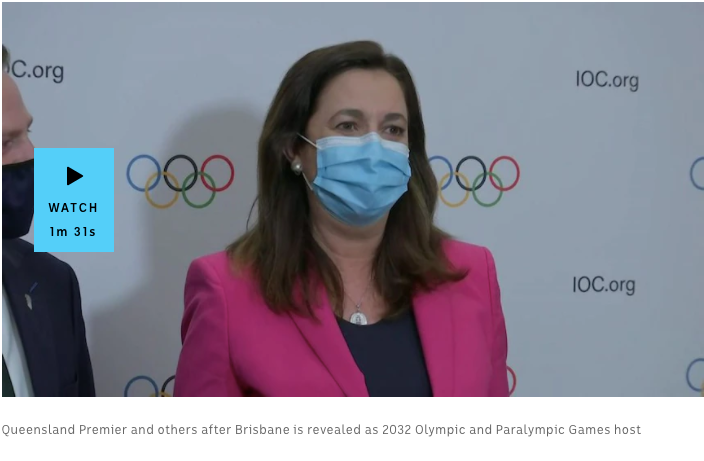 An expanded Gabba stadium will be the centrepiece of the Brisbane Games, which will run from July 23 to August 8, to be immediately followed by the Paralympics.
Events will be staged at more than 30 venues across south-east Queensland in Brisbane, the Gold Coast, Sunshine Coast, Logan, Ipswich and Redlands.
Two athlete villages are expected to be constructed one in Brisbane, the other on the Gold Coast.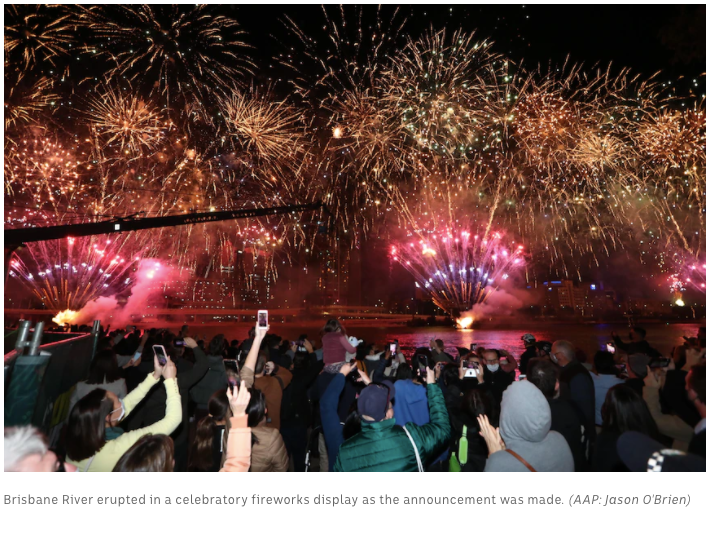 Up to 14,000 athletes will be accommodated in the Brisbane village in the inner north-eastern suburb of Albion.
The village project has been described as Queensland's largest waterfront urban renewal program.
The announcement came shortly after the Australian delegation made their final pitch for the Games, the third to be held in Australia.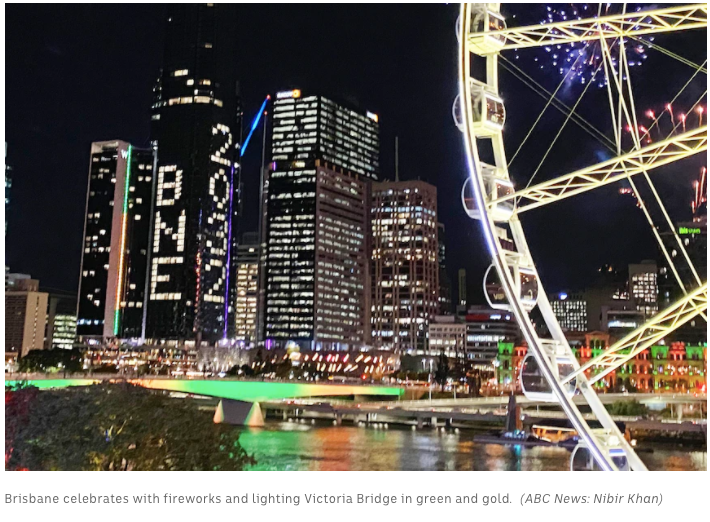 During final deliberations, Brisbane faced little opposition with offers from India, Indonesia, Qatar, Spain and Germany failing to make it past the IOC board stage.
Arguments for Brisbane included Queensland being the fastest-growing state in Australia and the fact that hosting the Games would align with a strategy to improve local transport infrastructure and promote economic growth.
It will also position Queensland as a tourism hub in the Asia Pacific region and attract major sports and events to the state, according to Brisbane's bid document released in February.
Australia previously hosted the Summer Olympics in Melbourne in 1956 and Sydney in 2000.
JUNE 2021
Tenancy Reform Bill announced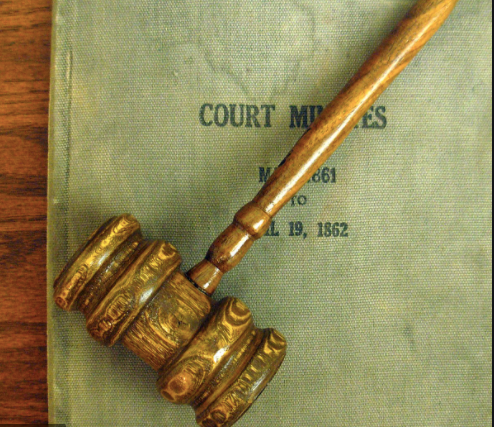 The Queensland Government introduced its Housing Legislation Amendment Bill 2021 into Parliament on Friday 18th June.
Rental reform has been in the news since late 2019 when the Palaszczuk government proposed a set of reforms that we believe were far too onerous for property investors. Lead by the REIQ (Real Estate Institute of Qld), property owners were very vocal about the proposed reforms, believing they would destabilise the rental market and lead to many investors leaving the market.
Since then, the REIQ has worked closely with the government on developing new key principles for the Bill. Although this Bill remains focused on tenant protections and does impose greater obligations on owners, we believe these reforms represent a much fairer and more balanced approach to what was previously proposed. See below for a summary of the key provisions.
The Bill has been referred to the Community Support and Services Committee for detailed consideration and report by Friday 6 August 2021. The Committee is seeking submissions on the Bill by noon on Tuesday 13 July 2021, and property investors are invited to make written submissions, details of which can be found in the following link:
https://www.parliament.qld.gov.au/documents/committees/guidelines/Guide_MakingASubmission_WebVersion.pdf
1. Domestic & Family Violence Protections
These protections were introduced with the COVID emergency response last year, and the Bill will make them permanent provisions. Protections include the ability for a DFV victim to terminate a tenancy quickly without penalty.
2. Minimum Housing Standards
Properties will need to comply with certain safety and security standards, including fully functioning kitchen & laundry facilities, window coverings, mould-free standards, and lockable doors. Owners will have time to budget, as the
provisions will not be enforced until Sept 2023.
3. Pets
Tenants will continue to require owners' consent to keep a pet, but owners will be only able to refuse the request on prescribed grounds, such as the home is not suitable for pets. Where consent is granted, the owner will be able to impose special conditions such as requiring the pet to remain outside. Importantly, any damage caused by the pet will be excluded from fair wear & tear, meaning the tenant will be responsible for rectifying any damage caused by the pet.
4. Ending a Tenancy
Tenant advocates have been calling for the removal of the current 'Without Grounds' provision to end a tenancy at the end of a fixed-term lease, arguing that the owner must state the reason for not renewing the lease.
The Bill proposes to remove the 'Without Grounds' provision but will add 'End of Lease' as a prescribed reason. This means that owners would effectively retain the right to not renew a lease at the end of a fixed-term agreement.
MAY 2021
"Australian House Prices are forecast to rise 10 times faster than wages in 2021"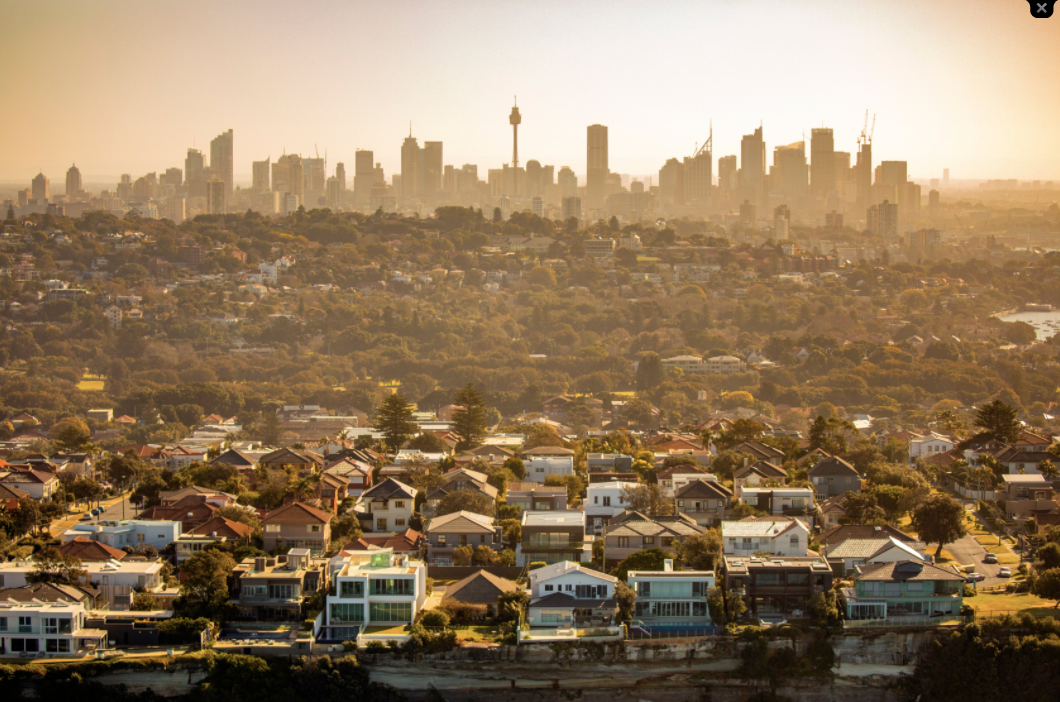 It is about to get a whole lot harder for first-time buyers to get into the property market, according to economists. Newly released data suggests house prices could rise 10 times as fast as wages before the year is out.
With more voters already inside the property market than out, there's little incentive for politicians to make housing more affordable, experts say.

House price growth could outstrip wages growth more than tenfold by the end of 2021, new data claims.
By the year's end low and medium-income earners will likely be worse off, as the gap between average household income and house price growth which has been expanding for years continues to widen and exclude first time buyers from the property market.
The average cost of housing in Australia was about 2.5 times the average household disposable income in 1990, according to the Reserve Bank of Australia (RBA).
Housing across Australia is now priced at five times that, the RBA found, with capital cities like Sydney and Melbourne costing even more.
A recent Demographia list ranked Sydney the third least affordable housing market, trailing only Hong Kong and Vancouver.
While Australia's job market has seen an impressive recovery since the depths of the recession, with the unemployment rate falling to 5.5% in April, it will have little impact on the purchasing power of most prospective buyers.
The improving job market won't make a difference either for modest income earners trying to save a house deposit, Shane Oliver, chief economist of AMP Capital, told Domain.
While wages rose by 0.6% in the March quarter, tracking at an annual growth rate of 1.5%, newly released data from CoreLogic shows that house prices shot up at more than eight times that pace during the same period.
Within the context of the current market, Oliver said, any boost to wages "hardly makes any difference."
"House prices are up 8% already this year based on CoreLogic numbers," Oliver said, with "another 2% coming in May alone."

"As this year settles down, we're going to see house price growth at 15 or 20% in some cities."
Oliver also said that while those in the hospitality, food services and accommodation sectors may have seen wage bumps, when "you're still on the minimum wage on which most people can't get in[to the market] it doesn't help," Oliver said.
"Affordability is getting worse."
Little incentive for the government to improve the cost of housing The odds are stacked against lawmakers' attempts to improve the cost of housing, economists said, with the millions of home-owning households who do not wish to see the value of their asset fall dwarfing the roughly 100,000 first-home buyers every year.
New data from CoreLogic estimates that the overall value of residential housing across Australia reached $8.1 trillion at the end of April this year.
Tim Lawless, research director at CoreLogic told Domain that with 53% of household wealth now held in property, "it's understandable that policymakers would be reluctant to implement policies that could place housing values under downward pressure."
"A reversal in home values could see households spending less as the wealth effect moved into reverse, weighing on economic growth," Lawless said.
Saul Eslake, an independent economist, told Domain that the odds are currently stacked against politicians who want to make housing more affordable, as two in three Australians are already living in a home they own or are paying off.
"There are a lot more votes to be had from the 11 million or so people who already own at least one property than there are from the people who in any given year have a realistic chance of becoming property owners for the first time," Eslake said.
"The reality is that there is little political support for such a change, with two out of three Australians living in a home they own or are paying off, Dr Oliver said.
Economists say that while stripping back demand-driven policies would be difficult, it's an effective way to subdue house price growth.
Ellen Witte, Partner at SGS Economics, told Domain that unwinding such policies would provide financial incentives for the private sector, including super funds and large scale investors, to build more affordable homes efficiently.
"At the moment, it's driven by investors and speculation, and that balance needs to shift. There is an ongoing incentive for house prices to keep growing," Witte said.
"$94m Luxury Development for the Southport Spit"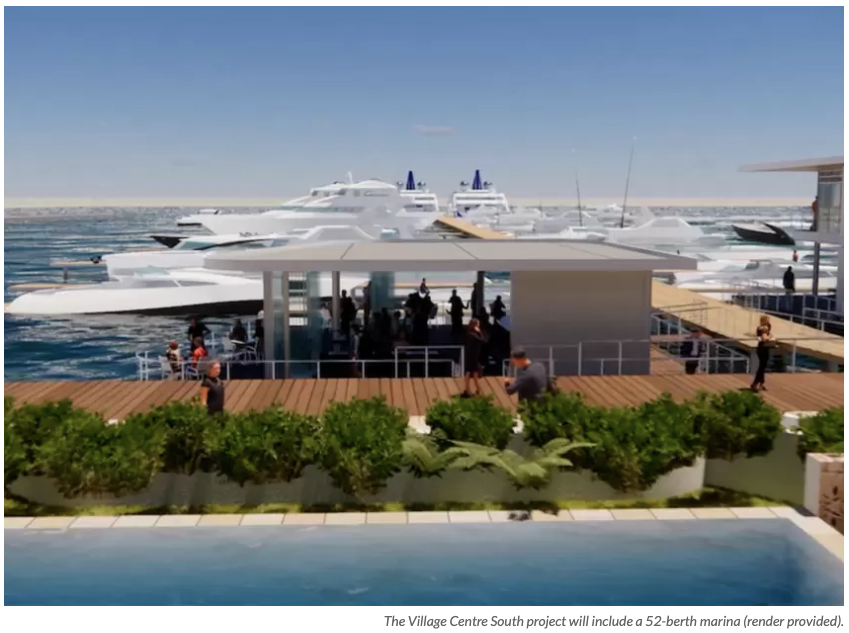 By Business News Weekly
Luxury development for the Southport Spit on the Gold Coast worth almost $94 million has been revealed including apartments, retail, public spaces and a 52-berth marina.
The proposal was put forward by Queensland-based property group Gordon Corporation and is expected to support more than 400 new jobs at the Southport Spit.
Queensland Deputy Premier and State Development Minister Steven Miles said the selection of the proposal was part of an expression of interest process for the Village Centre South project, forming part of The Spit Master Plan.
"After a rigorous process, the successful project is a $93.6 million development, including 47 luxury apartments, retail and public spaces," Miles said.
"The proposal also includes a 52-berth marina that includes three superyacht berths.
"Gordon Corporation, the successful proponent, estimates the project will support more than 300 jobs during its two-year construction phase and more than 100 jobs when fully operating."

While the complex will only be three stories tall, it will house 47 luxury apartments in addition to retail amenities and other public spaces.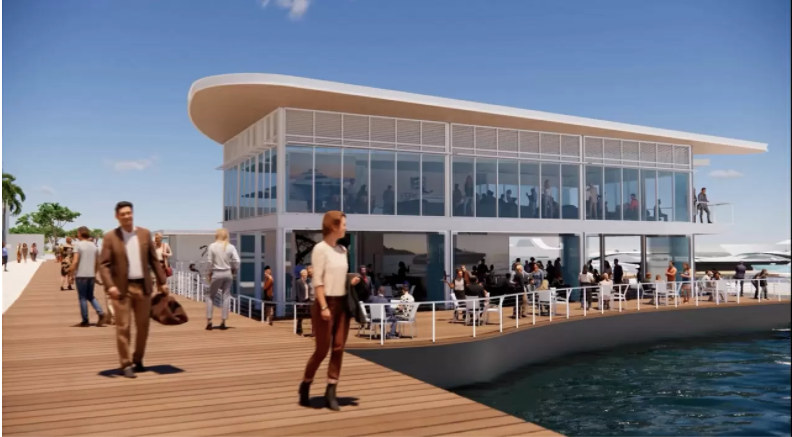 Member for Gaven Meaghan Scanlon said the Village Centre South project was the first development site to be released in decades on The Spit.
"As we recover from the COVID-19 pandemic, building infrastructure and partnering with the private sector is essential," Scanlon said.
"This project will provide a $94 million injection into the economy, create jobs in construction and ongoing hospitality and operational jobs."
The development will support and complement The Spit's offering to tourists and locals alike, with a shared pathway between Seaworld and Doug Jennings Park, Moondarewa Spit Foreshore, the Seaway Promenade and pontoon and jetty in Marine Stadium to be built.
Gordon Corporation is a Queensland-based company with more than 30 years of experience in delivering residential, commercial, and mixed-use projects.
"As a Gold Coast-based company, we are very excited about the prospect of working with the State Government to realise our proposed project, being the first new development in many years on The Spit," Gordon Corporation director Tim Gordon said.
Construction on the Village Centre South project is expected to commence next year and finish in late-2023.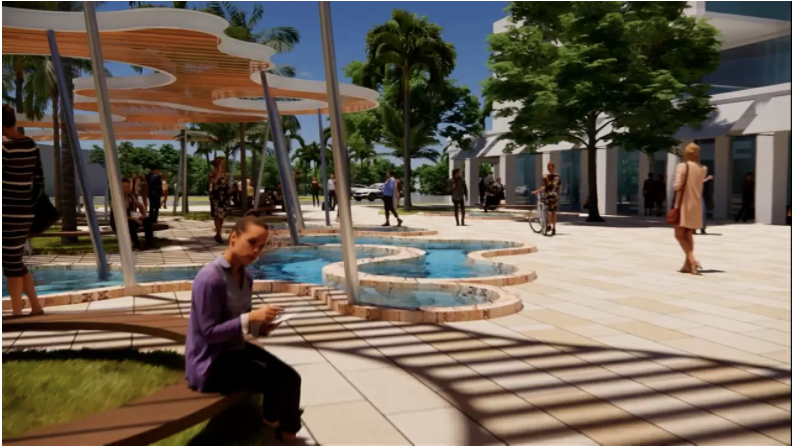 "Top 20 BRISBANE Development Projects"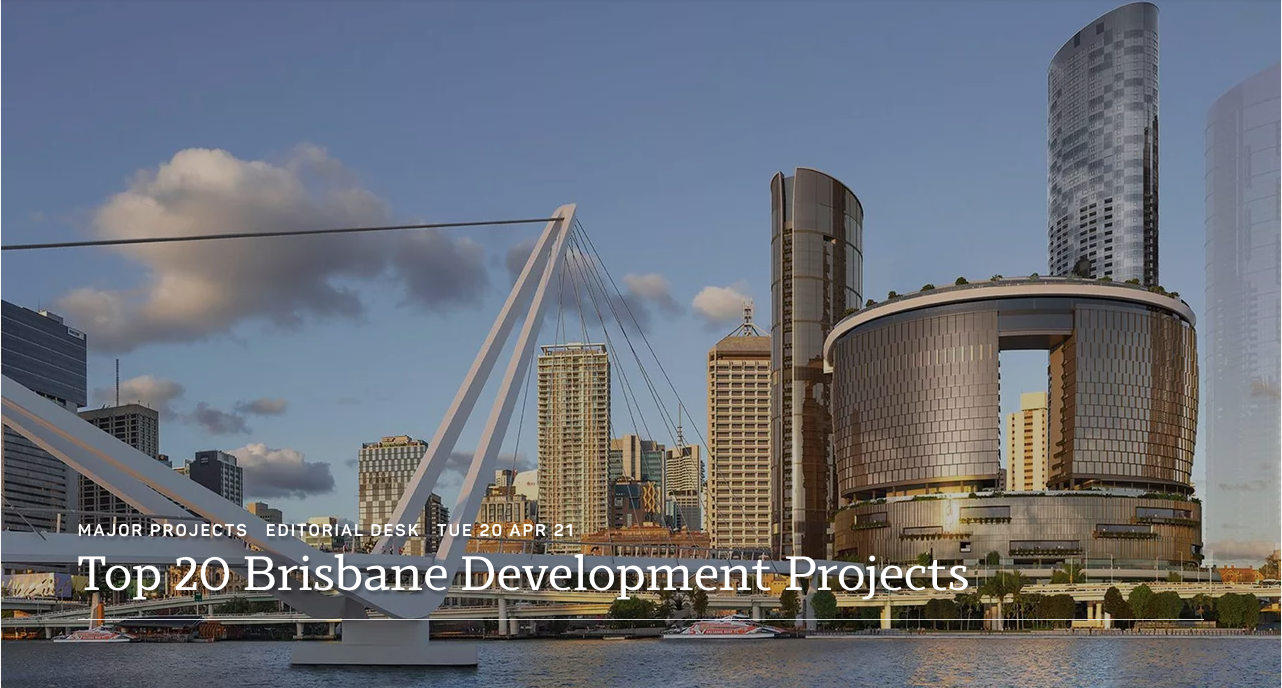 https://theurbandeveloper.com/articles/major-development-projects-brisbane
Brisbane is preparing to add a succession of new major development projects to its ever-changing skyline.
Australia's third-largest city recently welcomed the completion of the $1.1-billion second runway at the Brisbane International Airport and has been boosted by a $50-billion infrastructure and transport pipeline. The city is also lining up as the Olympic bid has been accepted.
While Brisbane's infrastructure backlog has finally started to move, the Queensland capital is still coming to terms with a stagnant apartment market.
The city's resources-dependent economy has been thriving in recent years with rental growth across the commercial sector growling steadily within the A-grade asset class.
Despite the increase in new supply during the half-year period, Brisbane is still in for a lean period of new office buildings.
Sizeable residential masterplans and commercial precincts have added to the city's burgeoning development pipeline, with strong population growth before Covid-19 unlocking development opportunities.
From the city-shaping cross-river rail to a new multi-billion-dollar casino as well as several high-profile high-rise commercial, hotel and residential projects, the city is primed for major development projects and growth.
APRIL 2021
"How the Cruise ship industry is surviving during the pandemic"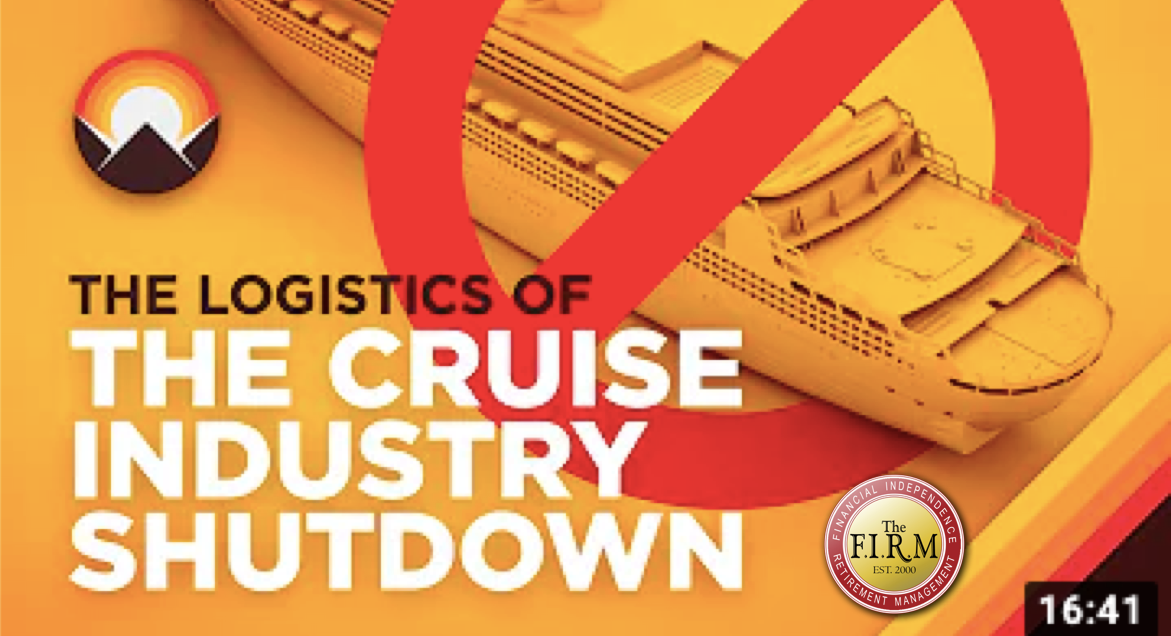 Good afternoon fellow members,
Easter has finished now as we enter into a short week this week.
Thank you to David McCarthy & Stephen T. Fryers for bringing this great overview to my attention.
A worthwhile watch to understand what it takes to literally shut down an entire cruise ship industry during a pandemic!
Stay tuned as we enter together into the cruise ship industry with eyes wide open :)
Have a great weekend!
Chat soon!
Pandemic Tax Tips
Asset Finance - Susanne Temperly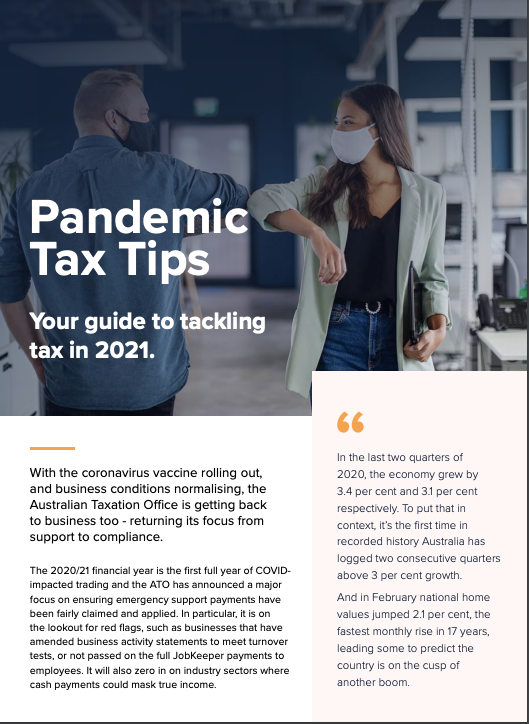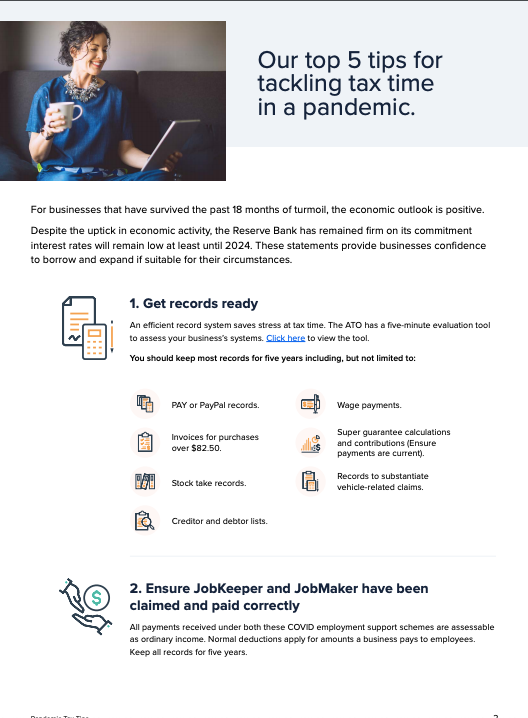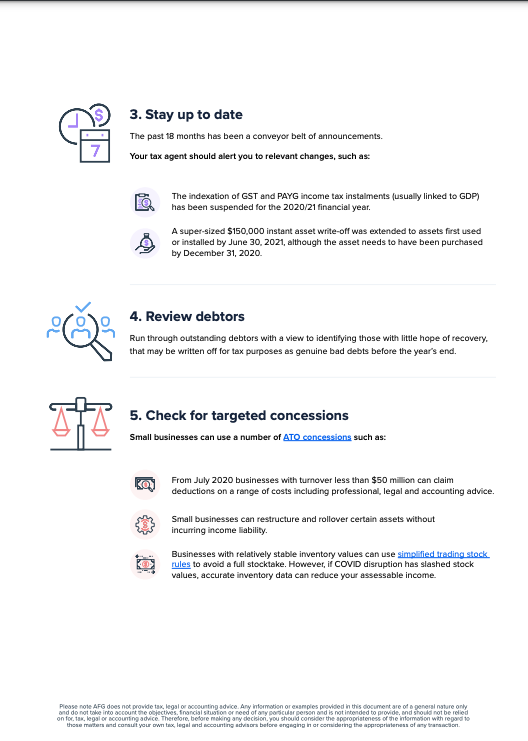 MARCH 2021
GOLD COAST REAL ESTATE:
HEAVY RAIL PUSH TO SUPPORT COAST'S BOOMING POPULATION AND PROPERTY MARKET
Heavy rail to the Airport and light rail spur lines to the city's west must be fast-tracked within a decade to support the Gold Coast's rapidly growing population.
That's the pitch from civic leaders and planning experts who have warned the city needs to dramatically expand its public transport offerings, not just to decongest the roads but to stimulate higher-density development along their corridors.
Mayor Tom Tate said infrastructure was critical to supporting the property boom and the resulting population growth and laid out his plans to get the city moving.
He said a green light for the 2032 Olympic Games bid would put projects on the fast track.
"The bid is the perfect stimulus to get future stages of the Coomera Connectorunderway now but I also want to see the heavy rail link from Varsity to the airport begun within in the next three years," he said.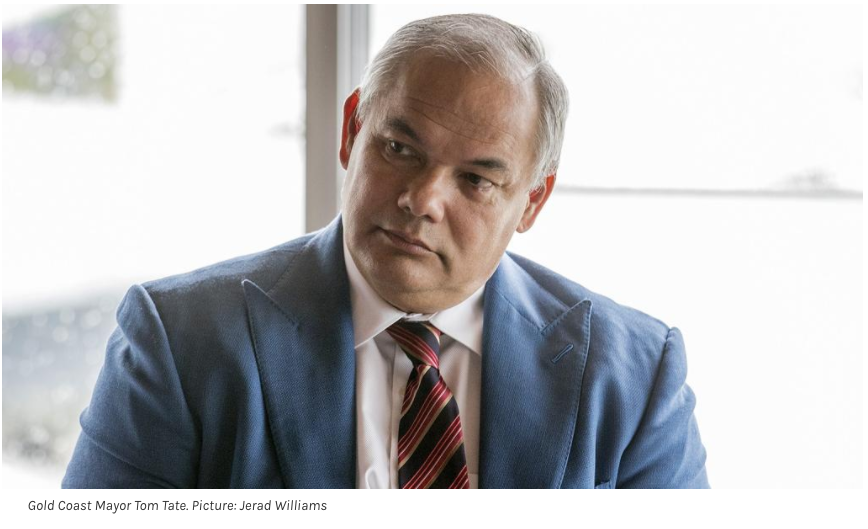 Gold Coast Mayor Tom Tate. Picture: Jerad WilliamsGold Coast Mayor Tom Tate. Picture: Jerad Williams
"I want to see the east-west connectivity off the light rail spine start to come into reality.
"These east-west connections may include spur lines of the light rail, west to Nerang, Robina and Varsity.
"Being able to fully use the advantages of the central light rail spine is what seamless public transport is all about so I fully support the design and funding work to be undertaken now on these connections.''
The cost of the heavy rail extension between Varsity Lakes and Gold Gold Airport is expected to cost upward of $4 billion.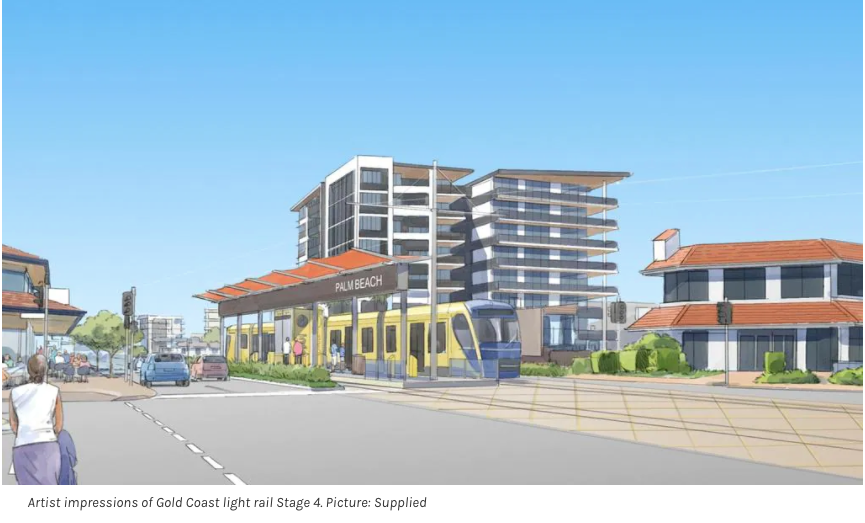 While the rail corridor has already been bought and preserved by the state government, the cost of building new infrastructure, including four new stations will be high.
They will be on top of three new railways stations already planned for construction in the existing railway's line at Pimpama, Helensvale North and Merrimac.
The Merrimac station will service the new $1.5 billion Skyridge estates at Worongary which is now under construction and will be home to 10,000 people.
A Urbis report on the future of the Gold Coast published in March revealed the growing pains the city is experiencing as a result of the population growth.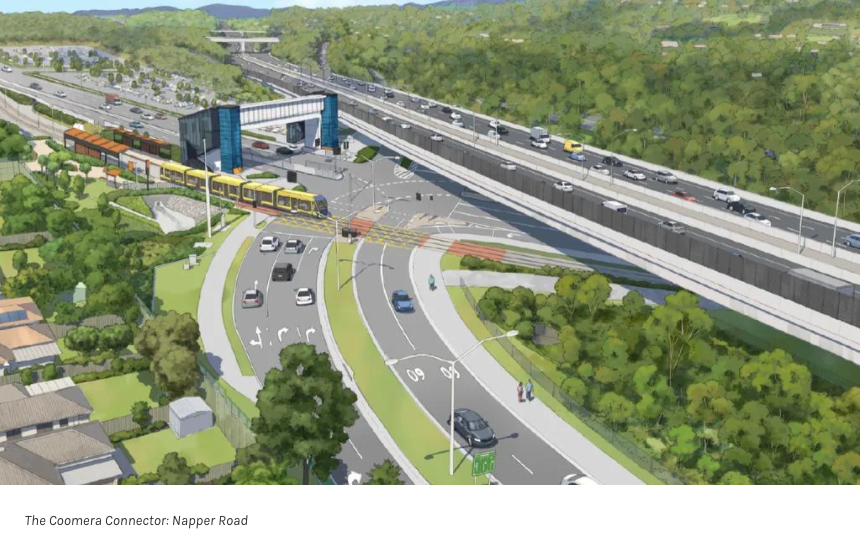 It tips growth to remain steady with around 14,700 people moving to the Gold Coast annually, with the need for more than 6300 swellings to be built every year to house the new residents.
But the growth is pushing up against already congested roads and a dwindling supply of new land.
Urbis Gold Coast director Matthew Schneider said the city's supply of new greenfield sites which could be developed would run out by 2026.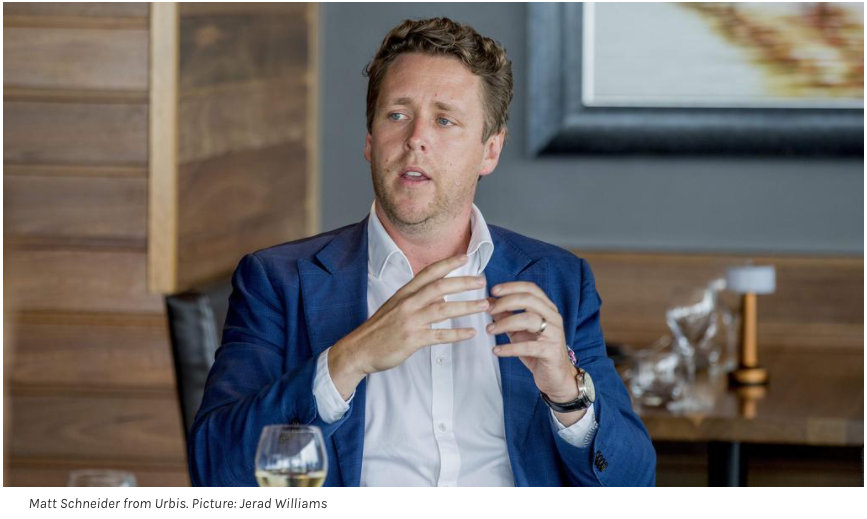 "We think there are around five years realistically of the new house and land opportunities across our greenfield supply," he said.
"There are still some big landholders up in Coomera and the northern part of the city but other than that we have the ocean and the NSW border and not a lot of other opportunities in between.
'There is some real tightness in the supply for people who want to live in house and land packages."
Mr Schneider said the expansion of the public transport network was critical to supporting the growth.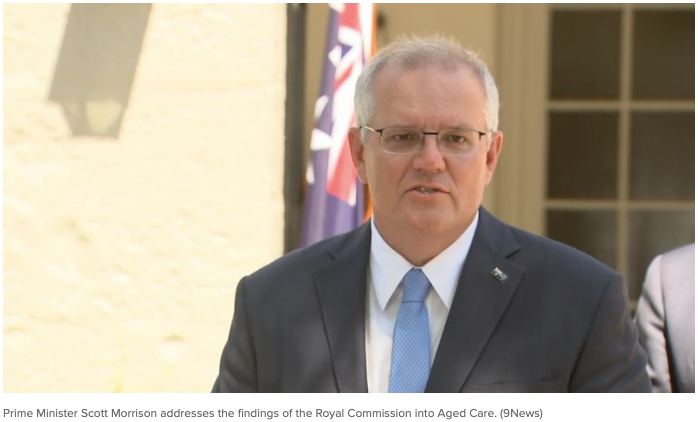 Prime Minister announces $452m in funding after 'harrowing' aged care royal commission
The Federal Government has announced an extra $452 million in aged care funding to address immediate priorities in the crisis plagued sector.
It comes after the final report of the Royal Commission into Aged Care Quality and Safety was released today.
Prime Minister Scott Morrison described the report as "personal" as his father spent his final days at an aged care residence. Prime Minister Scott Morrison addresses the findings of the Royal Commission into Aged Care. (9News)
"I have spent the last few days poring over this. It's personal. The care of those we love is personal," Mr Morrison said. "We are all part of a system that is supposed to be providing the best quality care we can for older Australians, particularly as they age." The report is the culmination of 28 months of work, including 23 public hearings involving 641 witnesses. More than 10,500 public submissions were received.
Mr Morrison described the stories and evidence unearthed by the royal commission as "harrowing".
"I warned the country we should brace for impact and be prepared for what would follow and it has been a harrowing process."
The Prime Minister said the aged care system must enter a "new paradigm" where residents are treated based on individual needs. He says the belief that those in aged care homes are simply "waiting out their lives" must change.
"This is something I have believed my entire life, life is precious. You don't wait it out," Mr Morrison said. "And the fact that Australians feel they are waiting out their life, it's impossible to put into words how you respond to that. So generational change is needed."
Mr Morrison ordered the royal commission in 2018, on the eve of an ABC Four Corners investigation into abuse in nursing homes.
It also followed a series of alarming failures over a decade at Adelaide's Oakden nursing home including mis-medication of residents, excessive use of restraints and rough handling of elderly dementia patients.
The crisis facing Australia's Aged Care sector was also highlighted during the COVID-19 pandemic, with 685 residents dying from the virus.
"Canada Bans Cruise ships Until 2022"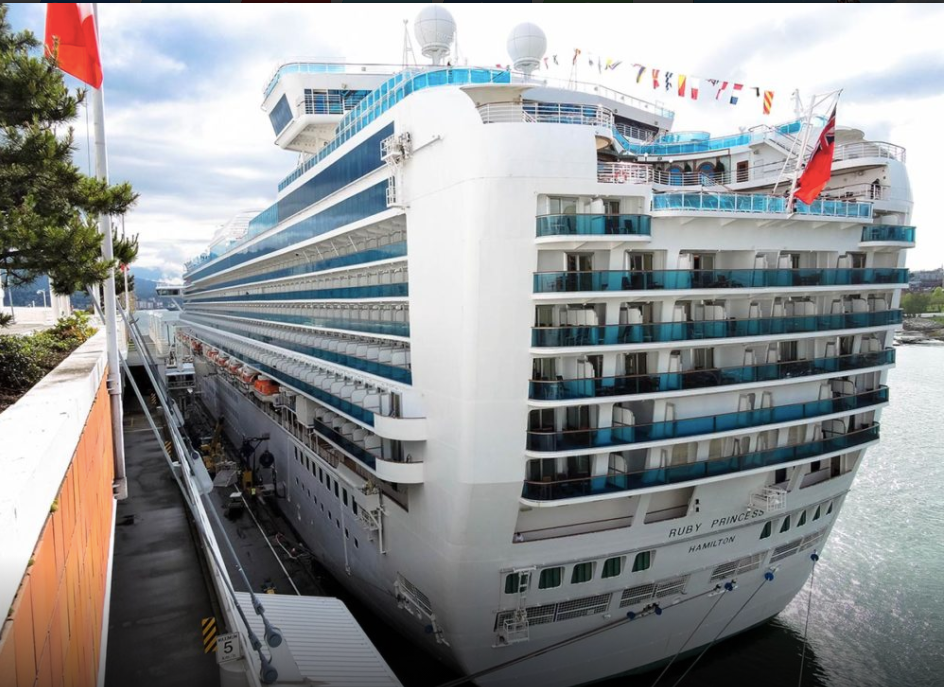 The Government of Canada has banned all cruise ships carrying over 100 passengers for the rest of 2021 and early 2022.
Cruise ships will not be allowed to visit Canadian ports until March 1, 2022. The ban was announced by Canada's Minister of Transport Omar Alghabra.
Minister Alghabra said that "Temporary prohibitions to cruise vessels and pleasure craft are essential to continue to protect the most vulnerable among our communities and avoid overwhelming our health care systems."
This puts the 2021 Alaskan cruise season in jeopardy since not only do many Alaskan cruises start in Vancouver, but cruise ships that sail roundtrip from Seattle need to visit a Canadian port during the cruise.
Currently, cruise lines have canceled all cruises to and from the U.S. through the end of April. However, it is likely that more cruises will be canceled before they will be allowed to start back up.
Cruise lines are working with the CDC on implementing new safety measures on cruise ships. Many experts don't expect cruises to start back up until the summer.